News
Absentia Season 2 Trailer and Release Date
Stana Katic's dark crime series, Absentia, will return to Amazon Prime Video for Season 2.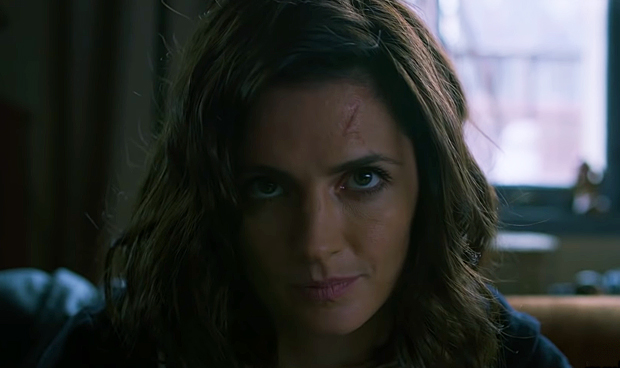 Absentia Season 2 is set to bring another 10-episode run of moody criminal intrigue to Amazon Prime Video in the U.S.
The globally distributed series – a production of AXN (an international arm of Sony Pictures Television – will return to its U.S. distribution home of Amazon Prime Video, once again airing globally in markets such as the U.K., Australia, Austria, Germany, India, Israel, Italy, Netherlands, Singapore, South Korea and Turkey.
Former Castle co-star Stana Katic headlines the series as Emily Byrne, an FBI agent who – as seen last season – went missing, only to be found years later mysteriously locked in a water tank. However, life after the rescue didn't get better for Emily, who was left with amnesia, subsequently framed for a murder, and forced to go on the run. Season 2 will see her attempting to reconnect with her wayward son while digging deeper into the circumstances of her bizarre abduction.
Absentia Season 2 Trailer
The trailer for the second season of Abesntia has finally arrived!
As the official logline reads:
After tracking down and killing her abductor, former FBI agent Emily Byrne struggles to define her new normal as a mother and a survivor of six years of physical and mental torture. Even while she rebuilds her relationship with her son, Flynn, Emily still cannot shake the darkness of her past. She enlists Boston police detective Tommy Gibbs in a secret investigation of her mysterious history. When the case turns deadly, she risks everything to uncover the truth.
Absentia Season 2 Release Date
Absentia Season 2 is set to premiere on Amazon Prime Video on June 14.
The first season debuted – in full bingeable form – on Amazon Prime Video in the U.S. back on February 2, 2018. With filming only just starting in September, it's doubtful that the same release window will be matched in 2019.
Absentia Season 2 Cast
Here are the new cast members set to join Absentia Season 2…
Matthew Le Nevez (The Widow) will play Cal Isaac, a rough ex-Navy SEAL, whose own battles with personal demons leads to the creation of a bond with the traumatized Emily (Katic).
Natasha Little (The Night Manager) will play Special Agent Julianne Gunnarsen, an attractive and enigmatic FBI profiler from the Boston Field Office who arrives in town after a deadly terrorist attack.
Also joining Stana Katic in the Absentia Season 2 cast are returnees Patrick Heusinger as Nick Durand, Neil Jackson as Jack Byrne, Cara Theobold as Alice Durand, Paul Freeman as Warren Byrne and Patrick McAuley as Flynn Duran.
Absentia Season 2 Details
Amazon made the renewal official with a video from the set featuring star Stana Katic, along with the cast as crew, confirming that Absentia Season 2 is now in production (in Sofia, Bulgaria).
Overall, the Season 2 renewal is not a huge surprise. Absentia Season 1 seemed to have a solid lock as a streaming series on Amazon Prime Video in the U.S., where it premiered this past February. The series also aired on various networks internationally.
Absentia marked the television comeback of former Castle co-star Stana Katic – after an allegedly tumultuous behind-the scenes fallout abruptly ended the ABC crime procedural series back in 2016. The new show proved itself to be a tonal departure from Katic's former job of trading lighthearted barbs with Nathan Fillion, instead showcasing the morose journey of an FBI agent, Emily Byrne, who is found drowning in a sinister glass water tank after being missing for 6 years.
Emily, who has no memories of the fateful (titular) absentia, returns to a family in general disarray, notably with a husband (Patrick Heusinger) who's already remarried and a son (Patrick McAuley) who's alienated by her presence. However, the show's primary mystery – Emily's abduction – undergoes an evolution, with the bulk of the inaugural season shifting to a fugitive scenario, with Emily donning a hoodie and going on the run after the mystery of her disappearance is revealed to be connected to a string of murders; a situation that ultimately makes her the primary suspect, hunted by FBI agents, which include her ex-husband.
Back in March 2018, when Absentia's Season 2 renewal was still speculation, Deadline reported that a new showrunner – replacing Matt Cirulnick – was to be appointed in Samantha Corbin-Miller, who was recently a co-executive producer of ABC's short-lived Hayley Atwell-headlined legal series, Conviction. She comes into the series having banked producer work on high-profile shows such as Law & Order: SVU, Lie to Me, Crossing Jordan and Cold Case.
Joseph Baxter is a contributor for Den of Geek and Syfy Wire. You can find his work here. Follow him on Twitter @josbaxter.