News
ABC Shelves Female-Driven Marvel TV Show
The drama from Wonder Woman writer Allan Heinberg did not get a pilot order from ABC for the upcoming season.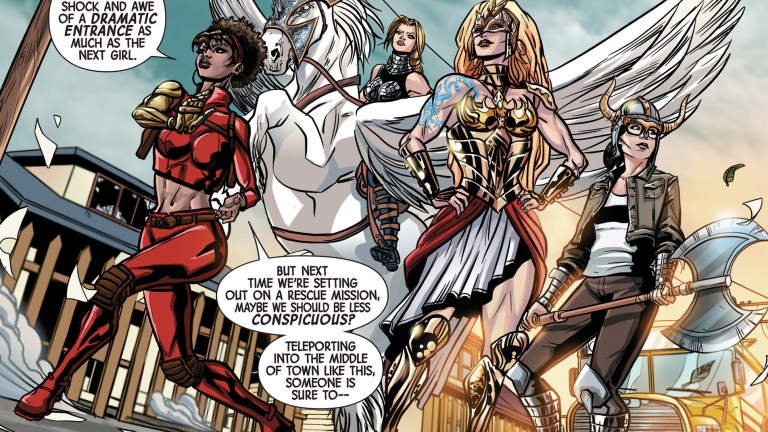 Apart from the wonderful Agents of SHIELD, ABC hasn't had the best luck bringing Marvel properties to television and drawing the audience it needs to keep them there. (We're still not giving up on Agent Carter.) But that doesn't mean we want them to stop trying!
Unfortunately, the female-driven superhero show from Wonder Woman writer Allan Heinberg will not be ABC's next Marvel hit. According to Deadline, the show will not be getting a pilot.
read more: Wonder Woman 3 Will Be a Contemporary Story
Previously (via Deadline), we had learned that ABC had given a production commitment to the show, which reportedly would have been about female characters with superpowers, most likely some of the lesser known characters from Marvel comic canon. Nellie Andreeva at Deadline hypothesized characters like A-Force, Lady Liberators and Fearless Defenders as possible contenders.
Heinberg, who has an overall deal at ABC Studios, would have written and executive produced the show, with Executive VP of Marvel TV Jeph Loeb also executive producing. Heinberg has a long history on TV, having worked on shows like Party of Five, Sex in the City, Gilmore Girls, The O.C., Grey's Anatomy, Looking, and Scandal. He was the co-creator/showrunner on The Catch.
read more: Clark Gregg Teases New Agents of SHIELD Role
On the comics side, in addition to penning the 2017 Wonder Woman flick, Heinberg created and wrote Young Avengers and its sequel Avengers: The Children's Crusade for Marvel Comics alongside co-creator/artist Jim Cheung. For DC Comics, he co-wrote JLA: Crisis Of Conscience with Geoff Johns, and re-launched Wonder Woman in 2006 with artists Terry and Rachel Dodson. 
It's unclear, at this point, if Heinberg's female-driven superhero show will be reworked for a different TV season. ABC Studios has an overall deal with Heinberg, and ABC has been looking to find another Marvel project after Inhumans failed to find an audience. However, as Marvel continues to pull TV shows from Netflix as they gear up to launch their own streaming service, it's unclear what their future relationship with ABC might hold. (Although, they did renew Agents of SHIELD for a Season 7.)
read more: Cloak and Dagger Season 2 Release Date Revealed
On the Marvel side, the studio obviously hasn't had as much success in its TV division as it has on the movie side, though I think Cloak and Dagger, which airs on Freeform (also owned by the Disney-ABC Television Group), was one of the best TV shows of 2018.