News
Abbi and Ilana Go Mobile in Broad City: High Score
You can now get high with Broad City's Abbi and Ilana... on your phone.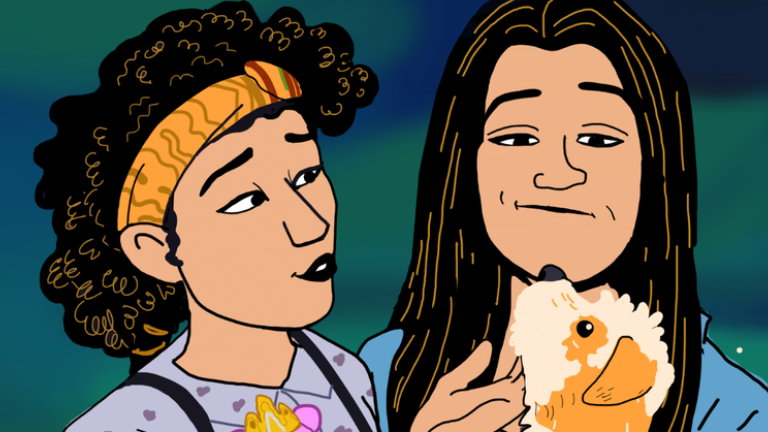 Ever wished you could get high with Broad City's Abbi and Ilana? Well wish no more, because now you can—  sorta.
Take a toke and dive into Abbi and Ilana's world for a while with Comedy Central's Broad City: High Score. The mobile app takes you through a series of mini games to get you higher. How does it work?
"Rip through a series of hilarious Broad City mini-games to get HIGHER… scores, social status, and amounts of lolz! We're not blowing smoke, and we can't be more blunt, yas, this game rules the worldwide bloodstream!"
In my dreams, Abbi and Ilana are my best friends, so I decided to give High Score a try. First you start out in solo mode and help Abbi hit a bong, play Lincoln and try and put Ilana's tooth back in her mouth, chow down on Abbi's chocolate cake as Bevers by feverishly tapping, keep Ilana comfortable during one of her classic bathroom stall naps, and much more. No better time-wasting game has been made in the history of mobile gaming. It's like taking the red pill from Alice in Wonderland, except instead of going down the rabbit hole you end up in a trippy New York City with your fantasy squad.
Aside from the sheer addictive nature of Broad City: High Score, the game itself looks beautiful. Remember the "Mushrooms" episode of Broad City season 4? It's totally reminiscent of that. For a mobile game, the art is extremely vibrant and detailed, it'll have you thinking you've caught a second-hand high from the Broad City duo.
Broad City: High Score is a chance to give the amazing Broad City fans a fully immersive experience into Abbi and Ilana's world. The game was developed by Built Games LLC, veteran game developers based out of Los Angeles, California.
Sadly, Broad City is currently on hiatus but is set to return for it's fifth and final season in 2019. But don't worry, you can escape into Broad City: High Score and get high with Abbi and Ilana until then.