News
Aaron Paul on Possibly Playing Jesse Again on Better Call Saul
El Camino wrapped the story of Aaron Paul's Jesse Pinkman, but would he reprise the role for Breaking Bad prequel series Better Call Saul?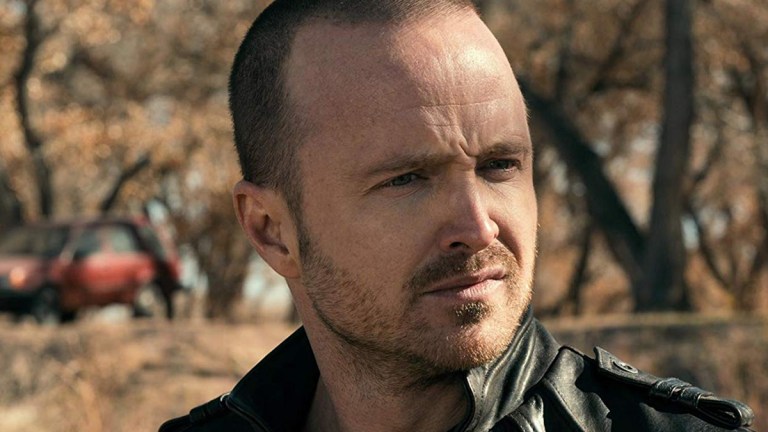 El Camino: A Breaking Bad Movie has provided definitive answers to what had long been open-ended questions about the 16 Primetime Emmy-winning AMC series when it ended in 2013, namely regarding the fate of Aaron Paul's Jesse Pinkman. However, the actor just made an intriguing comment about the possibility of reprising Jesse again, this time on AMC's currently-running prequel series, Better Call Saul.
While Paul is just coming off a six-year-in-the-making role reprisal as Jesse in the surreptitiously-shot El Camino, the actor gave a resoundingly positive answer to the possibility of playing Jesse yet again when pressed in an interview with EW. According to Paul, it all depends on creator and franchise mastermind Vince Gilligan, stating of another potential Jesse reprisal with a bit of a caveat:
"[Laughs] If Vince asked me to jump onto Saul, I would do it in a heartbeat. And I would know it's for very good reasons. So, we'll see. Look, we talk about it all the time, we really do, and we want to do it for the right reasons. We don't want to just throw you in a scene that doesn't make sense. Obviously, we would love to give that to the fans of Breaking Bad and the fans of Better Call Saul, but we don't want fans to kind of scratch their head and they're like, 'Well, why did that happen?' [Laughs]"
While the ending of Netflix's October 11-debuting El Camino (and we'll avoid specific spoilers here,) put an effective – arguably satisfying – punctuation on the embattled arc of Jesse Pinkman, the ongoing Breaking Bad television franchise isn't rolling out in linear fashion, with the 2015-launched Better Call Saul still running. Yet, the prequel series, focused on the origin of Bob Odenkirk's shady strip mall lawyer, Jimmy McGill, a.k.a. Saul Goodman, is quickly approaching the beginning of the main series on its timeline trajectory, so it would certainly be feasible to see a pre-Breaking Bad Jesse on Saul. After all, the prequel series already dropped a Jesse Easter Egg in Season 1, showing a familiar "JPi" graffito adorning a pay phone next to the one that Jimmy was using.
Further Reading: El Camino: Breaking Bad Easter Eggs and Reference Guide
The catch, though, is that Paul's Jesse would not be able to interact with Jimmy/Saul himself, seeing as they – along with Bryan Cranston's Walter White –wouldn't meet until the second season of Breaking Bad, during which the sleazy solicitor's services were procured after Badger (Matt Jones) was arrested for slinging Blue Sky meth. The same goes for Better Call Saul's deuteragonist, Mike Ehrmantraut (Jonathan Banks), who – having also fielded an El Camino flashback cameo – wouldn't encounter Jesse until Season 2 of the main series. However, this does open the possibility for intriguing interactions with other main cast players in Jimmy's girlfriend and colleague, Kim Wexler (Rhea Seehorn), and Mike's secret ally in the Salamanca cartel, Nacho Varga (Michael Mando).
…And speaking of Cranston's Walter White, who (frankly, as expected,) also managed to make a memorable El Camino flashback scene, it seems that his answer to a similar question about a role reprisal cameo on Better Call Saul was met with similar intrigue. While, in an interview with Rolling Stone, he describes his ending on Breaking Bad as "enormously satisfying," "personally and professionally" – expressing that he doesn't want to ruin the character like a sports hero who sticks around after being over the hill – he's not exactly saying no to a possible Walter White reprisal. Like Paul, Cranston expresses similar loyalty to Gilligan, stating of the prequel series (albeit in a more ambiguous manner):
"I look at Better Call Saul and smile when I see familiar faces and familiar locations. But I don't have an attachment of, 'Oh, I wish I was in this! I wish I was doing this!' That being said, I would certainly consider doing it if it was asked, if it was time for Walter White to make an appearance. I could see that happening for fun, to assist in telling their story. It's not my story anymore. It would almost be like I came back as a coach. 'Yeah, I'll help any way I can. What do you want me to do?' And then do my thing, and, 'See ya!'"
Further Reading: Better Call Saul: What's Next For The Characters?
While the answers provided by Paul and Cranston hardly etch anything in stone, they certainly serve as a solid indication that the actors have no serious hang-ups (artistic or professional,) about reprising their characters yet again on Better Call Saul should such appearances fit poignantly into the wider narrative of the franchise to which they are so crucially attached. Whether that will actually happen, however, is another story entirely.
For now, you can catch Aaron Paul's return as Jesse Pinkman in El Camino: A Breaking Bad Movie on Netflix right now. – As for Better Call Saul, which will end up skipping 2019, you're going have to wait until sometime in 2020 to catch Season 5 when it premieres on AMC.
Joseph Baxter is a contributor for Den of Geek and Syfy Wire. You can find his work here. Follow him on Twitter @josbaxter.