News
A Farewell to Parks And Recreation
We wave a fond goodbye to one of the funniest, kindest sitcoms in recent memory, NBC's Parks And Recreation...
On Tuesday night America bade farewell to the people of Pawnee, Indiana for the last time as NBC sitcom Parks And Recreation reached the end of its seven-year run.
The final episode, "One Last Ride," sees Leslie Knope unite with her former Parks Department colleagues to mend a broken swing, celebrating the good old days as each of the gang prepares to move on to the next stage in their lives. As the friends (or, as Ron puts it, 'workplace proximity associates') enjoy their last day together, we get a glimpse ahead at the future to learn what becomes of our beloved heroes (And Garry/Larry/Terry/Jerry).
If you were expecting something more explosive and dramatic for Parks' double-length finale, then you've probably been watching a different show for the last seven years. Despite being the grandchild of one of the most cynical sitcoms ever made (Parks And Recreation was born from a desire to create a spinoff from the US version of The Office), Parks And Rec has always been an explosion of optimism, a triumph of positivity over adversity. Even when the series was at its darkest – Leslie losing the recall vote in Season 6, for instance – there was always the hope of something new and better on the horizon, and the characters have always had each other to lean on in times of strife.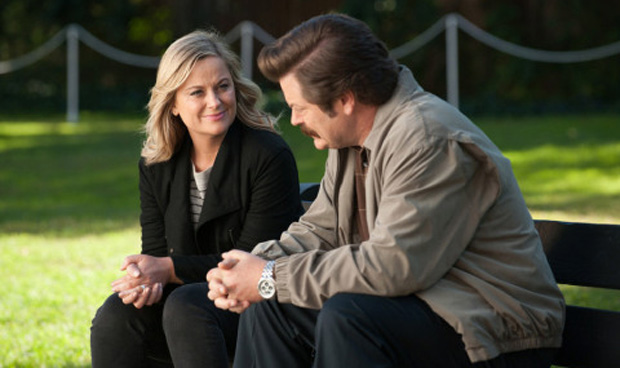 It should be absolutely no surprise, then, that all of the regulars walk away with a happy ending and a bright future ahead. Even Garry, the show's proverbial punching bag, is revealed to be elected as mayor of Pawnee (at least) ten times before passing away peacefully aged 100 surrounded by his beautiful, loving and above all beautiful family.
Elsewhere, Leslie and Ben both climb far higher on the political ladder than either of them expected, April and Andy finally produce devil spawn of their own, and Tom turns repeated failure into a recipe for success. And Ron? Ron gets to spend his days roaming some of Indiana's finest woodland and just being Ron Swanson. The key strength of Parks And Recreation has always been its ensemble of truly likable characters (Barring Season 1 Andy, which we've chosen to write off as one of Ron's cheese dreams), and every single one of them is done justice by the writing team here – there's not a single resolution that doesn't feel both fitting and deserved.
By their nature, series finales often leave the viewer wanting more, to be able to follow the characters on the next step of the journey. Parks And Rec sidesteps this by giving the viewer exactly what they want to see. Of course it would be fun to see Mayor Gergich bumble through his first term in office, or Ben perfect his Cones of Dunshire expansion, but "One Last Ride" leaves us with the comforting feeling that the characters we've known and loved for the last seven years are going to be okay. And that's enough.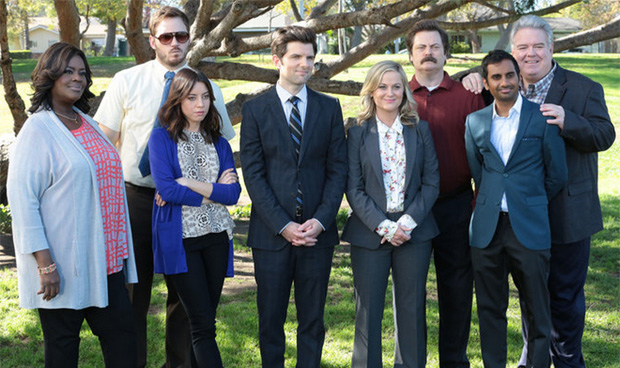 There's also something strangely reassuring about the knowledge that all roads eventually lead back to Pawnee for the gang. The fictional Indiana city and its residents have always been as big a part of the show as the regular cast, and so it's nice to see curtain calls for some old favourites, including the inimitable Perd Hapley, the unmutable Craig Middlebrooks and all three members of the irrepressible Saperstein clan; Jean-Ralphio's declaration of love to Leslie is, strangely, one of the more touching moments of the episode. And of course, Rob Lowe and Rashida Jones literally put in a welcome cameo as Chris and Ann.
It's a deep shame to be saying goodbye to Parks And Rec. It's one of the funniest, kindest sitcoms in recent memory, with an ensemble cast of some of Hollywood's finest comic actors. And yet, the biggest miracle around the show is the fact that it got this far. Every year since the third season it's felt like cancellation was looming just around the corner, and every year it's been avoided; in that sense, the production of the show has been as much a triumph of hope and the human spirit as anything achieved by its characters on screen.
At the time of writing, Parks And Recreation is the last of NBC's Thursday night sitcoms to leave the network, drawing to a close an era of 'Must-See TV' which encompassed such classics as Cheers, Taxi, Seinfeld, Frasier and Friends. Though the sitcom itself isn't dead, it's sad to see the end of such a fertile breeding ground for new shows, and one can only hope that it's a pause rather than an ending.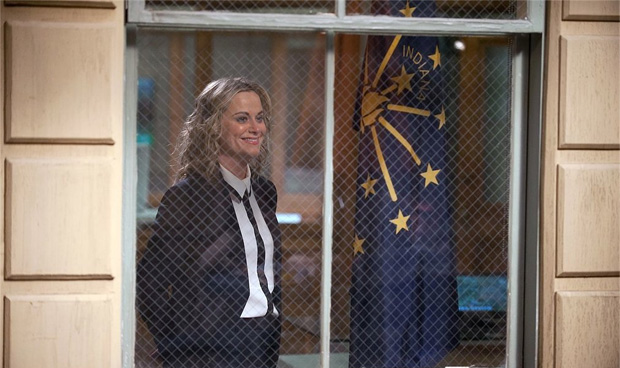 As for Parks And Rec, I'm afraid that's very definitely an ending – but the best possible one they could have given us. Ron Swanson once said that crying is acceptable only at funerals and the Grand Canyon. But I think, in the highly unlikely event that Ron had tuned into NBC at any point in the last seven years, that he'd be willing to add one more occasion to that list.
To Parks And Recreation, then: in the immortal words of Leslie Knope, 'I love you and I like you'.