News
911 Lonestar Spinoff Release Date, Trailer, Cast, and More News
911: Lone Star moves the 911 franchise and Rob Lowe to Texas for more life saving drama.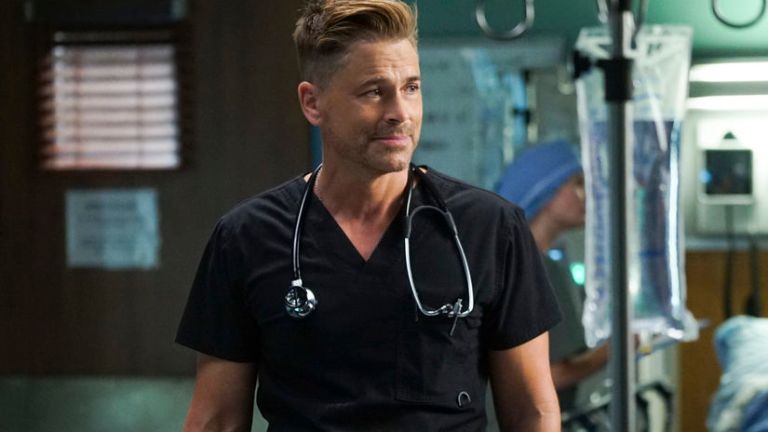 Every network wants a Law and Order style drama franchise where it can just move any concept from city to city with a new cast. It looks like Fox has decided that Ryan Murphy's 911 (technically styled 9-1-1) will be filling that role.
Variety first reported that Fox has ordered a 911 spinoff titled 911: Lonestar that stars Rob Lowe (Parks and Recreation, general Brat Pack movie star). Lowe plays a New York cop who relocates to Austin, Texas with his son and gets to gets to work rescuing Austin's most vulnerable citizens…and presumably learning a thing or two along the way. 
"The beauty of having a hit drama like 911 from the genius minds of Ryan Murphy, Brad Falchuk, and Tim Minear is it allows you to explore thrilling stories as told through an array of distinctive characters," Michael Thorn, president of entertainment for Fox Entertainment, said. "In 911: Lone Star they've given us a special opportunity to expand the franchise into new territory – literally and figuratively — and we're thrilled to have the incomparable Rob Lowe headline this new iteration when it joins our schedule next season."
The original 911 was created by the very busy team of Ryan Murphy, Brad Falchuk, and Tim Minear. Murphy maneuvered his early work on Fox (Glee) and FX (American Horror Story et. al) into a big pay day at Netflix. But Fox has been eager to keep his name on as executive producer on as many existing properties as possible. All three producers will remain on as execs for 911: Lonestar and Lowe will executive produce as well. Tim Minear acts as showrunner. 
911: Lonestar Trailer
The first 911: Lonestar trailer follows Owen Strand's rough transition from New York to Texas.
911: Lonestar Cast
Rob Lowe is a big name for this Lonestar state spinoff. He plays Owen Strand, a firefighter diagnosed with cancer at the series' beginning due to his time as a 9/11 first responder in New York. Lowe was most recently seen on CBS's medical drama Code Black. He has a previously established relationship with Fox through the single camera comedy The Grinder. On TV he's likely best known for playing the ebullient Chris Traeger on Parks and Recreation.
Deadline reports that Liv Tyler is 911: Lone Star's female lead, Chief Paramedic Michelle Blake who is described as brilliant and wry and a worthy foil for Rob Lowe's Owen. Tyler is best known for her film work in Armageddon and The Lord of the Rings series. She most recently appeared on television in HBO's The Leftovers.
Ronin Rubenstein, Sierra McClain, Jim Parrick, Natacha Karam, Brian Michael Smith, Rafael Silva, and Julian Works make up the rest of the cast.
911: Lonestar Release Date
911 Lonestar premieredon Sunday, January 19. New episodes continue to air on Mondays at 8 p.m.
Alec Bojalad is TV Editor at Den of Geek and TCA member. Read more of his stuff here. Follow him at his creatively-named Twitter handle @alecbojalad