News
911 Season 2 Return Date, Cast Trailer, News, and More
Ryan Murphy's intense first responders drama is coming back. Here is everything we know about 911 Season 2.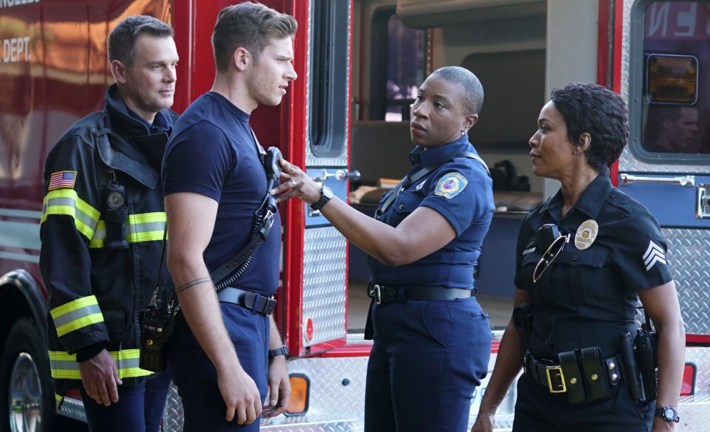 Ryan Murphy's first responder series 911 Season 2 will resume again soon. As far as renewals go, getting a 911 Season 2 is not surprising. Murphy is a hot commodity, as evidenced by his upcoming massive deal with Netflix and 9-1-1's Season 1's unexpectedly great ratings. The premiere of 911 Season 1 was watched by close to 15 million people and the show continues to dominate each week in all key demos.
"With a bold concept, award-winning stars and a flawless execution, Ryan, Brad and Tim have done it again," Gary Newman and Dana Walden, chairmen and CEOs of the Fox Television Group said in a statement. "They have tapped into the cultural zeitgeist and reimagined the procedural as only they could, bringing it to life with a dream team of actors led by Angela, Peter and Connie. This is storytelling at its best and we're so pleased that it's resonated with our audience. We'd like to thank everyone involved with this production for their stellar work, and we look forward to another thrilling season of 911."
911 Season 1 featured an cast of television all-stars including Angela Bassett, Connie Britton, Peter Krause, Kenneth Choi, and Rockmund Dunbar. 
911 Season 2 Return  Date
After taking the holiday season off (and then some) 911 Season 2 now officially has a return date. The mayhem in Ryan Murphy's SoCal will coninute on Monday, March 18.
911 Season 2 Cast
Connie Britton is fast becoming Ryan Murphy's one-season wonder. After departing American Horror Story after season one (along with almost the rest of the cast), Britton is leaving 911 after season one as well. Murphy originally told Deadline that he was working to bring Britton back.
read more: Lethal Weapon Season 3: Everything You Need to Know
"Connie had just come off Nashville, and she didn't want to do another show right away. I said, 'well, why don't you just do a one year deal', so Connie has a one-year deal, and we all knew that going in," Murphy said. "But the show has become such a success, successes are good, and Connie and I both realize that, so we're talking about her coming back in some capacity to season two if we can make her deal work."
Apparently the two could not make it work as Britton is leaving the show as a series regular.
Stepping into her place will be Jennifer Love Hewitt (The Ghost Whisperer, Party of Five), according to the Hollywood Reporter. Hewitt will play Maddie, the sister of firefighter Evan "Buck" Buckley (Oliver Stark). She will take on the role of a 911 operator. The same job of Britton's character. This marks Hewitt's return to television after last appearing in Criminal Minds Season 11.
TVLine reports that an old Ryan Murphy friend will be guest starring as a foil to Love Hewitt's character. Christine Estabrook, who plays shady real estate agent Marcy in seasons 1 and 5 of American Horror Story, will appear in an episode of 911 Season 2. 
"We love making relationships with actors and artists and crew members," showrunner Tim Minear told TVLine. "You always want to bring back the people that do well for you. This role wasn't written with (Estabrook) in mind, but then her name came up, and Ryan and I were like, 'Of course!' We wrote it for her without even realizing it. When you see her in the part, you're going to know exactly what I mean."
Estabrook will be playing the "perfect" 9-1-1 dispatcher.
911 Season 2 Trailer
The 911 Season 2 trailer wants to know: can you handle the pressure?
Based on the severed arm in a pool – probably not. 
Alec Bojalad is TV Editor at Den of Geek and TCA member. Read more of his stuff here. Follow him at his creatively-named Twitter handle @alecbojalad