Features
9 things we learned from Doctor Who: Pond Life
An Ood on the loo, Rory's lunchbox, and a cliff-hanger… here's what we learned from Doctor Who's comic mini spin-off, Pond Life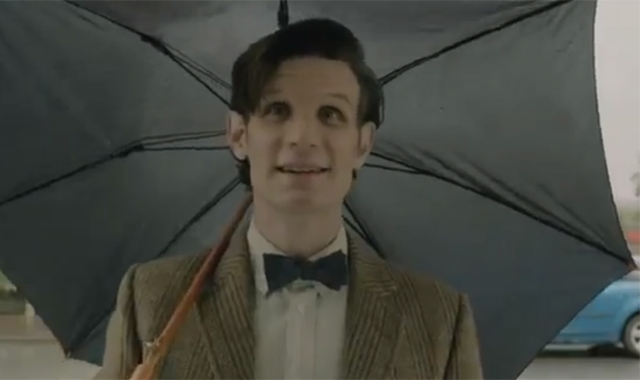 With one day to go until the new series of Doctor Who begins, we've reached the end of the five mini-instalments of Pond Life, the comic spin-off written by Chris Chibnall and directed by Saul Metzstein.
The first four glimpses into the Ponds' domestic life were characterised by silliness, frivolous gags, and an Ood on the loo, while the fifth and final look had a drastically different tone.
Staying with the silliness though, here are some of the things we learnt from our brief time chez Pond…
1. Amy Pond has suitcase, will travel 
Amy and Rory's bedroom set has been dressed with a few vestiges from her childhood room, including the model of the TARDIS seen in The Pandorica Opens, what may possibly be the Raggedy Doctor doll sat on their mantelpiece, and one symbolic bit of kit: her suitcase from The Eleventh Hour.
Said suitcase is propped up next to the door, quite possibly packed and ready to go at a moment's notice, telling of the character's willingness to take off and see the stars.
2. Doctor Who isn't above a bit of Carry On humour 
During his absence from the Ponds, the Doctor enjoys an intimate encounter with turn-of-the-century exotic dancer and alleged spy Mata Hari in a Parisian hotel room. Her robe comes down, his crumpet fork goes up, and it all comes off a bit Carry On Time-Travelling. What will the Missus say?
3. The Ood wear pinnies now. Pinnies are cool 
Episodes three and four of Pond Life saw the Ponds welcome an unlikely house guest, one who wandered off the TARDIS into their bathroom, and set about laundering Amy's denim minis dressed in a sweet little pinny. A floral, bird-bedecked pinny to be precise, and one we can only assume belongs to Rory.
4. Karen Gillan's wearing a wig 
Hair aficionados will have noticed Amy's bonce sporting some extra volume and an odd sheen in the five mini-episodes, which is all down to Gillan having had a continuity-destroying fringe cut since filming her final episodes. The wiggery was confirmed on Twitter by Gillan herself, who announced "I'm wearing a great big ginger wig in Pond Life. Due to fringe!".
5. The Ponds are Noddy fans 
Amongst the miniature robots seen scattered amongst Amy and Rory's possessions is a quite lovely little Noddy car. Could it hint towards a future adventure involving an alien race who wear hats with little bells on them? Or is it just another sly dig at the size of Matt Smith's ears? 
6. The Doctor can surf… and rap? 
Episode one's montage sees the Doctor follow up a derring-do escape surfing the fire floors of Floridor 9 by laying down some backing vocals for Dizzee Rascal.  Let's never speak of this again.
7. Amy steals sausages (and buys her cutlery from Wilkinsons) 
She's the sausage-stealing type isn't she? And Rory just puts up with it…
Additionally, are the Ponds the first couple in the universe not to receive posh cutlery as a wedding gift? You'd have thought that the pair's time-travelling adventures would have given them an opportunity to pick up some nice knives and forks to replace these cheapo versions.
8. Rory has a Roman Centurion lunchbox 
Which is brilliant. Do you think the other nurses laugh at him though?
9. The Ponds are red wine drinkers 
Yes, the barrel's being well and truly scraped at this point, but we suppose it does round out the characters a little to know that they enjoy a cheeky Carignan Merlot of an evening.
Catch up on the episodes, courtesy of the BBC, below:
Follow our Twitter feed for faster news and bad jokes right here. And be our Facebook chum here