Features
8 Amazing Geek TV Cameos That Almost Happened
From Doctor Who to Buffy, Breaking Bad and Game of Thrones, we look back at the TV cameos that almost happened…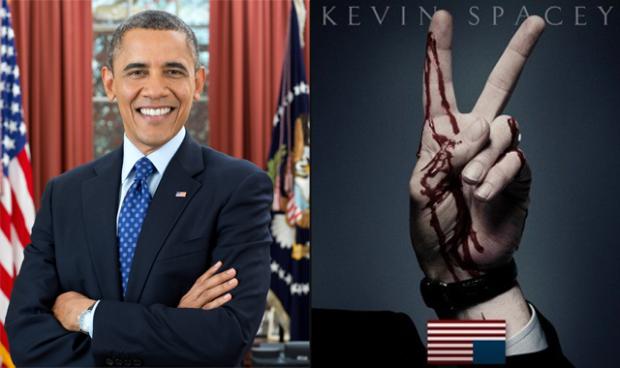 The art of the TV cameo is a delicate balance. Get it right and fans feel rewarded, get it wrong and risk their wrath. Done properly, a TV cameo isn't just a ratings grab or a 'did you see?' moment, it's an air-punch-worthy treat for the faithful. Done carelessly, or overdone, they can undermine a show and take you slap bang out of its world.
read more: Game of Thrones Season 8 – This Was Always the Ending
With busy schedules and conflicting egos at play, it's not always easy for cameos to make it to the screen. Offers are rejected, requests from stars are ignored, and plans fizzle out. From True Blood to Game of Thrones, here are the planned cameos in geek TV that for several reasons, just didn't happen…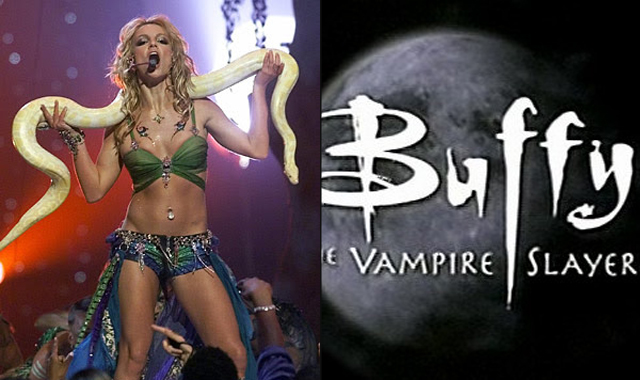 Britney Spears in Buffy The Vampire Slayer
Potential role: April the robot in season five's "I Was Made To Love You"
What's the story? It's now part of Buffy legend that the role of girlfriend robot April in Jane Espenson's 2001 episode, "I Was Made To Love You," was written with singer Britney Spears in mind, something confirmed by series creator Joss Whedon in this 2009 TV guide interview. Whedon explained:
"They said 'Britney wants to do the show' – they were always saying 'Samuel L Jackson wants to do the show', we got that one time too, eventually I just stopped believing it – so we did hear there was a possibility Britney wanted to do the show, but we had never seen her act at all, so I was like well, we'll cover our bases, let's write a show about a robot, and that way if she can't, we're fine! And then Shonda Farr came in and did a wonderful job. The creation of Warren, the villain, the Buffybot… it all came from the fact we thought Britney Spears was going to be on the show so happy accidents."
Why didn't it happen? Britney, or her management, turned it down. Perhaps they caught wind of the sex-robot plan.
George R.R. Martin in Game Of Thrones
Potential role: Undisclosed, but it would have involved Martin travelling to Croatia, where the show's King's Landing scenes are filmed. Perhaps he would have been part of a crowd scene around the Red Keep? Or a guest at Joffrey and Margaery's wedding?
read more: Game of Thrones Season 8 – Bran Stark Played Us All
What's the story? As well as playing a restaurant diner in a 1988 episode of the series he was writing for at the time, Beauty & The Beast, Martin had also previously filmed a cameo on Game of Thrones, as a guest at the wedding of Daenerys Targaryen and Khal Drogo in Game of Thrones' unaired season one pilot. That experience taught him an important lesson for any future filming on the show – request a chair. "I hope my character is sitting down, let me say that" Martin told Wired in 2013. His last cameo role in the show had him "standing there freezing, and my back was killing me by the end of the evening. And I said, if I ever do another cameo, I'm going to have a nice comfortable seat…. Other than that, I don't know."
read more: Game of Thrones Season 8 Predictions and Theories
Why didn't it happen? Martin simply had too much on his plate. Originally, the cameo was planned for season three, before being pushed to four, and then nixed because of the writer's work commitments (as you might know, he has a book or two to be pushing on with). The topic came up again for Game of Thrones final seaosn but Martin declined. 
Sarah Palin in True Blood
Potential role: Undisclosed, but as it was for season seven's "Lost Cause," our guess is that she'd either have been playing herself or a fellow Republican conventionee.
What's the story? True Blood has long dabbled in satire of right-wing politics, making Palin's mama grizzly Republican an irresistible target. According to Palin, she received a "brazen" request from the liberal HBO vampire show because of politics, sarcastically referring to "the brilliant minds of True Blood" who asked her to cameo on the show "apparently so they could insult a conservative woman in person instead of just all conservative women in general."
read more: Game of Thrones Season 8 – Everything We Know
HBO later corroborated Palin's story, with spokesperson Kelley Carville giving the following statement, here: 
"Sarah Palin was one of several Republican figures brought up in discussions regarding episode five of True Blood. Casting directors for the show reached out to Ms. Palin's representative but did not receive a response. Had Sarah Palin come on the show she would have been treated with the same level of dignity and respect all of the show's actors are and would have been privy to the script in advance of filming."
Why didn't it happen? Political differences. "I turned them down", Palin told Conservative website Breitbart News.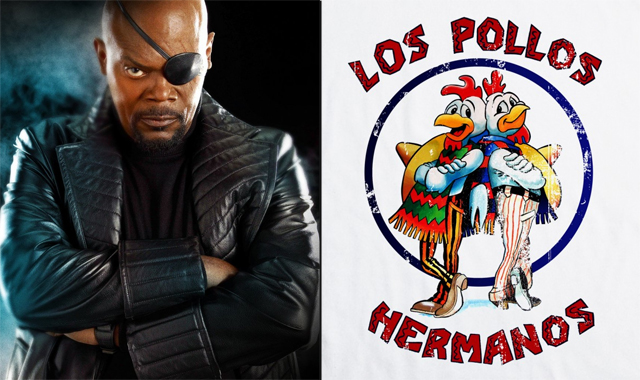 Samuel L. Jackson in Breaking Bad
Potential role: Los Pollos Hermanos chicken customer/Nick Fury.
What's the story? You already know that Samuel L. Jackson is a Breaking Bad fan (if you haven't seen his version of the "I am the one who knocks" speech, shake a leg and do so now). Did you know that he also wanted to make a cameo appearance in the series while filming The Avengers on the same lot as the hit AMC show?
In a December 2012 interview, Jackson gave The Playlist an anecdote about shooting The Avengers in Albuquerque, New Mexico, the same location used by AMC's critically acclaimed Breaking Bad. "They shot in the studio right across from us in Albuquerque," said Jackson, who said he wanted to walk into shot wearing his Nick Fury costume and order some chicken from fast-food chain Los Pollos Hermanos. "I just wanted to order a three piece and really freak people out," Jackson laughed. "Then people would be going, 'wow, was that him?'".
Why didn't it happen? According to Jackson, the producers wouldn't allow it.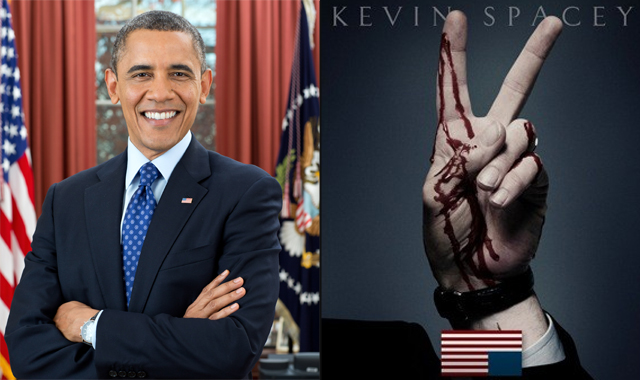 Barack Obama in House of Cards
Potential role: Discussions didn't quite get that far.
What's the story? During a White House photo op with various important folks in December 2013, Barack Obama was recorded asking Netflix CEO Reed Hastings whether he'd brought previews of House of Cards' second season with him. Hastings responded by asking Obama if he was willing to do a little cameo on the show, a request the US President deftly avoided, instead making a wry comment that he wished real-life politics was "that ruthlessly efficient". "It's true" Obama continued to general laughter, "I was looking at Kevin Spacey thinking 'man, this guy's getting a lot of stuff done." Watch the video by following this link.
Why didn't it happen? Come on. It was never going to happen. Nice try though, Mr. Hastings.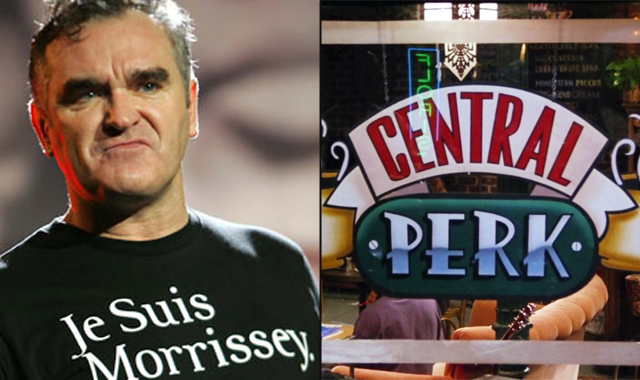 Morrissey in Friends
Potential role: A Central Perk singer with "a really depressing voice."
What's the story? Just one of the delicious tidbits in Morrissey's autobiography is his account of going to watch the filming of an episode of NBC's Friends in the '90s, in which his pal Chrissie Hynde had recently made a guest appearance. "The cast is friendly," Morrissey writes, "and I am immediately taken aside by the scriptwriters and asked if I'd jump in on a newly jumbled plot-line where I appear with the character Phoebe in the Central Perk diner, where I am requested to sing 'in a really depressing voice'."  
read more: Game of Thrones Season 8 – Unpacking Drogon and the Iron Throne
Why didn't it happen? Mozza wasn't keen. According to the man himself, the offer had him winding "down the fire-escape like a serpent, and it's goodbye to Hollywood yet again." 
Tim Curry in Glee
Potential role: Undisclosed.
What's the story? In 2010, Glee was putting together its Rocky Horror Picture Show tribute episode, which went on to feature stars from the original film, Meatloaf (who played rock 'n' roll loving delivery boy Eddie in the movie and local TV station manager Barry Jeffries in the Glee episode) and Barry Bostwick (Brad Majors in the original, fellow local TV man Tim Stanwick in the episode).
Tim Curry, who has famously been reluctant to discuss his iconic role as Dr Frank-N-Furter over the years, unsurprisingly, didn't agree to a cameo appearance in the episode.
Why didn't it happen? The usual reticence about rehashing the past role, we'd venture, though no official statement other than "He will not be doing [Glee]" from Curry's spokesperson, reported here, was forthcoming. Curry didn't shy away from other TV appearances in 2010, recording one of his many voice parts for The Regular Show that year, amongst others.
Prince Charles in Doctor Who
Potential role: While we'd like to say Yeti or Sontaran, it would probably have been as himself, wouldn't it?
What's the story? As revealed by Russell T. Davies at the Cheltenham Literary Festival in 2008, an offer was extended to Clarence House for Prince Charles, a noted Doctor Who fan, to cameo in an episode of the revived show.
Why didn't it happen? According to a laughing Davies, the Prince turned it down, "the miserable swine," but according to a Clarence House spokesperson, the offer never even reached Charlie, and was turned down on his behalf. Those miserable swines.