Features
7 reasons to be optimistic about a Scream TV series
Sarah argues that MTV's Scream TV pilot could be a great addition to the franchise...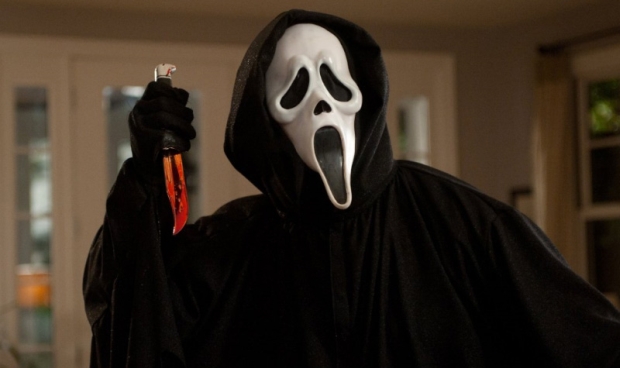 There are lots of reasons to be pessimistic about the proposed Scream TV show. You could see the idea as a cynical cash grab, an attempt to wring the last few dollars out of the franchise after Scream 4 failed to do as well as its predecessors at the box office. You might wonder why you'd bother taking a recognisable brand name and applying it to what sounds like a completely different property anyway. And you might well look at some of Wes Craven's non-Scream projects over the last decade and wonder if he's in touch with what a modern horror audience even wants.
But where's the fun in that? If you're a horror fan, you're probably well acquainted with the thrill of chucking in a random horror DVD, in spite of the crappy cover art, in spite of the fact it doesn't star anyone you've ever heard of, just in case it turns out to be brilliant. 99 times out of a hundred, it won't be, but there's nothing quite like discovering something amazing. So let's just admit we're all overly optimistic gamblers and find some reasons that a Scream TV show might, actually, be great…
The pilot is being directed by Wes Craven
Right, yeah, this could actually go either way. Craven's made some great teen horror movies (A Nightmare on Elm Street, Scream) and some terrible ones (Cursed, My Soul To Take). He's not necessarily an indication of great quality. But the fact that the show has the director of the original movies involved seems like a better sign than if they'd drafted in someone else. It suggests there'll be some sort of quality control going on – you'd hope Craven wouldn't want to make something that devalued his own work.
It's being written by Jill Blotevogel
Again, this is no guarantee of anything, but Blotevogel has plenty of relevant experience. She wrote episodes of the rebooted Twilight Zone, an episode of Stephen King's Dead Zone, and a couple of episodes of Moonlight. Most relevantly, though, she wrote an episode of Harper's Island, a slasher TV series that was exactly the kind of thing the Scream TV show should be. So that bodes well.
MTV does some cool stuff
When you think of MTV, you probably imagine embarrassing reality TV shows, but the channel has been branching out into drama, and so far, it's done pretty well. Awkward was well received, and Teen Wolf has a huge obsessive fandom. If Teen Wolf is the blueprint – taking a well-known movie and creating a very, very loose adaptation of it for TV – then the Scream show should be pretty great.
It's about new characters, so it's not actually a remake
Trying to turn the story of Sidney Prescott and the many, many masked maniacs who want to kill her into a TV show would probably be terrible. It's hard not to imagine something like that turning out like the Stab movies. So it's really good news that that isn't what MTV is planning to do here.
Although we don't know a lot about the plot just yet, casting calls for the four main characters have been released, and they're all new and shiny:
Harper Duval, an introverted 16-year-old girl, who'll be our heroine;
Maggie Duval, Harper's mum and the town's medical examiner;
Audrey Jenson, Harper's best friend, who's apparently an "artsy loner";
And Noah Foster, a super-smart pop culture obsessed geek.
But it seems to be keeping the pop culture savviness of the movies
That last character description suggests there'll be plenty of the pop culture references that made Scream seem so different when it first came out. Nowadays, there's nothing unique about characters in horror movies talking about horror movies (it's actually kind of a cliché in itself now) but at the same time, it's tough to go back to watching characters who've somehow missed out on several decades' worth of cinema. Scream 4 did a pretty good job of bringing that self-referential quipping up to date, so hopefully it'll work just as well on the small screen.
The only bit of story that's been talked about so far involves a viral YouTube video, so clearly the creators are determined to set the show in the world we actually, you know, live in.
Horror on TV is pretty great right now
These things come and go in waves, but right now, there are plenty of decent horror shows on TV – Sleepy Hollow, Teen Wolf, American Horror Story, The Walking Dead, Supernatural, Hannibal, and so on. If a Scream show happens, it probably won't be much like any of those shows, but hopefully the makers will realise they need to make it pretty great if it's going to compete for an audience.
We just don't know
Right now, there really isn't that much information available about the show. MTV is ploughing ahead with the pilot, but that's no guarantee that it'll get picked up for a full season – and it's still very early days, even on the pilot. It's been rumoured that it'll actually be a supernatural horror story, rather than a slasher, and if that's an option, this could be about literally anything. Without enough information to definitely say it'll be terrible, let's be open-minded. It might be the most amazing thing ever.
Follow our Twitter feed for faster news and bad jokes right here. And be our Facebook chum here.