News
50 years of Steptoe and Son: its influence on 60s and 70s sitcoms
Alex looks back at the new wave of realism that swept sixties and seventies sitcom thanks to Steptoe and Son...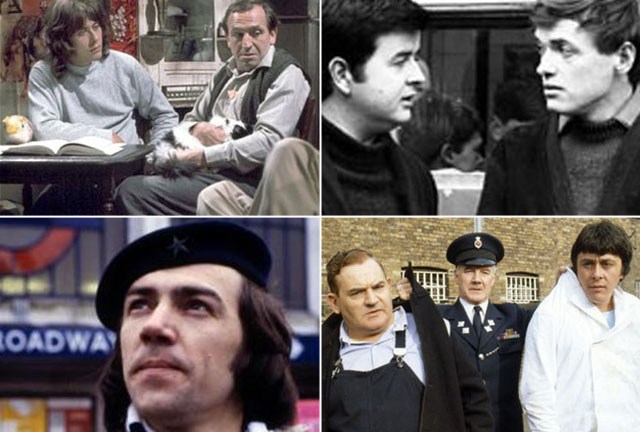 Steptoe and Son had an immense influence on British television comedy, and specifically the writers who created some of the finest sitcoms of the last fifty years.
The fact Steptoe and Son depicted a working-class father and son was truly groundbreaking. To put it into context, the BBC in the early sixties and for many years subsequently, tended to commission safe, middle-class family fare for its main situation comedy offerings. 1963's The Marriage Lines, was a pleasant but frankly, rather dull, comedy about a newly-married couple by Richard Waring. It starred talented young prospects, Richard Briers and Prunella Scales, the series is not widely remembered as both stars eclipsed these early roles with iconic parts in the seventies sitcoms The Good Life and Fawlty Towers respectively. 
There was a sea-change in screen drama at the start of the sixties. The British New Wave, which emphasised a raw, provincial realism in film and television, swept all before it. The BBC modernised and the rather stuffy edict that the BBC should invest in drama that was "good for the audience" was replaced by a more relevant, contemporary approach with the appointment of Sydney Newman, who developed the prestigious long-form drama strand The Wednesday Play. In comedy, the newly launched BBC2 saw the debut of a series which embodied the new wave realism. The Likely Lads (incidentally, the first comedy series to be set outside London), was created by a talented young writing team heavily influenced by Galton and Simpson: Dick Clement and Ian La Frenais. 
DICK CLEMENT & IAN LA FRENAIS: The Likely Lads, Whatever happened to… the Likely Lads, Porridge
Clement and La Frenais were keen to translate the nascent, northern realism of films like Saturday Night, Sunday Morning, A Taste of Honey, The Loneliness of a Long Distance Runner and Billy Liar (the latter two films featured Likely Lads stars James Bolam and Rodney Bewes respectively) The Likely Lads stemmed from a short sketch called "Double Date" which had impressed BBC2 controller Michael Peacock. It reflected the lives of a couple of young working class men, Terry Collier and Bob Ferris, in northern Britain in 1964, in short, it was exactly the sort of programming Peacock felt his new channel should embrace. Dick Clement and Ian La Frenais cite Steptoe and Son as a huge inspiration behind the creation of The Likely Lads and its even more impressive sequel, 1972's Whatever Happened to… the Likely Lads? 
Clement and La Frenais,  like Galton and Simpson, wrote about men under pressure often in very confined conditions, never more so than in the superlative Ronnie Barker vehicle Porridge which ran from 1974 to 1977. There is a powerful monologue from Fletcher in a particularly fraught scene and Ronnie Barker pretty much plays it straight. Fletcher's sour reflection of what his life amounts to and his disappointment with his own shortcomings lead him to berate the system. He kicks a chair in sheer frustration. Godber, not used to such behaviour from his usually upbeat cellmate, is concerned. Fletcher calms down and explains things just get to him now and again. He then warns Godber not to be like him, suggesting he bides his time and goes straight. The implication being "a man's chances in life are significantly better if he's never been inside".
CARLA LANE: The Liver Birds, Butterflies
Carla Lane's Liverpudlian flatmate comedy The Liver Birds which began in 1969 was ground-breaking for the time, in turn influencing Man about the House, it originally starred Pauline Collins, who didn't stay with the series too long and was replaced after the first series by Nerys Hughes as the nervous mummy's girl Sandra, who balanced the relentlessly chirpy Beryl played by Polly James.
When James left in 1975, Elizabeth Estenson was introduced as Carol Boswell, a rather gauche vision in vibrantly coloured tops, high heeled boots and felt "Lennon" cap. Carol can be seen as an antecedent of wannabe model Aveline in Lane's later success Bread which also featured the name "Boswell"  Carla Lane simply thought the name lucky. Carla Lane's writing, particularly after The Liver Birds, tends to replace poignancy with schmaltz and sentimentality. Here the comedy is balanced with wistful reflection in  the excellent monologues delivered by the ever-engaging Michael Angelis as Lucien Boswell, arguably, a direct descendent of the misanthropic Harold Steptoe.
Butterflies
, which first appeared in 1978, the same year
The Liver Birds
ended, starred Wendy Craig, a veteran of several sixties sitcoms and Geoffrey Palmer, at the time recently seen in
The Fall and Rise of Reginald Perrin
and featured a young Nicholas Lyndhurst. Craig's housewife Ria, was given to internal monologues, something
Peep Show
would develop but still quite a new concept in 1978. Ria's frustrations manifest themselves in her lack of cooking skill which provided much of the comedy yet her feeling of being trapped in a loveless marriage gave rise to controversial scenes where she meets another man. Realism is somewhat lost on the children, however, their dialogue peppered with "cool" and "groovy" seems about ten years out of date for the late seventies. Carla Lane was writing about a common truth that many housewives felt unsatisfied and longed for a more fulfilling lifestyle.
ERIC CHAPPELL: Rising Damp, Only When I Laugh
Eric Chappell was a playwright. His biggest success was a west end run of The Banana Box about a seedy unscrupulous landlord and his hapless, wayward tenants. Rooksby was originally played on stage by Wilfrid Brambell then later by Leonard Rossiter. Eventually, the play was transferred to TV by Yorkshire Television in 1974 as Rising Damp. Rossiter made the part of the scruffy, rejected-at-the-altar, Rupert Rigsby (as the character had been renamed) his own. He had appeared in just two episodes of Steptoe and Son but it was his performance in the well-loved episode, The Desperate Hours, about two escaped  convicts who discover prison preferable to the Steptoe's skint lifestyle, that really showcased his comic ability. 
As Rigsby, Leonard Rossiter's heightened performance bounced off the wonderfully understated performance of Richard Beckinsale as long-haired medical student Alan Moore. Don Warrington's "son of a chief" Philip, often got the better of Rigsby's racism and gullibility (a rare, relatively positive portrayal of race in seventies sitcom). Frances De La Tour as the sex- starved, highly strung Ruth Jones was the perfect foil for Rossiter. In real life the two had little in common and were said not to get on, yet their shared scenes are something approaching comedy gold. Rising Damp ran from 1974 to 1978 on TV and became a feature film in 1980 made by Hammer films of all people! 
Only When I Laugh, which first appeared in 1979, was a very popular three hander-set in a men's ward of a hospital. Peter Bowles played the slightly eccentric, effete middle class Archie, Christopher Strauli was the fresh faced Norman, who never grew out of taking a teddy bear to bed and best of all was James Bolam as the workshy waster Roy Figgis who, despite his workshy attitude was proudly working class, a TV critic once observed Figgis is simply Terry Collier on a bad day. The series is also notable for an early appearance of Richard Wilson as Figgis' nemesis, the put-upon Dr Thorpe.
JOHN SULLIVAN: Citizen Smith
Perhaps Steptoe's biggest influence was upon the writer John Sullivan. Working as a scene shifter at the BBC, Sullivan had managed to persuade legendary comedy producer Dennis Main Wilson to look at his script about a would-be revolutionary and his band of followers. Citizen Smith starred a young Robert Lindsay as Wolfie Smith, the leader of "The Tooting Popular Front". Members included Smith's understanding girlfriend Shirley (Cheryl Hall) who ran a record shop; peace loving pacifist Ken, played by Mike Grady was Wolfie's right hand man; nervous Tucker (Tony Millan) who ran a Mexican restaurant dressed as a cowboy and had umpteen kids and vicious jailbird Speed (George Sweeney) who trusted Smith to look after his girlfriend Desiree, a local stripper, when he spent time inside, which was often.
Like Frankie Barrow in Steptoe and Son, Sullivan added a local villain, Harry Fenning (in the first two series) played by Stephen Grieff and then Ronnie Lynch played by David Garfield. The funniest characters were Shirley's mum and dad. Charlie Johnson, the magnificent Peter Vaughan, was a security guard who hated the sight of Wolfie calling him "that yeti", his wife Florence was a sweet but rather confused and naïve lady mistakenly calling Smith "Foxy". Hilda Braid, who specialised in playing eccentric old ladies was perfect casting. She gets to deliver perhaps the best line in the whole series. Having taken a phone call meant for Wolfie, she looks confused and announces:"Either that was someone called "Tucker" or it was one of those obscene phone calls!"…
Next time: In the final part of the series we move into the eighties, nineties and noughties and examine the influence of Galton and Simpson's masterpiece on Only Fools and Horses, Dear John, One Foot In the Grave, The Royle Family, Early Doors, The Office and Peep Show.
See also: 
50 years of Steptoe and Son: the original working class sitcom
50 years of Steptoe and Son: now in colour
Follow Den Of Geek on Twitter right here. And be our Facebook chum here.