Features
50 years of BBC Two: a history of a brilliant broadcaster
Alex looks back at BBC Two's long history of commissioning and supporting genre shows, to celebrate the channel's 50th birthday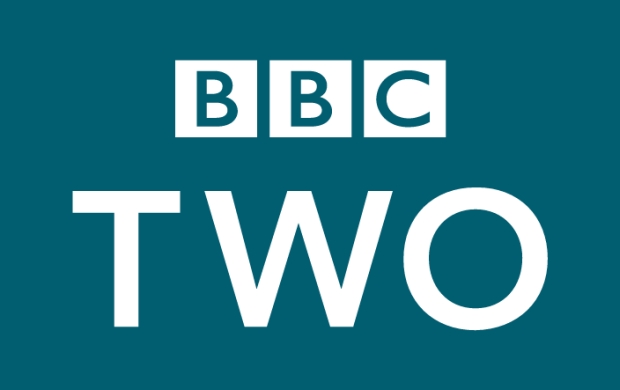 A fire at Battersea Power station on 20th April 1964, although serious, wouldn't have been especially remembered but for the fact it caused a massive power cut, blacking out much of the capital and the South East, including BBC TV centre in West London. This, in turn proving a disaster. The BBC was about to launch their second channel, BBC 2, that very evening. Consequently, despite its grand plans for opening night, including a production of Kiss Me Kate, BBC 2 didn't get beyond a news summary broadcast from the unaffected Alexandra Palace. The channel actually began properly the following morning, Tuesday 21st April 1964 at 11am with the first transmission of pre-school programme Play School.
BBC Two was developed as an alternative to the now more mainstream BBC TV channel, which was renamed BBC 1, and its young rival ITV, itself less than decade old when BBC 2 launched. For the next 18 years it was the only channel where one could see high culture, serious and in-depth discussion of the arts and challenging epic (by today's standards) documentaries such as Kenneth Clark's Civilisation (1969), which explored the rich history of the arts across the world and Dr. Jacob Bronowski's The Ascent of Man (1973) which looked at the advances in science from a similar perspective. Later there was Dr Jonathan Miller's The Body in Question (1978), a superlative history of medicine. In 1979, Sir David Attenborough, the channel's erstwhile controller – no less, wrote and presented the natural history epic Life on Earth, which has since become perhaps best known for the candid scene with the gorillas. Mention should be made too of BBC 2's Horizon, a fine documentary strand that has run as long as the channel itself.
Comedy also got a shot in the arm with the arrival of the second BBC channel. The "north country" sitcom The Likely Lads, from the pens of up and coming writers Dick Clement and Ian La Frenais, was heading for BBC 1 when it was "hijacked" by BBC 2's original controller Michael Peacock. He fell in love with the script and declared regional comedy was exactly what BBC2 should embrace and promote. BBC 2 also developed a reputation for satire and sketch comedy, often positioned at 9pm. The Goodies arrived by tandem in 1970, Monty Python graduate Eric Idle set up Rutland Weekend Television in 1975 and Michael Palin and Terry Jones told some Ripping Yarns in 1977 and 1979.
John Cleese's superlative Fawlty Towers began in 1975 but such was the demanding nature of the scriptwriting he and his wife, (then ex-wife) Connie Booth took four years to write the second series, the show eventually emerging in February 1979. Reflecting its popularity, it was promoted by a Radio Times cover. Because of a technician's strike the final episode, Basil The Rat, was delayed until October. The following week, Cleese filmed a scene set in the hotel lobby wherein he was heard in conversation (on the phone with a BBC exec) adamantly refusing to do anymore and instead suggested putting on "some kind of tatty revue", thus Not the Nine O'Clock News was born a minute later…
Perhaps unsurprisingly, those at commercial television felt short-changed. Plans for an ITV2 were first mooted as early as 1971, some television sets were actually made featuring a button labelled "ITV2" long before the 80s. On Tuesday November 2nd 1982, Channel 4 began. BBC 2 was tasked with challenging Channel 4, something it still does despite the 1997 arrival of Channel Five. The Comic Strip made a splash on Channel Four's opening night and later the same week BBC2 countered with the first episode of The Young Ones, which featured more or less the same cast of young comedians. The Young Ones had a band on each week – Madness and Motorhead featured amongst others, to further appeal to its young audience. This also allowed it a light entertainment budget which was somewhat more generous than that for a traditional sitcom.
By the millenium BBC Two was going from strength to strength, A History of Britain, an epic 16-part account of Britain and its people from the Stone Age to the 20th century by Simon Schama proved the channel could still produce quality documentaries with real scope. 1996's Our Friends In the North remains one of the best dramas ever produced. The epic 9-part serial embraced the personal histories of four friends across 40 years of political upheaval in Newcastle and London. The cast featured Christopher Eccleston and Daniel Craig, a future Doctor and James Bond, no less.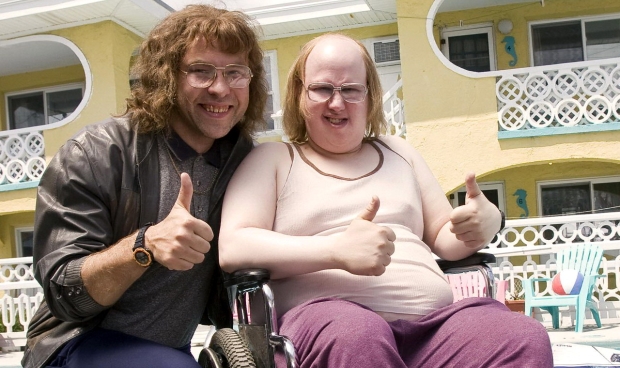 Today the channel is perhaps less focused. BBC Four, which began in 2002 has taken on the high brow cultural material, foreign dramas and subtitled films. BBC Two today seems to be more of a "secondary BBC One" airing shows not quite so mass-market enough for the main BBC channel, though undoubtedly mainstream and certainly not the kind of ponderous esoteric material in which the channel once specialised.
BBC Two has been such a successful testing ground that many shows it initiated are now firmly thought of as being archetypal BBC One programmes: Have I Got News For You, Absolutely Fabulous, The Royle Family, The Apprentice and Miranda to name but five. More recently, BBC Two has been a "halfway house" for BBC Three shows making their transitional journey to the mainstream – notably Torchwood and Little Britain.
Not everything makes the leap, of course; whilst the next series of The Great British Bake Off will be on BBC One, Top Gear remains resolutely a BBC Two show. "Old" Top Gear which began in 1977, was originally a 25-minute regional magazine show based at Pebble Mill in Birmingham and fronted by the likes of Angela Rippon and Noel Edmonds, who hosted the first BBC2 show in 1978.
Jeremy Clarkson first appeared in 1989 and in the 90s succeeded William Woollard as the main host, making the show his own. Out went the "sensible" magazine style; in came the irreverent "boys own" approach which typifies the modern re-tooled 60-minute version, itself already 12 years old and an international hit. Top Gear's rise from a regional opt-out to a global brand is arguably BBC Two's biggest success story and one can see why successive controllers have fought tooth and nail to keep the flagship show on the channel.
BBC Two has stood for many things down the years. However, it is arguably the channel that represents the BBC's most enduring commitment to sci-fi and fantasy shows. A cult TV oasis in a morass of reality, lifestyle and celeb chefs which, over the years, has brought us a wealth of geek programming. Many of the great shows we know and love either began or were first aired on UK terrestial TV on BBC Two: Buffy The Vampire Slayer (1998), Gormenghast (2000), The Hitchhiker's Guide To The Galaxy (1981), Neil Gaiman's Neverwhere (1996), Red Dwarf (1988), Star Trek:TNG, Twin Peaks and Quantum Leap (all 1990) and The X Files (1993) all had their UK terrestial TV premiere on BBC Two. There have been the odd misses: Star Cops (1987) a decent series that fell victim to terrible scheduling and Nick Frost's Hyperdrive (2006) which was something of a curate's egg.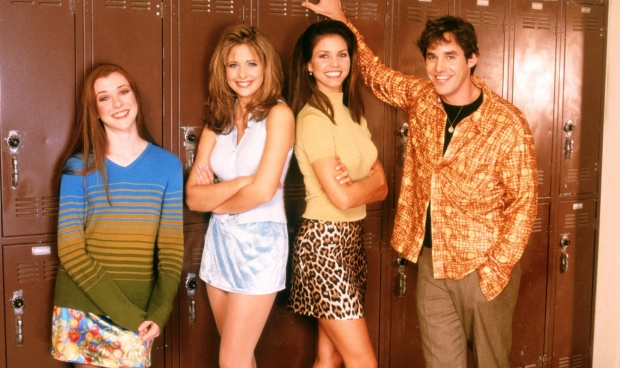 One of the earliest shows was 1965's Out of The Unknown which continued until 1971. Theatre 625 presented a rerun of the 1954 TV play 1984, which starred Peter Cushing as Winston Smith. 1969 saw the arrival of Counterstrike. Scary goings-on made The Stone Tape much talked about. Nigel Kneale's 1972 play starred a young Jane Asher and was shown late on Christmas Day that year. During the mid-70s, BBC2 would occasionally repeat BBC1's Ghost Stories for Christmas, however, in 1977 Supernatural, (not to be confused with the modern American series) was a chance to indulge the viewer who enjoyed a good scare with a chiller anthology series. In June of the same year a political thriller set in a dystopian near future, 1990, starred Edward Woodward and made a huge impact. A second series followed in February 1978. Dennis Potter's Pennies From Heaven followed in March the same year.
In the autumn of 1978 BBC 2 increased its broadcast hours and opened at around 5.30pm rather than around 7pm. Consequently a new slot opened up opposite BBC 1's Evening News and Nationwide. Embracing everything from Basil Rathbone's Sherlock Holmes movies to (famously) repeats of Doctor Who, this new cult zone slot saw Monkey arrive in 1979 and The Adventure Game began the following year, essentially an elaborate looking problem solving game show, BBC newsreader Moira Stuart was amongst the original cast.
January 1981 saw the transfer to television of a popular Radio 4 serial by Douglas Adams which in turn would also become "a trilogy of five books": The Hitchhiker's Guide To The Galaxy. Non-relatives Simon Jones and Peter Jones reprised their radio roles as Arthur Dent and The Book, as did Mark Wing Davey as Zaphod Beeblebrox. David Dixon replaced Geoff McGivern as Ford Prefect and Sandra Dickinson became Trilion. Arguably, the real star of the show was Marvin, the paranoid android – a remarkable exercise in despondency by Steven Moore. The influential "computer graphics" when the book is visualised are in fact painstaking animation using coloured light and transparencies. The BBC honed the technique for the title sequence of the primetime documentary strand QED.
One of BBC 2's most well remembered seasons, The Five Faces of Doctor Who from November and December 1981, was a real treat for those who'd only known Tom Baker's take on the Time Lord as it was a rare chance to see An Unearthly Child, The Krotons, Carnival of Monsters and The Three Doctors as well as Logopolis – this was originally to have been The Masque of Mandragora, however, a need to live up to the billing demanded Peter Davison's appearance in the season, hence the almost default choice of Logopolis, which provided a nice link into Davison's first full serial Castrovalva just a month later.
Hywel Bennett gave a chilling performance in Artemis 81, a groundbreaking three-hour dystopian vision, which was shown on December 27th. In January 1983 the 6pm slot saw a whole season of classic sci-fi movies under the banner The Science Fiction Film Festival.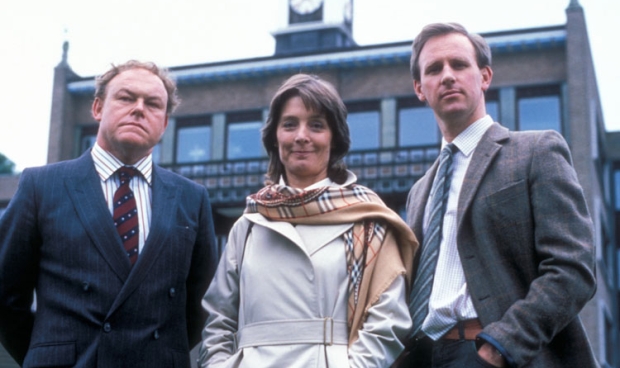 1984, perhaps appropriately, saw BBC 2 broadcast the truly frightening dystopian play Threads about the potentially devastating aftermath of a nuclear bomb on the city of Sheffield. Tellingly, after the broadcast of Threads, the general attitude to nuclear weapons gradually changed and many peace initiatives were signed by the US and Russia, notably under their progressive new leader Mikial Gobachev. The Cold War also informed thriller Edge of Darkness, transmitted in November 1985 and starring Bob Peck as Craven, a man driven by the death of his daughter to get to the truth behind a large nuclear organisation. On a lighter note, 1985 also saw the first showing of Moonlighting, a fantasy-laden detective drama starring Bruce Wilis and Cybill Shepherd.
In 1986, former Doctor Who Peter Davison became Doctor Stephen Daker in Andrew Davies' satirical campus drama A Very Peculiar Practice. September saw a rerun of classic American series The Invaders whilst Julie T Wallace was the star discovery of the year ensuring The Life and Loves of She-Devil, in which former Time Lord Tom Baker played a conflicted and rather randy priest, made quite an impact.
The summer of 1987 saw the launch of Star Cops mooted some time before its debut as the replacement for the then on hiatus Doctor Who. David Calder played Nathan Spring in this forgotten gem which ran to nine episodes and was scripted by the talented Chris Boucher. Unfortunate scheduling (8.30pm on Monday night) meant it didn't exactly set the ratings on fire.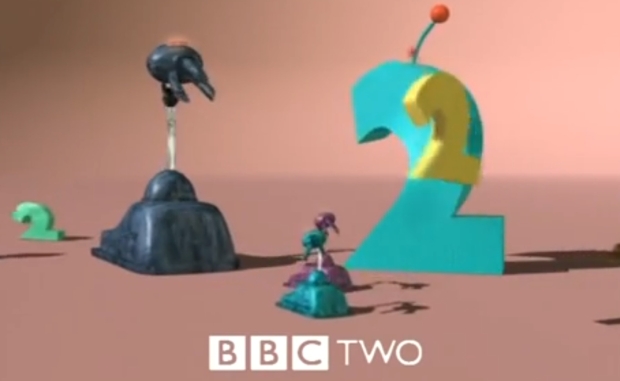 The 15th February 1988 is a significant date to all Red Dwarf fans as the first series arrived in the 9pm slot. Rob Grant and Doug Naylor's enduring comedy of a space bum, Dave Lister (Craig Charles), with no other company but a hologram of his former crewmate Arnold Rimmer (Chris Barrie), a mutated version of his pet Cat (Danny John Jules) and mechanoid cleaner Kryten (Robert Llewllyn), aided and abetted (but mostly abetted) by ship computer Holly (Norman Lovett, Hatty Hayridge) spent eight seasons on BBC2 before it seemed to end in 1999. Resurrected by the TV channel Dave in 2010 for a further two series, the show remains as popular as ever.
1990 saw no less than three American series of note arrive on BBC 2: Quantum Leap appeared in February, starring Scott Bakula as Sam Beckett, a time traveller who could turn up anywhere and anytime within his own lifetime. Star Trek:The Next Generation arrived in September: Patrick Stewart, who had been the psychiatrist Maybury in a succesful BBC 2 series a decade earlier, took over the Enterprise to great acclaim. "Who Killed Laura Palmer?" was the mystery at the heart of Twin Peaks in October. David Lynch's small town mystery series was heavily promoted and initially got very good ratings; however, many people tired of the series not to mention the increasingly weird characters who populated it.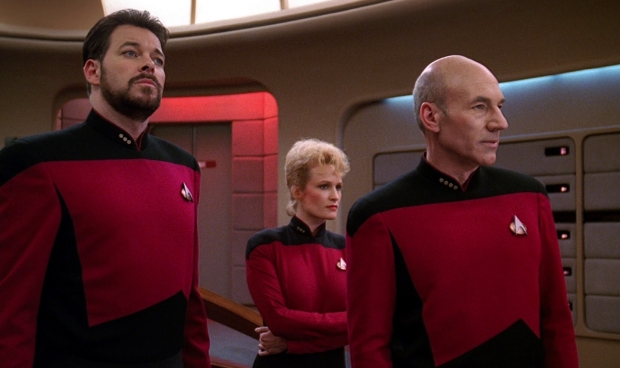 On August Bank Holiday 1991, the BBC bid goodbye to Lime Grove with a day of related programming on BBC2. The highlight was the unaired pilot of Doctor Who, the first terrestial channel repeat for the series since 1984! In January 1992 Resistance is Useless redressed the balance and marked a season of reruns: The Time Meddler, The Mind Robber and The Sea Devils, were followed in the autumn by the newly-coloured version of The Daemons and the following year by Genesis of the Daleks, The Caves of Androzani, Revelation of the Daleks and Battlefield.
In September 1992 Thunderbirds were "go!" once more. So popular with children was this rerun, models of Tracy Island sold out and a build-it-yourself replica became Blue Peter's biggest ever "make" as a consequence. 1993 saw the start of Star Trek DS9 and The X Files, which would later to transfer to BBC1. Sunday mornings were transformed in early 1994 by the unexpected rerun of classic Doctor Who: The Green Death and The Pyramids of Mars, as a retro lead in to the popular Sunday brunch programme, The Sunday Show, hosted by Donna McPhail and Katie Puckrik and featuring Paul Kaye as his mischievous alter-ego Dennis Pennis.
January 1995 saw Star Trek: Voyager touch down on BBC 2 and The Outer Limits got a repeat showing. Neil Gaiman's Neverwhere was an original drama commision in 1996 made by Lenny Henry's Crucial films, and featured Hywel Bennett, Peter Capaldi, Paterson Joseph (in potential Doctor Who mode) Trevor Peacock, Gary Bakewell and Laura Fraser amongst others. 1996 also saw comedy Third Rock From The Sun arrive on BBC 2.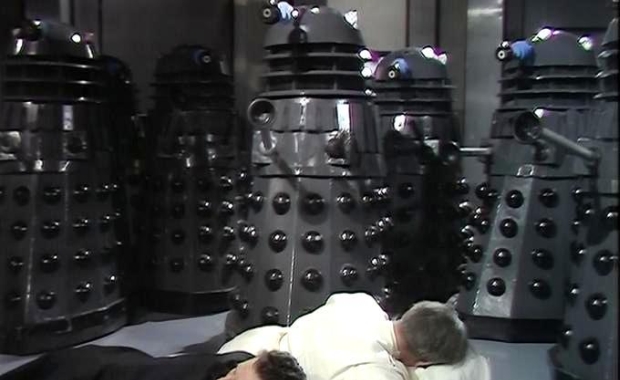 After a few rather lean years, fantasy TV made a big comeback with the establishment of a defined Cult Zone in 1997. The ITC back catalogue was plundered. Just after Christmas 1998, BBC Two (as it is now officially known) brought us the girl power of Buffy Summers in the very watchable Buffy the Vampire Slayer. The series starred Sarah Michelle Gellar and featured Anthony Stewart Head, Buffy's British librarian, Giles. The series eventually settled into a Thursday night 6.45pm slot and was then repeated uncut around midnight on Fridays for those wanting to stay up late.
By the end of the decade nostalgia for TV's past was such, whole nights were given over to specific decades – I Love The 1970s, I Love The 1980s, I Love The 1990s or even specific programmes. Star Trek was one of the first to receive this treatment and eventually on November 13th 1999 there was Doctor Who Night, which even featured a Dalek style "2" ident! The night was hosted by Tom Baker and featured sketches by Mark Gattis and David Walliams. It was meant to relaunch a full series of repeats from the Pertwee era. Sadly, after 13 episodes, BBC execs pushed the panic button and yet another rerun of Genesis of The Daleks replaced the scheduled Inferno. Three weeks later the season ended and Doctor Who returned to TV limbo, where it stayed until the big relaunch in 2005.
2000 began in style with a sumptious adaptation of Mervyn Peake's fantasy novel Gormenghast. Jonathan Rhys Myers led an all star cast, including Ian Richardson, Eric Sykes, June Brown, Richard Griffiths, Fiona Shaw, Martin Clunes, Stephen Fry, Spike Milligan, Celia Imrie, Warren Mitchell, John Sessions, Neve McIntosh, Zoe Wannamaker and the mighty Christopher Lee. The serial was deemed significant enough for a 68-page magazine to be produced by Radio Times, an honour hitherto almost exclusively reserved for Royal events and anniversaries of Doctor Who.
A trend in the 00s saw many a cult series, some good examples being 24 and Arrested Development, begin on BBC Two and over a couple of seasons build up a devoted following, only for the terrestial channel to be outbid by Sky, forcing the viewer to either buy Sky or the boxset a few months later.
The advent of BBC Four in 2002 has seen some of BBC Two's output find a new home. Subtitled films, plays and highbrow concerts, the more esoteric drama and documentaries, such as Mark Gatiss' superlative History of Horror, have formed the backbone of the new channel. BBC Two, meanwhile, has continued to innovate. It has commissioned programmes that blur genres. The League of Gentlemen first appeared in 1999. It was notoriously a jet black comedy and a dark drama, its creators referencing their misspent childhoods watching horror films, ghost stories and Doctor Who. Its successors, Psychoville and Inside Number 9. have continued the successful mix of comedy, horror and outright weirdness.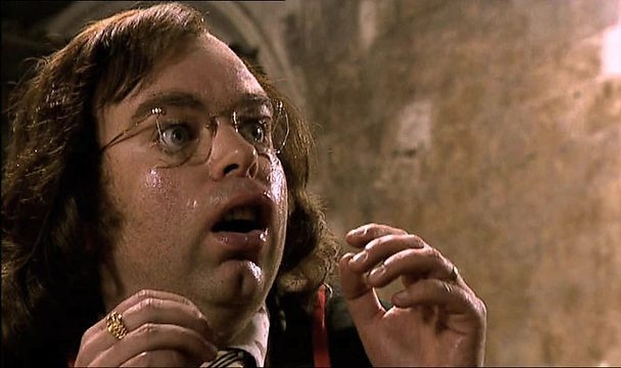 While Sky had become the first stop for sci-fi, the BBC Two 6pm slot featured the likes of Farscape and Roswell. 2003 began with Taken, Steven Spielberg's ten part "sci-fi soap" which was given a prime Saturday night slot on BBC Two. Following the return of Doctor Who to BBC One in 2005, sci-fi and fantasy series seemed to become almost trendy. There was suddenly a whole raft of shows: Heroes and Medium among them, fighting for our attention. On Christmas Eve 2010 BBC Two transmitted Whistle And I'll Come To You, starring John Hurt in a modern reworking of the classic MR James ghost story that had previously been made by the BBC in the late 60s and featured a cracking performance Michael Hordern.
By the twenty first century the concept of "box-setting" – where one watches an entire series in a weekend – has become an increasingly acceptable way to enjoy television and episodic drama in particular, hence the success of Breaking Bad. Netflix and other viewing platforms are gradually making inroads into the way we traditionally watch TV. More and more a programme has its own identity, often at the expense of the awareness of the TV channel that broadcasts it. Most recently Peaky Blinders and Inside Number 9 have proved BBC Two remains committed to cult, sci-fi and adventurous television. Long may such commitment continue – and happy birthday, BBC Two!
Follow our Twitter feed for faster news and bad jokes right here. And be our Facebook chum here.