News
50 States of Fright: Trailer and Release Date for Sam Raimi Horror Anthology
50 States of Fright, an urban legends-based horror anthology series from Quibi, showcases an impressive cast.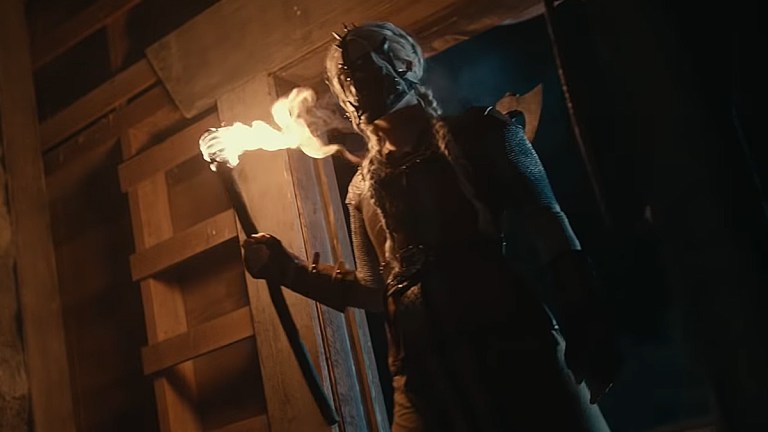 Quibi, the Jeffrey Katzenberg-backed 2020-launching streaming platform designed for short-form stories, has announced a most intriguing offering amongst its deep backlog, a horror anthology series, titled 50 States of Fright, which has corralled quite the cast and crew, notably with genre legend Sam Raimi–the movie maestro of the Evil Dead cinematic and television franchise and crucial comic book cinema of the Spider-Man Trilogy–tapped to develop and even direct an entry.
Rachel Brosnahan, Travis Fimmel, Christina Ricci, Asa Butterfield, Jacob Batalon, Ming-Na Wen, Taissa Farmiga, John Marshall Jones and Ron Livingston are just some of the names lined up to fill 50 States of Fright's anthology episodes. With the average runtime of approximately 10 minutes, each episode culls content from American urban legends and folklore.
50 States of Fright will manifest via Gunpowder & Sky's horror brand, Alter, which will produce with DIGA Studios and Pod 3.
50 States of Fright Trailer
The full trailer for 50 States of Fright has arrived, chock-full of scares and creeps. You can also check out the earlier teaser trailer just below it.
50 States of Fright Release Date
50 States of Fright is slated to arrive on Quibi on Monday, April 13, one week after the platform launches.
As Gunpowder & Sky CEO Van Toffler expressed in a statement of the show's greenlight:
"The driving force for us as a studio is to foster the careers of emerging talent by marrying them with proven innovators. With 50 States of Fright we sought out a diverse group of breakthrough performers and fearless horror visionaries and partnered them with Sam Raimi to oversee the creative process. This winning formula ensures we'll get a s-load of scares."
50 States of Fright Episodes
"We're delighted to welcome the newest round of top notch cast members to our terrifying show," said Toffler in the latest update to the list below. "With a slew of stars and breakthrough talent attached, and a laundry list of the most twisted and unique storytellers in the business, we're confident that 50 States of Fright will be a fan fave for horror fanatics everywhere."
Here's the breakdown of 50 States of Fright episodes:
"Golden Arm": Rachel Brosnahan (The Marvelous Mrs. Maisel), Travis Fimmel (Vikings) and John Marshall Jones (Grand Hotel) star in the tale based on a famous urban legend from Michigan. Sam Raimi and brother Ivan Raimi, natives of the state, are writing, with Sam Raimi directing.
"Red Rum": Christina Ricci (Z: The Beginning of Everything) and Batalon (Spider-Man: Far From Home) star in a telling of Colorado's scariest story from writers Isa Mazzei and Daniel Goldhaber (Cam), with Goldhaber set to direct. Victoria Justice (Victorious) and Colin Ford (Daybreak) will also feature in the episode.
"America's Largest Ball of Twine": Ming-Na Wen (Agents of SHIELD) stars in an installment based on a myth from Kansas with Karen Allen (Raiders of the Lost Ark) also taking a role. Yoko Okumura (Fed Up) directs and Mae Catt (Transformers: Cyberverse) writes.
"Almost There": Taissa Farmiga (American Horror Story) and Livingston (A Million Little Things) star in the Iowa-set story, written and directed by Hawkeye State natives Scott Beck and Bryan Woods (A Quiet Place).
"Grey Cloud Island": Asa Butterfield (Sex Education) stars in a chilling tale from Minnesota that also features Alex Fitzalan (Slender Man). The episode is written and directed by Adam Schindler and Brian Netto (Delivery: The Beast Within).
"13 Steps to Hell": Rory Culkin (Lords of Chaos) will be the male lead of this story set in Washington, written by Sarah Conradt-Kroehler and directed by Lee Cronin (The Hole in the Ground).
"Dogwood — Azalea": Set in Missouri, this episode will feature Elizabeth Reaser (The Handmaid's Tale), Warren Christie (The Village), and William B. Davis (The X-Files). Missouri native Cate Devaney (Doctor Strange) writes and directs.
"Santeria": Danay Garcia (Fear the Walking Dead) will star in this Florida story, written by Greg Hale (Mindhunter), Eduardo Sanchez (The Blair Witch Project) and Alejandro Brugués (Juan of the Dead), with Brugués to direct.
"Scared Stiff": James Ransone (It Chapter 2) and Emily Hampshire (Schitt's Creek) will co-star in a story set in Oregon and is written and directed by Ryan Spindell (Two Sentence Horror Stories).
Sam Raimi and Debbie Liebling are set as executive producers via Pod 3, joined in that capacity by Van Toffler, Tony DiSanto, Chris Mangano, Cody Zwieg, Tommy Coriale and Barry Barclay.
Joseph Baxter is a contributor for Den of Geek and Syfy Wire. You can find his work here. Follow him on Twitter @josbaxter.
Michael Ahr is a writer, reviewer, and podcaster here at Den of Geek; you can check out his work here or follow him on Twitter (@mikescifi). He co-hosts our Sci Fi Fidelity podcast and coordinates interviews for The Fourth Wall podcast.