News
270 Roger Corman Films Sold to Shout! Factory and Ace Film HK
Roger and Julie Corman's New Horizons Picture Film library poised for reissue and reboot under new deal.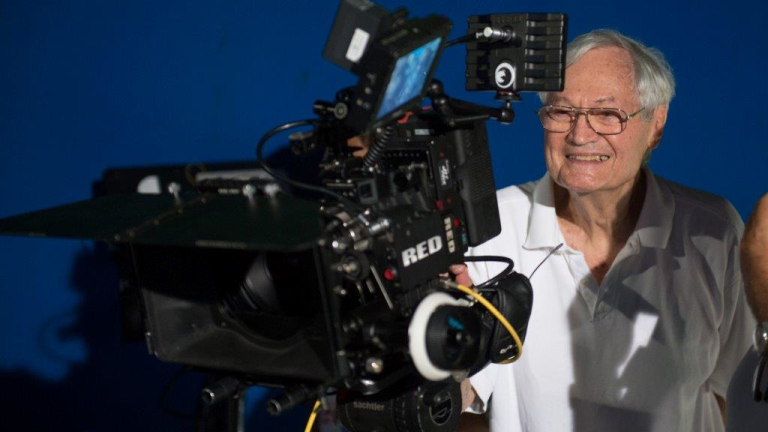 Roger Corman didn't invent independent film production, but he perfected it. Best known for his horror and science fiction movies, Corman's studios were film schools for young filmmakers. Renowned directors Francis Ford Coppola, Martin Scorsese, Ron Howard and, well the list goes on,  started making movies under Corman's banner. Shout! Factory and China-based Ace Film HK Company Limited bought New Horizons Picture library, which includes 270 Roger Corman films and an action sci-fi TV series from Roger and Julie Corman.
"We've been huge fans of the Cormans," Shout! Factory's founders Richard Foos, Bob Emmer and Garson Foos, and Henry Luk and Adam Yuchen Ren, CEO and COO of Ace Film HK Company Limited, said in a joint statement. "Their great ingenuity and independent spirit have inspired us throughout our careers. We've loved working with them over the last 8 years and are thrilled to now be the custodians of these beloved films, making sure that film buffs and fans everywhere discover them like we did."
Producer-director Roger Corman made over 350 films and directed 60 others. One of Hollywood's most gifted and masterful filmmakers, he helped launch the careers of Jack Nicholson, Robert De Niro, James Cameron, Peter Fonda, Jonathan Demme, Gale Anne Hurd, Diane Ladd, Tommy Lee Jones, Harry Dean Stanton, Sandra Bullock, Bruce Dern, Talia Shire, Charles Bronson, Joe Dante, Peter Bogdanovich and Sally Kirkland. Corman was awarded an Honorary Academy Award in 2009.
"During the past decade our personal and professional relationships with Shout! Factory's Bob Emmer, Richard and Garson Foos, and Ace Film's Henry Luk and Adam Yuchen Ren have shown us that their independent, entrepreneurial spirit, respect for our work and creative methods of distribution and production make them especially well-suited to carry on with the New Horizons film library," Roger and Julie Corman said in a joint statement.
Julie Corman's career spans 45 years with New Horizons. She produced over 35 films. Julie worked with artists like  Jonathan Demme, John Sayles, Catherine Hardwicke, Robert King, Bill Pullman, Martin Sheen, Peter Billingsley, Jon Lovitz, and Mario Van Peebles. She was Chair of the Graduate Film Department at NYU.
Shout! Factory get the rights to reissue and reboot all the classic Corman tiles like Rock'N'Roll High School, Battle Beyond the Stars, Piranha, Galaxy of Terror, Bloodfist, Black Scorpion, Eat My Dust!, Humanoids from the Deep, Slumber Party Massacre, and Forbidden World in North America, Europe, Australia, and Russia. ACE can push the films in China, Asia, Africa, and South America.
"We have been fortunate to be professionally and personally associated with Roger and Julie for the past decade and the purchase of their film library means our relationships will not only continue, but accelerate," Henry Luk, CEO of ACE, said in a statement.
Shout! Factory and Ace Film plan to support these 270 titles with a "long-term growth strategy that entails new content development, remakes, merchandise licensing programs, digital media initiatives, and content syndication (streaming, TV, EST, and VOD) to domestic and international territories," according to the press statement.
In the future, Ace and Shout! Factory plan to develop movie and series remakes of some of the properties. These will be developed, produced, and distributed either by Shout's filmed entertainment production and distribution arm, Shout! Studios or ACE and its various strategic partners in Asia.
The New Horizons Picture library acquisition follows Shout's home entertainment and digital distribution endeavors for Roger Corman's Cult Classics branded content since 2010, which demonstrates the company's unique ability to identify, reinvigorate, and expand the financial potential of entertainment content, and to create additional long-term value for pop culture brands.
The deal was negotiated by Shout's Bob Emmer and Bruce David Eisen of Media Advisory Services, Inc., for Shout! Factory, Henry Luk for ACE, and Alan Schwartz and Robert Sherman of Greenberg Traurig, LLP on behalf of Roger and Julie Corman.
ACE Film HK was formed in 2017. After 20 years on Wall Street, Henry Luk returned to his family business, making movies. Luk's father was a Hong Kong film director. Luk specialized in producing TV and feature film content that can have markets in both China and the West. He recently worked onJean Claude Van Damme's Pound Of Flesh and 2018 Scott Adkin's Abduction. Adam Yuchen Ren studied film in Vancouver film school before joining his parent's TV production company in Soochow.
Shout! Factory founders Richard Foos, Bob Emmer and Garson Foos spent their entire careers offering up music, feature films, classic and contemporary TV series, animation, live music and comedy specials. Shout! Factory owns and operates Shout! Studios, Scream Factory, Shout! Factory Kids, Mystery Science Theater 3000, and Shout! Factory TV.