News
24 Season 7: the story so far
So how is the current season of 24 faring? Steven thinks it's doing fine, even if there are a couple of problems to iron out...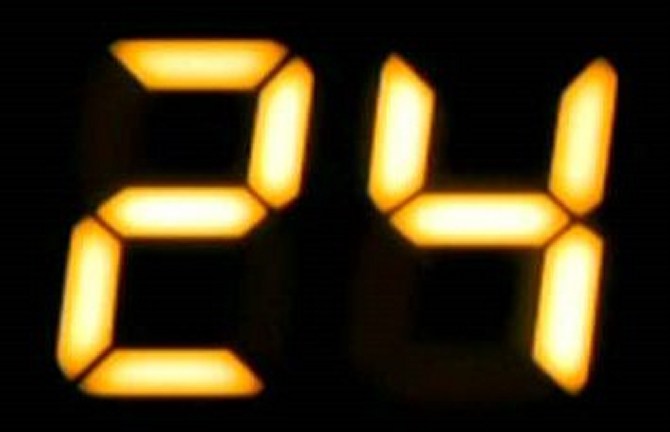 The story so far: season 7 was originally slated to start a whole year ago, but thanks to the writer's strike the whole of 24 went on holiday for a year (this even despite material having been filmed, and trailers being shown). Almost a year later viewers were treated to a two hour special set in Africa to set up season 7.
A small budget was spent, some heavy duty actors including the likes of Jon Voight and Robert Carlyle were involved, but the pay off was largely a predictable plot that you know was going to result in Sutherland's Jack Bauer being shipped back to the U.S. to stand trial for his crimes against humanity.
It was like a mini 24 with all the right (and by 'right' I mean 'typical') ingredients involved. If anything. the best thing that 24: Redemption did was set up the political climate for 24 Season 7. But even then that wouldn't have taken too much effort to just do in the opening of the show itself.
Season 7 has been here for a while now, and it looks like the redemption escapade did more than plot out the political climate for the show; it also serves as a warning as to how predictable this show is becoming. Make no mistake: it is still a high quality show, but the creators and writers are really running out of steam on what are fast becoming their favourite tricks to play on the audience. There's Jack constantly having to defend his high risk decisions, mid-level characters having a tendency for inconvenient actions during a time of crisis, torture scenes, agents being moles, traitors within the agencies, more torture, Jack whispering or shouting his dialogue. It's all been done far too many times before in a very similar fashion.
Ok, so hardcore fans might put forward the argument: "But this is what makes 24, surely?" Well, yes, it is. And we should expect paid writers to deliver these goods in a fashion that is still a surprise to us or, at the very least, a relative surprise. Are we to assume that come the mid-point of the show things will have a large twist and reveal the 'real' bad guys to come as it always has (Jon Voight, anyone?). Will one of the main team of regulars get dropped in the grave as we are so used to as well?
So what is happening this time round? To sum up in the quickest fashion possible (take a deep breath and pay attention):
Starting at 08:00 hours, Jack is on trial for his methods used at CTU in interrogating suspects. (Do courts in America really open at that time in the morning?) He is sprung from court by the FBI headed by the untrusting by-the-book square Larry Moss (who naturally takes an instant dislike to Bauer). Under his supervision is go-getter Renee Walker (who at first seems equal to the task until the turn of events require her to get her hands dirty in a similar fashion to Jack), and a couple of computer geeks, namely the O'Brien-a-like Janis Gold and the weaselly Peter Parker look-a-like Sean Hillinger (who turns out to be a traitor later on).
They take custody of Jack so he can help them track down terrorist suspect/back from the dead hero Tony Almeida. Of course, this turns out to be false as Tony is a secret mole working for Bill Buchanan and Chloe O'Brien. Everyone then pretty much teams up to fight the real threat, General Dubaku. His main plan was to kidnap the Prime Minister of Sangala, Matobo who is visiting the President with his wife. This plot fails and Dubaku eventually falls and ends up in hospital.
This then links to our secondary set of characters, thus being new President of the United States, Alison Taylor, her suspicious husband Henry and her many staff. Her primary role in the opening of the season is being caught between a rock and a hard place, as Presidents tend to be in this show. This time round she has to contend with the fierce military General Juma (Tony Todd) who has been doing a bit of 'ethnic cleansing' in Sangala.
The President's own son, we know from the Redemption episode, discovered that certain US officials were involved with all this and his since been disposed of in a suicide cover up. Father, Henry Taylor, discovers this but not without being kidnapped and shot as a result of the ensuing chaos.
So now we have Sean in custody, Jack and his team desperately searching for more leads, Henry and Dubaku in hospital and the President at the end of her tether with how to proceed with actions to take against her foreign foes. Things are heating up nicely towards the mid point of the season.
Despite some of the supporting regulars being forced back into the show, like the resurrected Tony Almeida (well, they shouldn't have killed him in the first place), but especially Chloe O'Brien and Bill Buchanan, the show is on very familiar form. We'll have to look at the coming weeks to see what surprises the show-makers have in store for us all.
Let's hope they manage to pick up the slack a bit and make it more of a tightly screwed tension boiler that we all know and love the show to be. And I have a feeling that, as this is the mid point of the season, we are headed for some high tension and twists of fate very soon!
24 is still very watchable though, and it isn't experienced a Heroes-esque wobble. It's just a few more surprises wouldn't hurt…