News
24: Live Another Day Comic Con Panel Reaction
Rumors of a 24 movie live to see another day and more speculation about the future of the FOX franchise.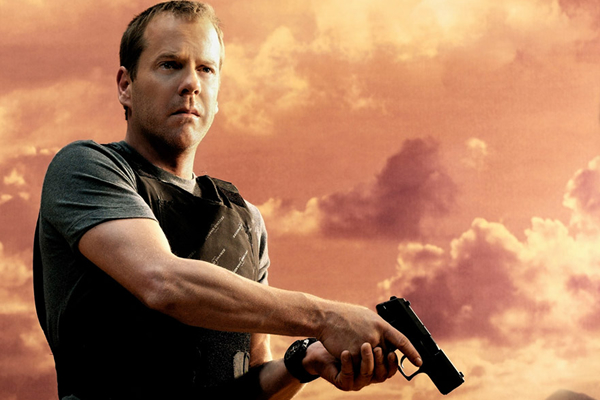 FOX brought Jack Bauer back even though few asked for his return. Still, 24: Live Another Day, a limited event series, went well enough that the network decided to trot out star Keifer Sutherland and executive producer Jon Cassar for a panel at San Diego Comic-Con on Thursday.
Panels in San Diego, this week's epicenter of the pop culture world, are usually reserved for television shows on the rise. As I wrote in my review of the finale of 24LAD, I thought this could only mean that a major announcement was on the horizon. The show's ratings were impressive enough, considering the four-year hiatus, to justify at least another limited event. Turns out the intimate panel session brought no more than the usual ambiguity that surrounds the finales of 24.
The biggest nugget to pull from the panel discussion and fan Q&A: the endless rumors of a 24 movie will live to see another day. According to Cassar: "We're still talking about the movie; it's still potentially out there."
There was mention of bringing 24 back for another season, however, at the Television Critics Association summer press tour earlier this month, Fox Networks Group chairman Peter Rice said there has been "no specific" talks regarding 24's future, but offered fans some hope. 
Here's Rice's full quote via The Hollywood Reporter.
"I'm sure that we will in the future. It's a wonderful franchise. When you look at the show itself, it has many more stories to tell, but I think we have to sit down and talk to the creators about it."
Now for the purely speculative part of the post: I still think 24 has a future on television but I'm not sold on its return to FOX. Something we'll explore in-depth here in the coming months is what FOX is doing to completely turn around its primetime programming slate. This fall's lineup—with both promising new shows and old favorites—is the strongest we've seen in a long time. While 24 could easily find a home in the network's summer lineup again, it might be worth looking at moving the show to another FOX property. That would mean bringing Jack Bauer to cable, either on FX or the newer FXX.
FX has been pushing to be the cable gold standard. Just look at this year's Emmy Award nominations. 24 probably wouldn't fit in there. FXX, however, could use the eyeballs Jack Bauer would bring. I don't say this without precedent. FXX is the new (and first) cable home for The Simpsons, though there won't be new episodes airing on the channel. Bringing Homer and Jack Bauer over to FXX brings recognition to a startup that only has the Always Sunny gang to hang its hat on.
/end speculation/
Back to San Diego, where Sutherland stuck to the script and dished on the process behind ending another season:
"It's hard to end it. We came — ourselves, as people who are making the show — came full-faced with that. Trying to create the end of our show this season, because we had said this was the last season, was really difficult for us. All of us individually didn't want to let it go; we fought against it, we fought for it. Your response to the end of this season was really gracious and kind, so thank you very much."  
I feel as though Sutherland is directly talking to me. My response to the end of the season was gracious and kind considering I detested the first half of the season. All in all, I'd be fine with the return of 24, movie or television show.
For now, tick, tick, tick, let's play the waiting game again.
You can read all of our 24: LAD coverage right here. 
Do you want to see Jack back, again? Let us know in the comments section! And as always like us on Facebook and follow us on Twitter for all news updates related to the world of geek. And Google+, if that's your thing!