News
24: Legacy Release Date, Review, Trailers, Cast and Plot Details
We've got everything you need to know about 24: Legacy right here, including the brand new trailer.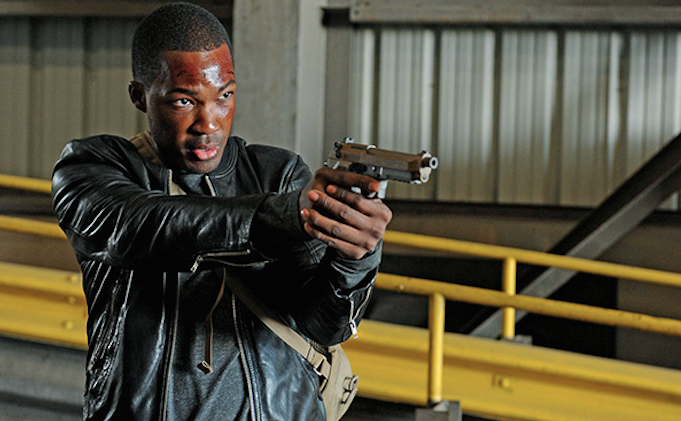 Jack Bauer gave himself up to terrorists at the end of the 24 limited series, 24: Live Another Day, which had a strong showing in 2014 with a 12-episode run. The limited run prompted the network to consider the future of the series, resulting in the pick up of 24: Legacy for 2016-17 season with a 12-episode order. The series is set to debut after the Super Bowl on February 5th. 
24: Legacy, at least from the trailers, looks just as action-packed and suspenseful as the original 24. Corey Hawkins looks great as Kiefer Sutherland's CTU-tangential successor, protecting his nurse wife (who also seems pretty good at protecting herself), beating up bad guys, and braving traffic. Jack Bauer would be proud…
24: Legacy Review
Does Fox's new spinoff set itself apart from 24? We watched the first episode and have a spoiler-free review of the premiere.
24: Legacy Release Date:
24: Legacy is getting a super premiere date. The 24 spinoff landed the coveted post-Super Bowl timeslot on Sunday, February 5th. The network deployed a similar strategy for this year's X-Files revival, launching the mini-series after the NFL's NFC Championship Game to impressive results.
With a two-night premiere, 24: Legacy will hit its regular timeslot on Monday at 8:00 p.m. starting Feb. 6th.
24: Legacy Trailers
Here's the latest trailer out of the Winter TCA Press Tour: 
24: Legacy Cast
Straight Outta Compton star Corey Hawkins is leaving the 'hood for Jack Bauer's old stomping ground. Hawkins will play Eric Carter, a military hero who returns to the U.S. as trouble follows him back from abroad. Carter will ultimately unite with Jack Bauer's former team at CTU to stop a major terrorist attack.  
The 27-year old actor played Dr. Dre in the hit biopic Straight Outta Compton, and appeared in the fifth season of The Walking Dead.
Right now there are no plans to have any 24 cast members return for the spinoff, though they could be alluded to in the series.
24: Legacy cast Ashley Thomas to star opposite Hawkins' Eric Carter. Thomas is set to play Eric's older brother Isaac. According to a report from Deadline, Isaac is "angry at Eric regarding their bitter past (which includes Eric now married to Isaac's former girlfriend, Nicole (Anna Diop)."
Anna Diop, who is best known for her role as Rose Arvale on CW's The Messengers, will play the wife of the new Jack Bauer, Eric Carter. (Via TVLine)
Diop joins a cast that already signed Homeland star Miranda Otto (according to a report from THR). Otto will play Rebecca Ingram, the "blazing smart former head of CTU. Now married to Sen. John Donovan (Jimmy Smits), she struggles with second thoughts about having left the counter-terrorism agency."
Otto was committed to HBO's Westworld before dropping out of the project last year. She's known for her big screen turns in War of the Worlds and the Lord of the Rings trilogy. 
Jimmy Smits (NYPD Blue, The West Wing) will play John Donovan, "a powerful U.S. Senator with higher political aspirations, who is married to the blazing smart former head of CTU Rebecca Ingram (Otto)." (via TheWrap.) 
Teddy Sears, who did a great job over at The CW as Jay Garrick on The Flash, will play Keith Mullins, the new man in charge of CTU. The character is a former second-in-command who has replaced Rebecca Ingram (Otto) in the post. (Via EW) 
Keifer Sutherland has insisted his 24 days are behind him. Not so fast, says 24 executive producer Howard Gordon. 
Speaking at the ATX TV Festival in Austin, Texas, Gordon said there's still life in Jack Bauer.
"I do think the character has life in him, whether it's a movie or if he intersects with this new iteration of 24, [Legacy]," he said. "I sure would love to see him at some point on the show, and I don't think he's ruled it out, either."
24: Legacy Plot: 
At San Diego and New York Comic Con, we had the chance to speak with the cast and creatives of 24: Legacy and learn what sets the spinoff apart from the original run. 
A Jack Bauer Cameo?
Talk of a 24 spinoff has been circling for months ever since Bauer saved the President in 24: Live Another Day, the summer "event series" that saw the return of our favorite terrorist-thwarting rouge. Tired of outrunning drones, it seemed as though Jack Bauer is ready for a break. Now Kiefer Sutherland is confirming that if 24 does return for another run, Jack Bauer will mostly be absent. 
Speaking with Deadline, the actor said he's not coming back to do 24 because there are other things he wants to do.
"I've always felt, from Season 1 on, that 24 is such a great idea that this can go on forever," Sutherland said. "I think if you create a new cast or other characters in the telling of this story, it will bring a freshness. And let's face it there's only so many bad days one can have before the show becomes a mad comic. And what I don't want it to be is a mad comic… it doesn't rule out to one having a cameo."