News
2018 Rock Hall Trailer Blasts Through the Airwaves
The 2018 Rock and Roll Hall Of Fame Induction Ceremony trailer shows Cleveland can rock.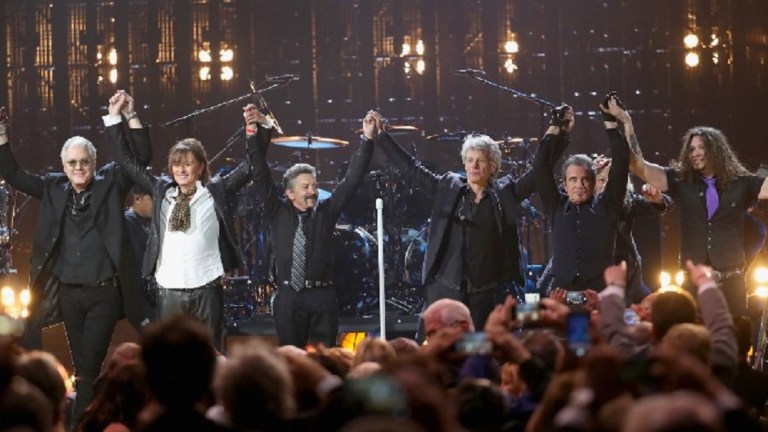 "Welcome to Cleveland, baby," is not always a happy greeting. But when you're feting The Moody Blues, Bon Jovi, The Cars, Nina Simone, The Dire Straits and Sister Rosetta Tharpe it can be just what you needed.  HBO released the trailer for the 2018 Rock and Roll Hall Of Fame Induction Ceremony, which debuts on May 5.
The special, which includes performance tributes to Tom Petty and Chris Cornell promises and all-star night with Mary J. Blige, Jerry Cantrell, Felicia Collins, Andra Day, Brandon Flowers, Brittany Howard, Questlove, Paul Shaffer, Howard Stern, Steven Van Zandt and Ann Wilson presenting, performing or inducting.
You can watch the trailer here:
The 33nd annual induction ceremony was taped live The Public Auditorium in Cleveland, Ohio on April 14.  It opens with "American Girl," a tribute to Tom Petty performed by The Killers. Chris Cornell is remembered in a performance of "Black Hole Sun" by Ann Wilson and Jerry Cantrell.
The Rock and Roll Hall of Fame Foundation was established by legendary record executive Ahmet Ertegun and a group of music business executives to honor the artists who have defined rock and roll and have inspired and continue to inspire a generation.
This is the seventh straight year HBO has presented the Rock and Roll Hall of Fame Induction Ceremony. The network also presented the Rock and Roll Hall of Fame's 25th and 30th anniversaries in 2009 and 2014, and a concert spectacular celebrating the opening of the museum in Cleveland in 1995. The HBO special spotlights some of the most memorable names in music through special reunions, touching tributes and heartfelt speeches from both presenters and inductees.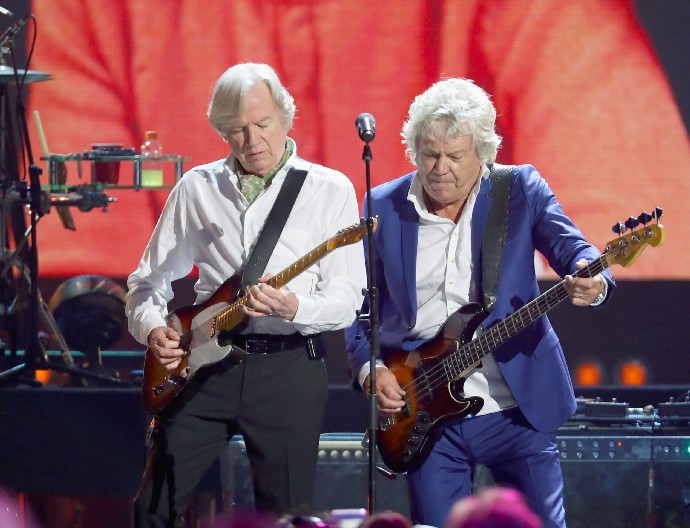 2018 ROCK AND ROLL HALL OF FAME INDUCTION CEREMONY features:
The Cars

Induction: Brandon Flowers

The Cars perform "Just What I Needed," "My Best Friend's Girl" and "You Might Think."

Sister Rosetta Tharpe

Induction: Brittany Howard

Brittany Howard performs "That's All" with Paul Shaffer, Felicia Collins and Questlove.

Dire Straits

Induction: Dire Straits

Nina Simone

Induction: Mary J. Blige

Andra Day performs "I Wish I Knew How It Would Feel to Be Free" and "I Put a Spell on You" with Questlove, The Roots and Paul Shaffer. Ms. Lauryn Hill performs "Black Is the Color of My True Love's Hair," "I Ain't Got No, I Got Life" and "Feeling Good."

The Moody Blues

Induction: Ann Wilson

The Moody Blues perform "I'm Just a Singer (In a Rock And Roll Band)," "Nights in White Satin" and "Ride My See-Saw."

Bon Jovi

Induction: Howard Stern
Bon Jovi performs "You Give Love a Bad Name," "When We Were Us" and "Living on a Prayer."
The Rock and Roll Hall of Fame and Museum, Inc. is the nonprofit organization that exists to educate visitors, fans and scholars from around the world about the history and continuing significance of rock and roll music. It carries out this mission both through its operation of a world-class museum designed by I.M. Pei in Cleveland, Ohio that collects, preserves, exhibits and interprets this art form and through its library and archives, as well as educational programs. For further information, visit rockhall.com.
The special was directed by Alex Coletti, who also produced along with Playtone and Line By Line Productions. It was executive produced by Jann Wenner, Tom Hanks, Gary Goetzman and Joel Peresman.
The HBO special 2018 Rock And Roll Hall Of Fame Induction Ceremony debuts Saturday, May 5 at 8:00p.m. ET/PT). This year's ceremony will also be available on HBO NOW, HBO GO, HBO On Demand and partners' streaming portals.