News
17 TV shows that were cancelled too soon
As Pushing Daisies goes to meet its maker, we chart another collection of TV shows that were canned far too soon...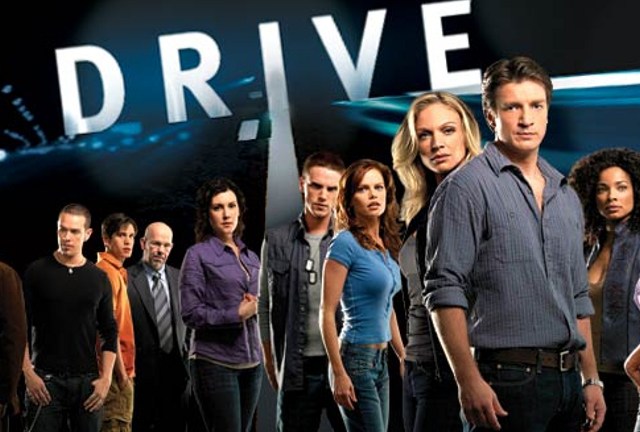 US TV is a graveyard of really good shows that have had to give way thanks to the onslaught of reality television, the trouble in attracting ratings and the general cowardice of commissioning executives. Here are some that went to their maker far too soon, with a few British entries in there too…
The JobDenis Leary ultimately found American TV success with Rescue Me, but it's worth digging out the solitary series of his cop drama, The Job. The template is clearly there for the show that would follow, but the writing in The Job is arguably better, and it's a pity we never got to see it fully fleshed out.
Freaks & GeeksThe show that anyone who's seen would argue was the most unfairly culled, surely? A stunning piece of television – that this writer only caught up on two years ago (and wrote about here) – and one that genuinely had years of fascinating character development left in it. Most of the people involved have gone on to bigger things – Judd Apatow, Seth Rogen, James Franco et al – but none has done anything better. Even Apatow's follow-up TV show, Undeclared, didn't make it past season one.
FireflySerenity may have offered some scant compensation, and the show does live on thanks to its ongoing DVD (and now Blu-ray) success, but Joss Whedon's attempt to bring a western into space is still one of the most intriguing, interesting science fiction shows of recent times, and was effectively strangled at birth. All talk of a revival post-Serenity never materialised either, so we're left holding out a candle for a Serenity 2 at best.
DriveFox pulled the Nathan Fillion-starring action show after a brief run of just four episodes. This was borderline tragic, given the strength of the show, and the critical response to it. Sadly, no amount of campaigning could make up for the very low ratings, and it went off to be filed under 'Strangled At Birth'.
Arrested DevelopmentIt's hard to grumble too much when we got three series of what's regarded as one of the funniest programmes to ever hit American television, and again, compensation of sorts is arriving in the shape of a movie. But look at the often tepid mix of comedy on the schedules, and tell us that something as smart, funny and so tightly-written as Arrested Development didn't deserve a longer run? From the opening episode, it was just flat-out genius…
Dead Like MeJust two seasons for this one, but thank goodness we got those. The girl-as-grim-reaper show took a little while to get going, but by the time it got into its stride, it was funny, surprising and very, very entertaining. It never stood a chance, did it?
Sports Night Aaron Sorkin went on to enjoy major success with The West Wing, and had a cancellation after that with Studio 60 On Sunset Strip. But spare a thought for the astoundingly funny antics of the people behind the scenes of a televisions sports show. It's the killer one liners that make the show, although you can see the template for Sorkin's writing underpinning both series of the show that managed to get made.
Star Trek: Enterprise How's this for an audience splitter? By the time it got to the end of its fourth season, Enterprise was limping along in the ratings, and its cancellation was all-but-expected. But was it the right thing to do? While we inevitably have some loyalty towards Star Trek, even putting that aside there's a school of thought that suggests Enterprise was in its stride by the time the axe fell. However, four seasons isn't a bad run, although it's now hoped that JJ Abrams' rejig of the franchise may lead to further television adventures…
WonderfallsA neat, clever little show, where destiny has a part to play in lots of shapes and sizes. This one barely got an airing in the UK, though, and to be fair, seems to have as many who don't like it as those who do. But it showed ample promise, was something a little different, and was thus bound to die.
Tough GigA British show that saw a collection of stand-up comedians being sent into unusual situations, and then have to write a comedy show around them. Dara O'Briain went off to spend time with live action role players, while Frank Skinner's gig at a hippy commune was inspired. The show never even made it to the end of its first run, with terrible ratings killing it in double quick time.
Police Squad!Just six episodes they made of the slapstick adventures of Frank Drebin, attracting the likes of Joe Dante to direct. But the sheer endurance of those six episodes has surely proven the decision to kill the show in its infancy to be incorrect. That said, it did ultimately lead to the trilogy of Naked Gun films that followed, even if the last two weren't, er, particularly good…
The MoleIt's finally reappeared on American television – partly as an offshoot from the US writers' strike – but it's for some time been the only reality TV show that some of us would bother with. Channel Five produced a UK version and canned it fairly soon after, in spite of it being really, really good. Can we have it back please?
DeadwoodThe frustration with Deadwood is that many would have accepted that the show could come to an end after three seasons, if it had been done properly. But, and in spite of plenty of campaigning to try and get the situation addressed, Deadwood – after three series of some of the finest drama to hit TV screens – still doesn't have a proper ending. It's the kind of show that could really benefit from one, and we live in hope that more Deadwood will one day be commissioned….
Greg The BunnyEugene Levy. Sarah Silverman. Seth Green. Puppets. That is all.
KnightmareGranted, the show may have had a fair run, but there was real potential to keep it going long term had the technology and thinking kept apace with developments outside of the Knightmare studio. In a World Of Warcraft-infested world, surely there's room for another stab at it?
Veronica MarsWe got three seasons of Kristen Bell's teenage detective, and by the time it was coming to the end of its run, the narrative was getting really interesting, with a strong cast fully bedded in around her. To be fair, you could also take a single episode and enjoy it as a standalone piece too. However, the show got the chop, much to the chagrin of its fanbase, and while an Internet campaign followed, there's still no word on further adventures for Ms Mars. Bonus points to the show for including Steve Guttenberg in the cast, obviously.
Dark AngelCreated by James Cameron and running for two seasons, Dark Angel was the tale of a genetically enhanced soldier (played by Jessica Alba). Cameron himself went behind the camera at one point, but a 40% ratings drop from season one to two, and a rumoured behind the scenes disagreement between Cameron and Fox, ended the show. On the bright side, in its place went Firefly…
And a nod to the shows that came back, in some form, from the dead, including Family Guy, Futurama and Jericho…
Add your own suggestions in the comments below! And also, we'd love your suggestions for the shows that outstayed their welcome, which we're also working on. You're not allowed to say Friends, though….