News
12 Monkeys Season 3 Trailer, Release Date, and Other News
Are you ready for the 12 Monkeys season 3 weekend binge? We've got the latest trailer and other news about the upcoming season.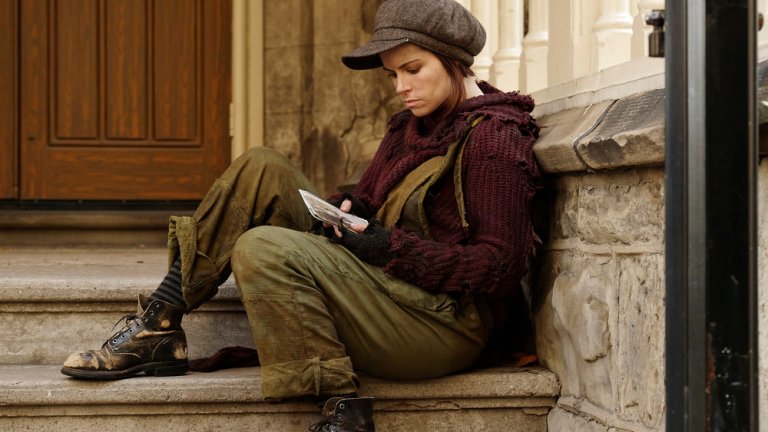 For fans anticipating 12 Monkeys season 3 on Syfy, speculation doesn't stop during the long hiatus. Filming began in Toronto in October of 2016 and wrapped as March of 2017 began, and after the debut of the first trailer at New York Comic Con, news has been coming in that is sure to have everyone anticipating some surprising time periods, amazing guest roles, and new missions for the intrepid time travelers.
12 Monkeys Season 3 Release Date
12 Monkeys will return for season 3 on Friday, May 19, 2017 at 8pm, but it won't be a typical release each Friday during the summer. Instead, Syfy will air all ten episodes of its shortened run during that first weekend for fans to enjoy. Four episodes will air on Friday, and three will air each night on Saturday and Sunday, ending the series on May 21, only two days after it began. We'll need time travel just to be able to absorb it all!
On top of all that, the series has already been renewed for season 4!
12 Monkeys Season 3 Trailer
Here's the latest trailer, which features glimpses of some mysterious figures with illuminated chests and several different time periods. Plus there's a very enticing voiceover at the end which is sure to thrill 12 Monkeys fans.
As soon as the release date was announced, the following teaser trailer became available for 12 Monkeys season 3.
Here's the earlier trailer coming out of New York Comic Con in which the city of Titan finds itself in a grim post-apocalyptic wasteland.
12 Monkeys Season 3 Latest News
The future isn't the only new location the time travelers in 12 Monkeys will visit! Showrunner Terry Matalas told Entertainment Weekly that the distant past is also in the mix. "In Season 3, the stakes have never been more personal for our time travelers," the showrunner says. "The adventure will take them to their own future as well as further back in time than they've ever been before. They'll face their darkest hour — an all-new threat with deeply emotional consequences for heroes and villains alike."
The filming for 12 Monkeys season 3 wrapped recently as the show finished up some of the aforementioned Old World settings in Prague.
— Terry Matalas (@TerryMatalas)
February 27, 2017
What decades will 12 Monkeys visit in season 3? How about the 80s? Terry Matalas recently tweeted this enticing picture from the set.
#12Monkeys
#Season3
@AaronAStanford
@AmandaSchull
@ToddStashwick
@EmilyHampshire_
pic.twitter.com/de5XZTzYRJ
— Terry Matalas (@TerryMatalas)
January 28, 2017
And of course there was this tweet from the set of 12 Monkeys season 3 featuring a picture of a new cast member, Hannah Waddingham (see announcement below).
"You can't have him…"
#12Monkeys
#Season3
@hanwaddingham
pic.twitter.com/wyuwwGDsfG
— Terry Matalas (@TerryMatalas)
January 16, 2017
The 12 Monkeysseason 3 cast keeps getting better and better. The most recent news from Nerdist is that Hannah Waddingham (the "shame nun" from Game of Thrones) and Faran Tahir (from Star Trek, Iron Man, and many other genre favorites) will be joining the cast in recurring roles, both as baddies. Waddingham will be playing Magdalena, "a member of an apocalyptic cult charged with protecting the Witness," and Tahir will portray a resident of Titan who is a "devout enforcer of the Army of the 12 Monkeys."
Then, of course, two months after the news that Christopher Llyod would be appearing in a guest role in season three of the time travel drama (more on that below), Entertainment Weekly broke the news that Battlestar Galacticaalum James Callis will be joining the cast in a recurring role.
According to Matalas, Callis will play "a highly anticipated and pivotal new character to our series' mythology," a "rebellious and enigmatic time-traveler raised throughout history by the Army of the 12 Monkeys, one whose conflicted personal and emotional path will change everything for James Cole (Aaron Stanford) and Dr. Cassandra Railly (Amanda Schull)." Sounds pretty important.
It will be nice to see Callis back on the Syfy channel. He played standout character Gaius Baltar on BSG. Callis will be the second BSGalum to appear on the Syfy drama, following Michael Hogan's appearance last season.
The big bombshell, though, was the news that Christopher Lloyd will be joining the cast in a guest role. The Back to the Future star who played the iconic Doc Brown character will play Zalmon Shaw, whom press materials describe as "a charming but deadly cult leader who preys upon other's tragedies and losses in order to recruit new members into the Army of the 12 Monkeys." Shaw has a familial attachment that explains his malicious intent: he is the father of the mysterious and dangerous Pallid Man, played by Tom Noonan.
Matalas, himself a big fan of Back to the Future as evidenced by his multiple nods to the film trilogy, as well as by the Delorean that he owns that appeared on the Oscars this year, will also be making his directorial debut with the season 3 premiere. Here is the synopsis for the upcoming season:
In season three, James Cole and Cassandra Railly embark on a desperate search across time to find the man responsible for the apocalypse, a time traveler who calls himself the Witness.  Killing the Witness will mean saving the world.  But the journey will come at tremendous personal stakes for both Cole and Railly and will call into question new alliances, old bonds, and the virtue of the mission itself.
12 Monkeys Season 3 Key Art
The Nerdist recently shared this key art for 12 Monkeys season 3, and it has us wondering, "What's that on their chests?" The symbol on whatever coffin-like thing they're carrying, is of course the mark of Titan, and the hat-wearing figures are reminiscent of Pallid Man. What on earth could these obvious Witness disciples be up to?