Features
12 British sitcom stars and their surprise movie appearances
Ever watched a big movie, and stopped with a jolt when a star of a British sitcom pops up? Us too...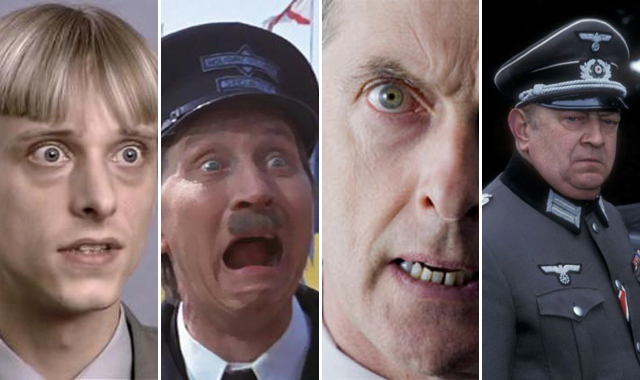 This feature is all the fault of the late Richard Marner. As the incompetent Colonel in 'Allo 'Allo, he built a performance that was indelible in our eyes. Thus, when he turned up in a big Hollywood thriller as the President of Russia, we unsuccessfully stifled a guffaw. A big guffaw.
And it got us thinking: what other times has a British sitcom star appeared out of the blue in a big movie, causing a sedentary double take from the comfort of our local Odeon? Glad you asked.
Two things. Firstly, this isn't designed to be a complete list, and also, we've covered films made after the actor or actress confirmed rose to prominence in a sitcom. Oh, and another thing: none of this is a slight against the acting talents of those concerned. It's more that it's interesting how typecast in our eyes they become as a result of a huge success, and how that alters our reaction to seeing them in something else. Without further ado..
One note: avoid reading the World War Z entry if you haven't seen the film. There's no spoiler, we just talk about what happens in the third act of the film.
THE SUM OF ALL FEARS
Starring The Colonel from 'Allo 'Allo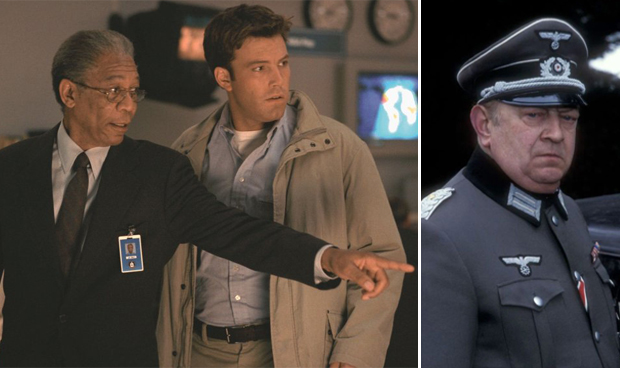 Picture the scene. You're sat watching the new Jack Ryan thriller, the really quite strong The Sum Of All Fears. Ben Affleck is the new Jack Ryan, and while he's no Harrison Ford, he's not doing a bad job at all. All is serious in tone. And then in walks the head of Russia, President Zorkin. It's supposed to be a pivotal moment in tone.
The problem is, to half of Britain, the man in charge of Russia is actually Colonel Kurt von Struhm from 'Allo 'Allo. The same Colonel who has displayed trademark incompetence, cowardice in the face of superiors, and an ability to generate a laugh with a facial gesture. Authoritative? Not even for a minute.
The man behind both characters was the late Richard Marner, and The Sum Of All Fears would prove to be his final role. Interestingly, his background was actually Russian. Marner's real name was Alexander Molchanoff-Sacha. But that's Colonel Molchanoff-Sacha to you…
MATCH POINT
Starring Ann from Ever Decreasing Circles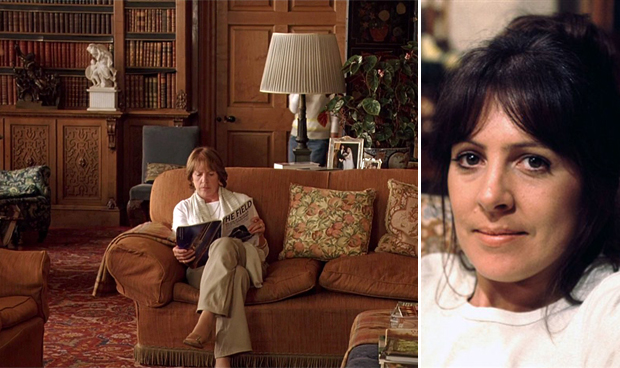 There's a generation now who know Penelope Wilton for her role as Isobel Crawley in Downton Abbey. Some will be only too aware that she was Harriet Jones, Prime Minister in Doctor Who. Her work in Shaun Of The Dead too means that her nerdy credentials book will always be freely stamped.
Wilton, however, has always been a particularly skilled comedy actress, and her starring role alongside the late, great Richard Briers (who himself popped up in movies such as Mary Shelley's Frankenstein) in Ever Decreasing Circles is some of her finest work. That said, if you were tuning into BBC One in the 1980s and wondering who Woody Allen might cast in a film 20 years into the future? Wilton may not have been the initial choice. Still, she was cast in Match Point, and she's also turned up in the likes of Calendar Girls, The History Boys and Pride And Prejudice, demonstrating a range that those of a snobbish persuasion towards traditional sitcoms might not always appreciate.
It's still a shame she said no to Hot Fuzz, though.
TOMORROW NEVER DIES
Starring Ben from Butterflies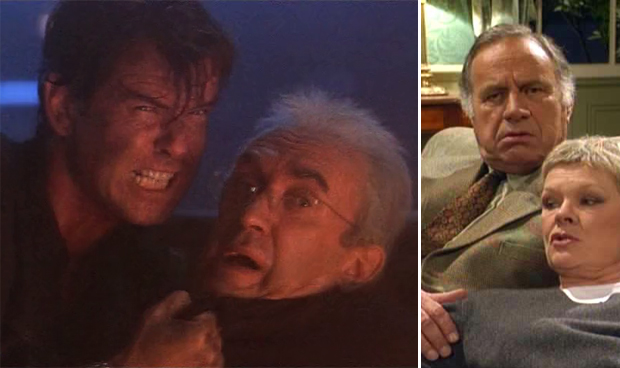 A bastion of British comedy series is Geoffrey Palmer, whose work in the likes of The Rise And Fall Of Reginald Perrin, As Time Goes By, Butterflies, and even an episode of Fawlty Towers, has ensured he remains a treasured actor. His career, too, has taken in lots of darker roles, but it's mainly been comedy that's kept him in the public eye.
For those who knew Palmer only from his comedy roles, to see him suddenly in a position of military power in a James Bond movie must have been a bit of a holy. But there he was: in Tomorrow Never Dies, as Admiral Roebuck, playing very much the authority figure.
To be fair, he pulled it off. Much of Palmer's comedy has seen him cast as the formal, upstanding establishment-style figure. And while Pierce Brosnan's Bond and he were never likely to go for a drink together, at least there was a sense that they were both up for the job…
INTERVIEW WITH THE VAMPIRE
Starring Trigger from Only Fools And Horses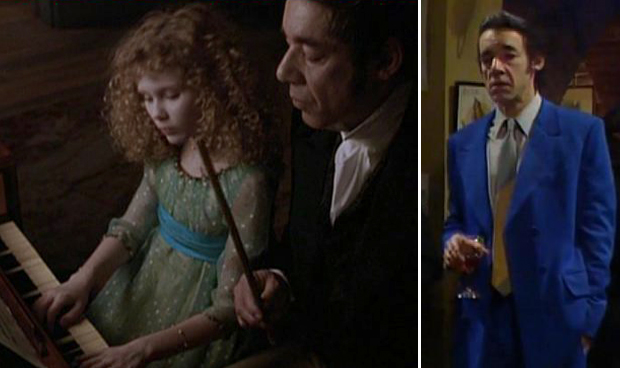 For a man widely recognised in one particular role, it's to the credit of Roger Lloyd Pack that he's come up with several memorable performances over his career. In sitcom alone, he's been taken to the hearts of the British nation in both Only Fools And Horses and, more recently The Vicar Of Dibley. It's the former for which he's most frequently recognised.
And yet his film career is really quite impressive. His quiet turn in Michael Radford's 1984 shows that here's a man who's held the looks of his youth comfortably well, but perhaps the most WTF appearance was when he popped up as a piano teacher in Neil Jordan's take on Anne Rice's Interview With The Vampire. More recently, he's appeared in Tinker Tailor Soldier Spy, too. He didn't call anyone Dave in that, though…
THE KRAYS
Starring Blakey from On The Buses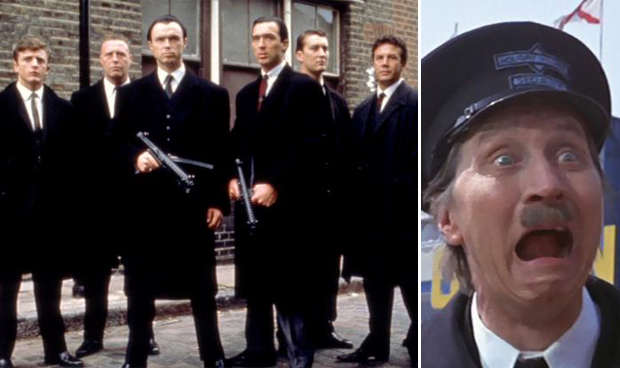 The story of the most notorious gangsters of East End London was criticised heavily on its release for its violence, and suggestions that it glamourised the life somewhat of Ronnie and Reggie Kray. It was a loud controversy that still surrounds Peter Medak's film to an extent, and it's meant that one of the crucial questions of it has been overlooked: isn't that Blakey from On The Buses?
Well, friends, it is. Stephen Lewis, who later turned up in Last Of The Summer Wine, had a brief role as a policeman in the movie, although his lip didn't quiver, and there was no shout of "get that bleedin' bus out" that we recall. Lewis, incidentally, also appeared in the kink-fest that was Personal Services. Blakey from On The Buses and a mild dose of erotica are streams, however, that don't feel they should cross…
MARY REILLY
Starring Nora Batty from Last Of The Summer Wine
Kathy Staff created a character as British as they come across over 200 episodes of Last Of The Summer Wine. The actress, who died at the age of 80 back in 2008, will always be Nora Batty in the eyes of many, successfully spending the best part of three decades fending off amorous old men and avoiding buying new tights.
Just the person for a Julia Roberts film, then.
Mary Reilly was a troubled movie, and there was a sense watching it that director Stephen Frears hadn't got to make the film that he's clearly capable of making. But amongst the film's redeeming features was the appearance of Lady Nora as Mrs Kent (along with a brief appearance from Arthur Daley too). To a subset of the British audience, it couldn't help but take you out of the film, as you sat waiting for the inevitable bed to roll down the hill, with three tweed-clad old men hanging on for dear life…
WORLD WAR Z
Starring Malcolm Tucker from The Thick Of It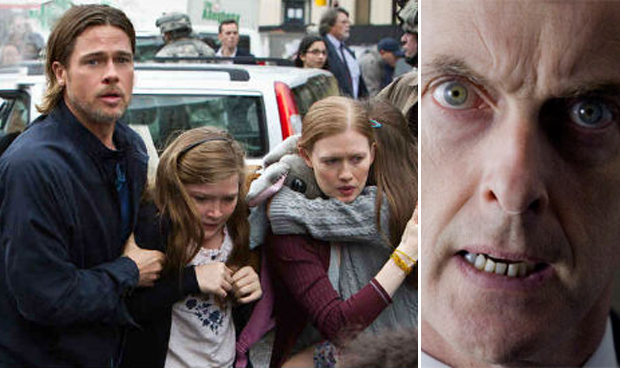 One by-product of Damon Lindelof and Drew Goddard's retooling of the third act of this summer's World War Z is a whole new sequence set in Wales. Said sequence requires a serious looking man, who looks like he could swear at any minute, to stare at a computer screen and look worried. A muted Malcolm Tucker got the call.
Peter Capaldi has terrific range as an actor (just look at his haunting work in Torchwood: Children Of Earth). He's also an actor I passed on the street once and all-but-hid on the other side for fear of some Fifth Dan expletive mastery emanating from his mouth. The reason for this fear? His already iconic work in The Thick Of It (and In The Loop), which feels a bit disingenuous to call a sitcom as such, but otherwise it wouldn't fit in this feature. Ahem.
Nonetheless, nobody swears on television with the venom, style and face melting veracity as Capaldi in full flow. There, surely, is a set of outtakes in World War Z where he does just that. Never mind the original ending: that's the extra material of World War Z that we want to see…
ROBIN HOOD: PRINCE OF THIEVES
Starring Elmo from Brush Strokes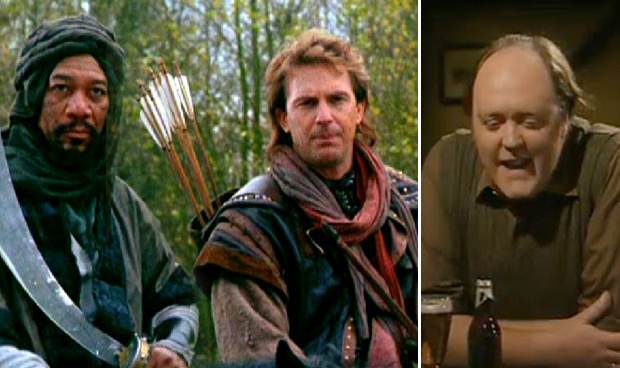 Nothing generates a hearty chuckle in the same way as Kevin Costner's wonderful "this is English courage" line at the start of Robin Hood: Prince Of Thieves (and I'm a paid-up Costner fan), but not far behind was the joyous moment when the-then biggest movie star in the world (okay, a score draw with Arnie) arrives in Sherwood Forest. Who does he find? The mighty Elmo from Brush Strokes.
Elmo Putney, founder of Elmo Putney's Wine Bar, provided a vital and compelling reason to keep watching Brush Strokes long after it went off the boil (anyone else remember his impression of the British Caledonian advert?), and his ability to delight meant even the mere thought of Elmo serving the drinks to the Merry Men of Sherwood was a pleasing one. I wonder to this day when he and Costner talked about in the catering truck. I like to think that Lewis taught Costner the theme tune to Brush Strokes, and lent him a Dexy's Midnight Runners LP.
Actor Howard Lew Lewis would, of course, revisit Sherwood Forest for the delightful Maid Marian And Her Merry Men. That one didn't have Kevin Costner in, though.
PIRATES OF THE CARIBBEAN
Starring Lieutenant Gruber from 'Allo 'Allo and Gareth from The Office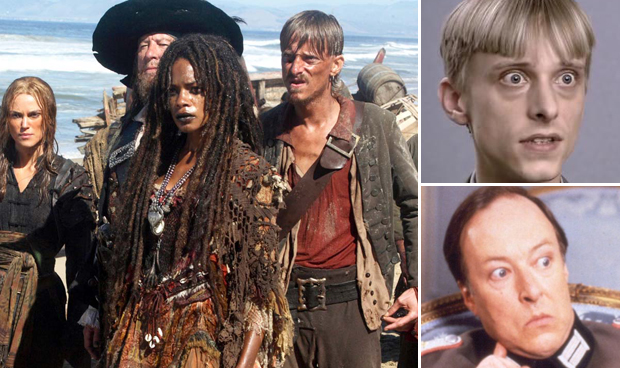 'Allo 'Allo's minor stranglehold on the movies has extended to one of the biggest blockbuster franchises of the past decade. Because who's that as the Harbourmaster in the first movie? None other than Lieutenant Gruber, played by the terrific Guy Siner. Siner, who also earns geek credentials for his turn in Genesis Of The Daleks, will, however, always be Gruber in our eyes. His barely concealed lust for Rene Artois in many ways defined the tone of British sitcoms for a good decade.
But Pirates Of The Caribbean has more British sitcom alumni. Jack Davenport of Coupling fame is in there of course (although he more came to prominence through This Life), but what about Gareth from The Office? Mackenzie Crook by day, as one of the three main leads of Ricky Gervais and Stephen Merchant's genre-changing show to go onto big Hollywood movies, his appearance as Ragetti still feels like the one to induce a big surprise grin.
Next up? Johnny Depp in a movie version of 'Allo 'Allo. We reckon he could do the accent…
FAR AND AWAY
Starring Lilo Lill from Bread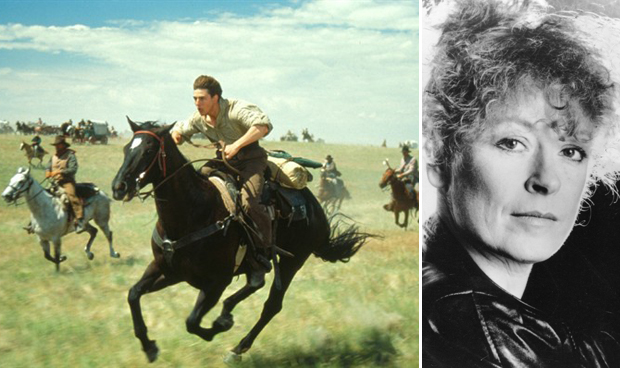 There weren't too many Hollywood blockbusters filming around the UK and Ireland in the early 90s, and those that did – Robin Hood: Prince Of Thieves being an example – tended to call on British television talent to fill out the acting ranks.
A further example? How about Ron Howard's ambitious Far And Away, filmed in and around Ireland, and comfortably boasting some of the least convincing Irish accents ever heard on screen. Tom Cruise and Nicole Kidman put in sterling vocal work, as those of us who nearly choked on our popcorn at the time could testify.
But then, I like to think that they were distracted by the sight of Eileen Pocock on set. The Irish actress had, after all, been seen by over 20 million people in Bread at the show's peak, in the role of Lilo Lill. Her main function in Bread was to be shouted at and about by Jean Boht's Ma Boswell, but her broad career (and it really is) has also taken in the role of Molly Kay in the spluttering Far And Away.
Once Cruise and Kidman realised who she was, their accents could never, clearly, recover. They might have feared that Jean Boht in rant mode wasn't far behind.
As an aside, the land rush sequence in Far And Away is still brilliant, though.
FROM HELL
Starring Aveline 2 from Bread
Bread

was one of the first sitcoms to replace key cast members as and when they left the series. As such, when Peter Howitt left the role of Joey to go and be a film director (Sliding Doors, Bean), a new actor arrived in his place. And when the original Aveline left, in came Melanie Hill.
Melanie Hill is a good actress. Check out her work in Brassed Off for proof of that. And she's turned up in a major Hollywood movie too, in the shape of the Johnny Depp-headlined From Hell. And perfectly, for the purposes of this article at least, she plays the mother of Joanna Page, best known for playing Stacey in Gavin & Stacey.
Casting directors for Johnny Depp movies sure know their UK Gold.
DEMOLITION MAN
Starring Sir Humphrey from Yes Minister
The late, great Nigel Hawthorne's autobiography gives a real flavour of the majesty of his career, which took in some challenging, deep and dramatic roles. His turn in The Madness Of King George, on stage and on screen, takes some beating. To get the film version made, however, Hawthorne took on a big budget film project to prove his movie stripes. And it led to the bizarre moment when we realised that Sir Humphrey from Yes Minister was facing off against Sylvester Stallone in a futuristic action thriller.
We like Demolition Man a lot more than Hawthorne did, and he's suitably scathing about the movie in his book. And while Hawthorne's range and quality of roles was and is sizeable, we couldn't ever shake that Sir Humphrey image, as he calmly reasoned his dastardly master plan in a voice that made him barely audible over Stallone and Wesley Snipes shouting at each other.
Hawthorne did stay quiet at the time of making Demolition Man as to his true thoughts about it. But then he probably would have been fined for a violation of the Verbal Morality Statute had he done otherwise…
Also…
There are many British films that call on UK sitcom actors, but it felt right we leave those out of this list. With apologies in particular to Paul Barber. When he popped up in The Full Monty, it can't just have been us thinking it was Denzel from Only Fools And Horses taking his clothes off. Furthermore, it would be remiss not to acknowledge that Sam Kelly, of 'Allo 'Allo and On The Up is an occasional member of Mike Leigh's movie ensembles…
Follow our Twitter feed for faster news and bad jokes right here. And be our Facebook chum here.