Features
10 teasers for Misfits series 5
Caroline reveals ten things she picked up about the new series of Misfits whilst visiting the set...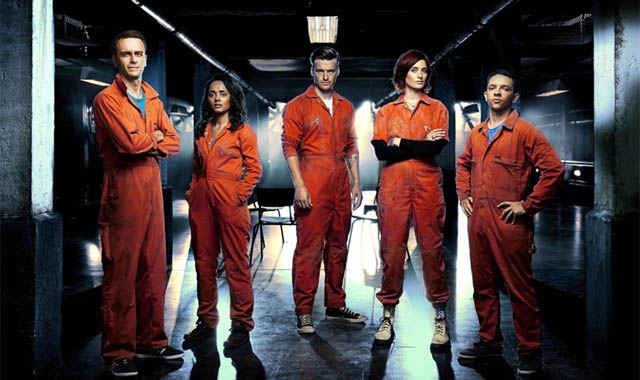 Warning: if you want to go in to Misfits series 5 knowing absolutely nothing, don't read ahead…
Anticipation for the last ever series of E4's Misfits is pretty high and, before the premiere this week, we were lucky enough to visit the set just after filming for series five had wrapped up for good. After a quick walk around the set, we picked the brains of Joseph Gilgun (Rudy), Karla Crome (Jess), Nathan McMullen (Finn), Matt Stokoe (Alex) and Natasha O'Keeffe (Abbey) – and they had some interesting titbits about what we can expect from upcoming episodes. Who will die? Will we be seeing any returning cast members? And will we ever find out what's going on with Abbey?
1. As expected, Alex will indeed be receiving a brand new power after his lung transplant. That new ability is potentially even more embarrassing than his gender swap problem of series four. It's also responsible for getting him in the orange jumpsuit with the rest of the cast.
2. There will be plenty of power use in series five, with a good amount of green screen action and even some flying. We're promised that the superhero element of the show will return after its absence in series four. 3. There's going to be a new villain named Scary, and a mysterious turtle, both of which are related to Abbey's mystery identity.  4. A brand new (pretty awesome) set has been built for the Power Support Group that will be a main feature of the final series. Powers there include a woman who can knit the future and a return from Tim, the guy from series two who sees life as a video game. 5. We won't be seeing guest appearances from any original characters such as Nathan or Kelly, so series five will finish with the current cast. Some expected guest stars from characters, such as Finn's sister Grace, will also not be happening, but expect plenty of cameos from other, more minor, old faces. 6. There will only be two Rudys this year, and Joseph Gilgun hasn't become any fonder of filming the dual roles. They will both appear in the premiere with separate storylines, and we will also see at least one of them with a beard later on in the series. 7. After the first episode, Jess won't be bothering with a relationship with either Finn or Alex, but will instead choose someone else as her significant other. Romance will, however, still be a main part of her story, and we'll never learn her last name. 8. The death of the probation worker isn't a certainty this time around, and there's every chance Shaun may even be granted a happy, death-free, ending. There's no word on whether he'll be doing any more karaoke, however. 9. Some scenes involving Alex this year had to get clearance from lawyers before shooting – for the first time in the show's history. We can only imagine what those scenes entail… 10. The cast describe the ending as emotional. There's not necessarily complete closure on absolutely everything, but it will hopefully satisfy viewers nonetheless. They kept tight-lipped on the possibility of a movie but, if there is one, only Joseph Gilgun is likely to be involved along with some of the original series one cast members.