News
10 Most Uplifting Moments in Professional Wrestling
Behind the fictional veil, the pro wrestling business can bring a lot of heartache and negativity. Here are stories that show the more positive incidents in the wrestling world.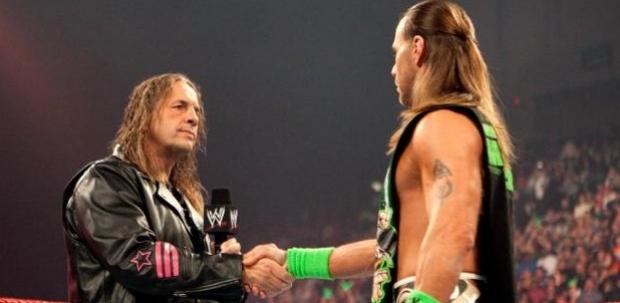 In the ring, professional wrestling has spent years telling us stories of good triumphing over evil. To anyone who delves deeper into the wrestling business, they find that beneath that exterior lies a rather scummy foundation. Shady dealings, corruption, drug abuse, sexual assault, broken dreams, racism, backstabbing, politicking and petty hatred ultimately make the behind-the-scenes situations come off as more intriguing than the fictional storylines. It's not all horror stories, though.
There are some incidents that can really put a smile on your face. That look of genuine emotion on a wrestler's face when he wins a meaningful title match, even when he's supposed to be a heel. The response of an older wrestler making a nostalgic return and seeing the crowd go wild for them for just one night. Stories of success after years of heartache. Dreams coming true, whether it be a wrestler's or a certain fan's.
Let's take a look at some more uplifting stories in the history of the wrestling business. Or, as I'd like to call it, Chicken Soup for the nWo Souled Out.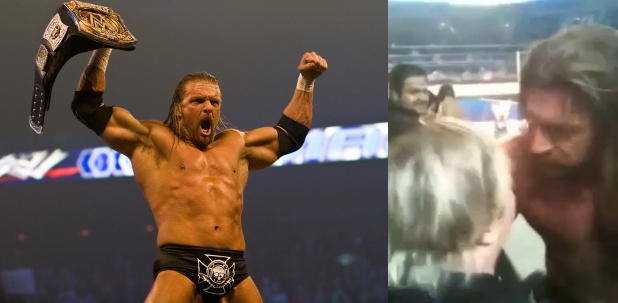 10. TRIPLE H INDUCTS A FAN INTO D-GENERATION X
During the latter days of DX, footage arose from a house show where after a match, Triple H made his way up the ramp and saw a fan with Down's Syndrome. Triple H beamed at the sight of him and talked to him for a bit. Then he decided to get him over the guardrail and bring him into the ring. Even though he and Shawn Michaels already celebrated, another go couldn't hurt. As the theme song blared, Triple H, Michaels and Frank (I think that's the fan's name. It's hard to hear) did the DX crotch chops and poses, and then traded hugs.
Not only was that sweet as hell, but Triple H didn't even bury Frank and cut a 30 minute promo about how he isn't in Triple H's league. What a class act.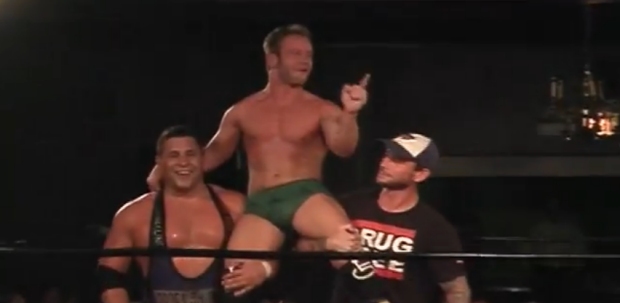 9. WWE CHAMPION CM PUNK SAYS HI TO GREGORY IRON
When CM Punk won the WWE Championship from John Cena, he warned the company that he'd show up as champ in other promotions around the world. While he didn't show up at Ring of Honor or any of his other old haunts, he did make a more meaningful cameo.
At an All-American Wrestling show in Chicago, Colt Cabana and Gregory Iron teamed up against the Awesome Threesome and lost. Cabana's known for being CM Punk's best friend and Iron's known for being a wrestler who has endured cerebral palsy his entire life, noticeable in his right arm. After their loss, Cabana explained that Iron shouldn't feel down for their loss and brought up how damn inspiring it is to even be in the ring with the young indy wrestler. To prove his point, Cabana left the ring, went into the back and brought out CM Punk to the surprise of many. Punk agreed with his buddy and told Iron how in awe he was over all that he's overcome. Punk and Cabana then lifted Iron up and paraded him on their shoulders before leaving the ring and letting Iron soak up the standing ovation.
Keep in mind, realistic storyline or not, Punk was still under WWE contract and was still making an appearance at another promotion. At least he made it count.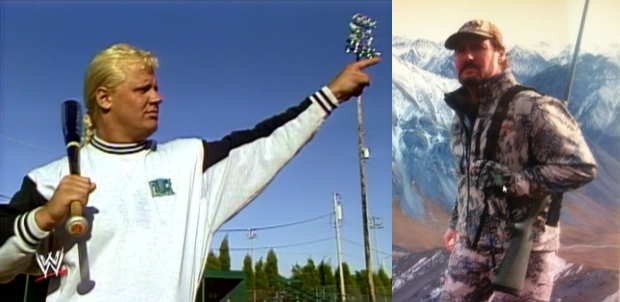 8. MR. PERFECT SAVES WADE BOGGS' LIFE
Part of the charm of Curt Hennig's Mr. Perfect personality was the vignettes they'd film of him being perfect at every single sport he tried. Through those segments, he met with baseball legend Wade Boggs and the two hit it off. Years later, Boggs tearfully recounted the time they went hunting together. They could have hunted on their own or together and Hennig suggested they stick together. That was for the best as Boggs had a major mishap where he got his legs tangled in a barbed wire fence and injured his collar bone. Boggs' legs were a complete mess, torn to ribbons.
Hennig got him untangled and carried him to the truck, almost a mile away, then got him to the hospital. Had it not been for Hennig, Boggs would have bled to death long before anyone found him. According to Boggs, Hennig was his guardian angel.
7. EDDIE KINGSTON HONORS THE PASSING OF LARRY SWEENEY
Super charismatic indy wrestler and manager "Sweet 'n' Sour" Larry Sweeney (real name Alexander Whybrow) lost his lengthy battle in depression in 2011 when he took his own life. Days later, one of his home promotions, CHIKARA, turned their planned 3-day tournament King of Trios into a memorial show in his honor. Wrestlers wore pink and purple arm bands, used his moves and mannerisms and one of his closest friends, Eddie Kingston, came out to one of Whybrow's favorite songs, "The Highwayman."
Over the course of 2012, the company put together a big 12-man round robin tournament to crown their first CHIKARA Grand Champion. The tournament was called the 12 Large Summit, as, "12 large, brother!" was one of Sweeney's catchphrases. In the last show of the year, the main event had Eddie Kingston reach the finals against CHIKARA founder and head trainer Mike Quackenbush. Kingston won, becoming the first and only CHIKARA Grand Champion, where he was presented the belt by Whybrow's brother Oliver in what was a very emotional scene.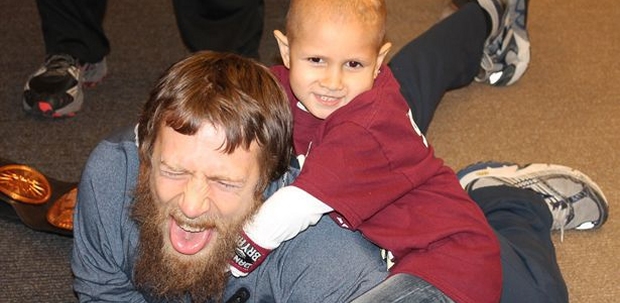 6. INFINITE WISHES GRANTED
Wrestling, mainly WWE, has had a long-lasting relationship with Make-a-Wish, back to the days of Hogan and Savage. Heck, when Hogan was in WCW, he was wary of turning heel for the fact that it would affect how those kids would see him. Make-a-Wish kids meeting their heroes is always a heartwarming experience, whether they're meeting John Cena (who has granted over 300 wishes, more than any celebrity) or someone more obscure like Jack Swagger. Yes, there was a kid out there who wanted to meet "The All-American American" more than anyone else, and that rules.
My favorite story comes from a little boy named Connor Michalek. He had already used up his one Make-a-Wish request, so the 7-year-old cancer patient wasn't able to use them to meet with Daniel Bryan. His family started up a campaign to get backstage with Bryan at a Pittsburgh Raw taping. Connor got to meet tag champs Bryan and Kane and – in one of the most adorable of all moments – got to make Bryan tap with the No Lock.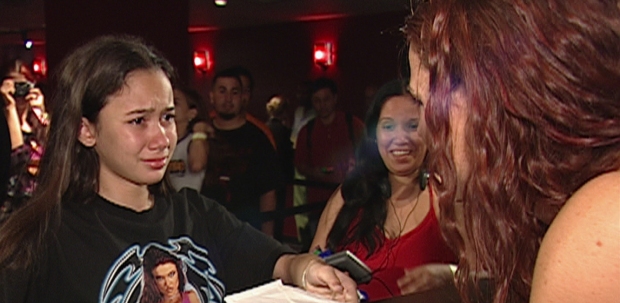 5. AJ LEE MEETS LITA… TWELVE YEARS AGO!
It's great watching AJ Lee gain so much success as you can tell how much she loves the business and how every day is a dream realized for her. The most noteworthy part of this is footage that was unearthed from a Lita documentary that came out in the early 2000's. One part showed Lita doing an autograph signing, where a young teenage girl was reduced to tears after finally getting to meet her hero. That random girl caught on video would one day become the WWE Divas Champion and be seen as perhaps the most popular woman on the roster.
Also worth noting is that AJ also became emotionally overwhelmed recently when she saw a box full of her first ever t-shirt merch. It's hard not to feel happy for her.
4. DIAMOND DALLAS PAGE: MIRACLE WORKER
Jake "The Snake" Roberts and Scott Hall have been the poster boys for self-destructive behavior in the world of wrestling. It seems like forever that you'd find them both at the top of any wrestling death pool as they were each in a constant loop of failed rehab and heavy drinking mixed with drugs. It's hard to blame them. Roberts has lived a really rough life and Hall has PTSD from killing a man in self-defense. They've ruined their lives many times over and alienated their loved ones, especially their children. Many considered each a lost cause.
Diamond Dallas Page, a man who breathes positivity and clean living, custom made his own workout style called DDP Yoga. He put together a house he calls the Accountability Crib to bring in people who need his help, all while filming parts of it and putting it on YouTube. His first mission was to help Roberts. It was a rough start, as Roberts did relapse pretty early on, but he made plenty of progress and remained clean for a damn long time. He lost a ton of weight, learned how to use Twitter, and really regained his self-respect. Even when he had a moment of weakness later in the game, he owned up to it as a mistake instead of angrily yelling that it was no big deal.
Page and Roberts asked Hall to give the Accountability Crib a shot and he too has been able to turn his life around. He's also lost a ton of weight, has remained clean and is currently feeling alive for the first time in forever as he's reconnected with his son and is trying to get him trained to follow in his footsteps.
The most uplifting part of this was when Roberts needed surgery on his shoulder, which would cost over $9,000. He put up a page on IndieGoGo and after twelve hours of it being up, DDP showed Roberts and his daughter the early results. Within these few hours, the fans had already pooled together well over 3/4 the total, leaving even Roberts speechless for a moment.
"All those years… I guess they did mean something."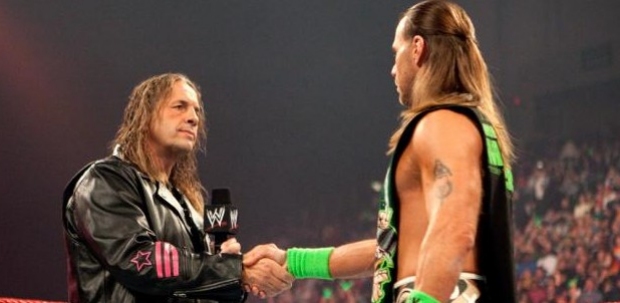 3. SHAWN MICHAELS AND BRET HART BURY THE HATCHET
Shawn Michaels and Bret Hart walked similar paths in the WWF with Bret having a slight head start. They made their names as tag wrestlers, went solo and dominated the midcard, then hit the main event. For a while, the two considered each other friends, but life on top of the roster caused Bret to become self-important while Michaels became self-serving. The two clashed just as much behind-the-scenes as they did in the ring. The worst came when Bret left the company for WCW and WWF created a real-life conspiracy to get the WWF Championship off of him with Michaels as an accomplice.
Bret became a bitter man as not only was he a victim of the Montreal Screwjob (though there are those who argue he had it coming), but he endured tragedy after tragedy. Michaels spent several years away from the business due to a terrible back injury and in that time found God. When things smoothed over between Bret and the WWE, he made an appearance at the Hall of Fame Induction Ceremony one year, but only under the agreement that he and Michaels would not be in the building at the same time.
When Bret made his big return to the WWE as an on-air figure, they set up a segment on RAW where Michaels would confront him under the guise of a showdown. The original idea was that their characters would reconcile and shake hands. Backstage, Bret met with Michaels for the first time in 12 years and was taken aback by how sincerely apologetic he was. Their in-ring meeting became more personal and ended with them embracing. Since then, the two have rekindled their old friendship with Bret remarking that he feels more at peace via moving on. They say that anything can happen in the WWE, but I'm glad it was this.
2. THE REVENGE OF BEING SUCCESSFUL
When somebody tells you that you're not good enough, proving them wrong is always cathartic, but what's better is when you do it in a way that rubs their face in it. Steve Austin, Ric Flair, Eddie Guerrero, Chris Jericho, and Christian are some of the more notable names of those who disagreed with the way the promoters used them (or refused to use them), jumped ship to the competition and made a name for themselves.
The most entertaining instance of this was Mick Foley, who wrestled in WCW as Cactus Jack. He went to the WWF under the name Mankind and after a couple years, captured the support of the wrestling-watching audience to the point of being booked into winning a match against the Rock for the WWF Championship. That episode of RAW was taped, so WCW's Nitro decided to play spoiler by, well, spoiling it. Announcer Tony Schiavone, under the wishes of WCW head honcho Eric Bischoff, spelled out that WCW sendoff Foley was about to become WWF Champion and made fun of him for it, sarcastically claiming, "That'll put butts in seats." And it did! A crapload of Nitro viewers turned to RAW to watch this go down!
Considering Nitro's main event from that night was one of the most famously bad incidents of a company made of famously bad incidents, that whole night did a lot of damage that would never be repaired.
1. RODDY PIPER SAVED BY FAN POPULARITY
Back before Raw Interactive was a thing they shoved down our throats, WWE had their PPV Cyber Sunday where the fans would get to vote on aspects of every match. What type of match it would be, who would be the special guest referee, who would be the challenger, etc. In 2006, they built up a generation-based feud between Ric Flair and young male cheerleader upstarts, the Spirit Squad. Squad members Kenny and Mikey were set to defend the tag titles against Flair and an over-the-hill partner of the fans' choosing. The choices were Dusty Rhodes, Sergeant Slaughter and "Rowdy" Roddy Piper.
Piper won with 46% of the vote and the two were booked to win the tag titles. That meant that Piper would need to remain on the active roster for at least a couple of weeks and to do that, he'd have to take a physical. The doctor found what seemed to be kidney stones that needed to be removed, but upon closer inspection, it was cancer. Piper was in the early stages of Hodgkin's lymphoma and was able to have it treated in time before it could spread.
Piper's gone on record to say that he probably wouldn't be alive had he not won that Cyber Sunday poll. That's absolutely awesome and beautiful. A man busted up his body for years for the anonymous audience and well after his prime, the fans inadvertently saved that body in return.
Like us on Facebook and follow us on Twitter for all news updates related to the world of geek. And Google+, if that's your thing!