Features
10 Christmas TV shows to circle in the Radio Times
We've put a spotlight on some of the UK Christmas telly specials you won't want to miss this festive season…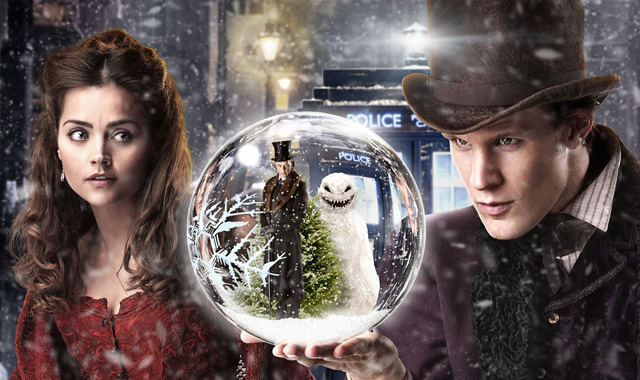 You know that pub conversation we've all had, the one about what you'd show an alien race on the brink of wiping out planet Earth to convince them we are essentially a well-meaning, productive, and often beautiful species that deserves to live? No contest: a Christmas issue of the Radio Times.
In 1969, an astronaut walked on the moon and someone thought up the Christmas Radio Times, both of them landmarks of brilliant stuff achieved by humans. They must have been thinner then – not astronauts, copies of the Radio Times – back when there were fewer TV channels than there are now Shrek films.
Between the covers of that hefty double edition sits the industry and imagination of generations. It's a cenotaph to Christmases past, stuffed plumper than the turkey with hour upon hour of people chatting, fighting, dancing, cooking, giggling, getting pissed, and falling in love. It's 250-odd pages of columns that for forty years have said nothing but "You're on holiday. Enjoy yourself".
Best of all, it's mostly stuffed with the same people, doing mostly the same things, Christmas after Christmas. You can  complain about repeats at any other time of the year, but the last week of December is a week for repetition. Stick a pin at any page of your festive Radio Times and you'll find Alistair Sim having an epiphany and Dermot Morgan getting lost in the lingerie department. Someone will be dying painfully in Eastenders, someone will be walking in the air, someone will be methodically picking baddies off the Nakatomi Plaza building and someone else will be wearing the wrong trousers.
There are new endeavours too, shows designed to tickle our fat, alcohol-steeped bodies into laughter and fellow-feeling. There are the programmes nobody wants to miss, the ones that in the days before DVRs and iPlayer, would send hurried yells of "It's starting…" travelling into the kitchen and up the stairs in homes all over the country.
We like Christmas telly. You've probably picked up on that.
Here then, are ten UK Christmas specials new to 2012 (we're not including films or repeats, though there are plenty of those to settle down in front of next to the Quality Street tin), that we're circling in this year's Xmas Radio Times…
Him & Her – The Christmas Special 
What is it? Stefan Golaszewski's bottle sitcom about two feckless early twenty-somethings in love (Russell Tovey and Sarah Solemani), and the dysfunctional group of family and friends who regularly invade their grubby flat.
What's this one about? It's Christmas Day in the flat, which means more unhygienic slovenliness from Steve and Becky, and more unwanted interruption from Laura (and a karaoke machine), upstairs neighbour Dan, and a new character, Steve's estranged Dad.
When's it on? Sunday the 23rd of December at 10pm on BBC Three. (This one's the finale to series three, so catching up on earlier episodes is recommended).
Uncle Wormsley's Christmas 
What is it? A creepy animated cautionary tale in the style of I Am Not An Animal, narrated by Steve Coogan, and featuring the voices of Julia Davis and Julian Barratt.
What's this one about? A giant crab named Crabsley who's kept in a dungeon, and the little rich boy who gets him for Christmas. It's probably easier to let the trailer explain. 
When's it on? Christmas Eve at 10pm on Sky Atlantic – yet more proof that comedy commissioner Lucy Lumsden is doing sterling work for the broadcaster, after this year's critically acclaimed Hunderby, Moone Boy and Sky One's Little Crackers series.
QI  – Jingle Bells 
What is it? The nation's favourite erudite panel show host, Stephen Fry, talks us through some quite interesting things with the help of three guests and Jonathan Creek.
What's this one about? We're up to series ten of QI, which means the alphabet theme has reached the letter J. For the Christmas special of course, that means Jingle Bells. Fry and Davies are joined by Sarah Millican, Danny Baker and Phill Jupitus. It's charming, none-too taxing telly this, so enjoy with a handful of Celebrations and a clementine for maximum festive fun.
When's it on? First time around, it's in its usual Friday night spot on the 21st of December at 10pm on BBC Two, but the XL repeat comes on Christmas Day at 9.45pm.
Friday Night Dinner – Christmas Special 
What is it? Robert Popper's sitcom about the Goodman family's titular weekly gatherings, starring Tamsin Greig, Paul Ritter, Mark Heap, Simon Bird and Tom Rosanthal.
What's this one about? It's Christmas Day in the Jewish Goodman household, which means our first introduction to new character 'Horrible Grandma' (the boys' paternal grandmother), and her equally horrible dog.
When's it on: 10.30pm on Christmas Eve on Channel 4.
Royal Institution Christmas Lectures – The Modern Alchemist 
What is it? A tradition that reaches back even further than the Radio Times, to 1825 in fact, whereby clever science types explain and demonstrate scientific theory and phenomena using experiments and general brilliance, you know, for kids. It's essentially the antidote to That Dog Can Dance! and A Very JLS Christmas.  
What's this one about? This series of three lectures comes courtesy of Peter Wothers and focuses on alchemy: the search for youth-restoring elixir and ability to turn lead into gold. Look up the list of topics that have been covered annually since the early 1800s (with a short gap when WWII came about), and experience a nerdy thrill at mankind's thirst to discover stuff and educate.
When's it on? For three consecutive nights starting on Boxing Day at 8pm on BBC Four.
Moominland Tales: The Life of Tove Jansson 
What is it? Even if you didn't read and love Tove Jansson's Moominland books as a child, she's an deeply interesting character in her own right. A bohemian Helsinki artist who then lived as a recluse on a remote island in the gulf of Finland, this one-off documentary celebrates her life and work.
What's this one about? The creator of Moomintroll, Snork Maiden and the rest of the Moominvalley lot.
When's it on? Immediately after the first of the Royal Institution Christmas Lectures on Boxing Day on BBC Four at 9pm.
The Girl 
What is it? BBC2's Hitchcock night starts with biopic The Girl, starring Toby Jones as the portly director, and Sienna Miller as the titular girl – actress Tippi Hedren. Support comes from Imelda Staunton, Penelope Wilton and more.
What's this one about? It's a dramatization of Hitchcock's relationship with The Birds star, whom he found as a model and proceeded to "mould into the perfect Hitchcock blonde".
When's it on? Boxing Day on BBC Two at 9pm. Followed by Rebecca, and Paul Merton's documentary which uses footage of Hitchcock to "interview" the director.
The Snowman and the Snowdog 
What is it? A thirty-years on sequel to the 1982 Raymond Briggs adaptation The Snowman, the bleakest tale of Christmas friendship ever made, and the film that kicks off Christmas in my house (David Bowie introduction mandatory).
What's this one about? As far as we can gather, a snowman, a little boy, and a snowdog. We don't think they've got David Bowie to introduce it, which is a shame, but on the plus-side, the snow dog does appear to have socks for ears.
When's it on? It's Channel 4's festive tent-pole if you like, and will go out at 8pm on Christmas Eve. Additionally, younger viewers should also seek out BBC One's Room on the Broom at 4.35pm on Christmas Day.
Merlin finale – The Diamond of the Day (Part 2) 
What is it? The Beeb's Saturday night take on Arthurian legend starring Colin Morgan, Bradley James, Angel Coulby, Richard Wilson, and Katie McGrath.
What's this one about? The end of the end. It's the final ever episode of Merlin, which has been building to a mighty exit over the past few stories. This one's being billed as a "spectacular emotional end", that sees Merlin face his destiny. Will the prophesies come true? Can Merlin save Arthur?
When's it on? 8.15pm on Christmas Eve on BBC One, with part one on Saturday the 22nd of December at 7.55pm.
Doctor Who – The Snowmen 
What is it? If you need it explaining, then chances are you're reading the wrong site. Mad man. Box. Timey-wimey. Reversing the polarity of the neutron flow. All that space jazz.
What's this one about? Set in 1842 London, the Doctor is grieving the loss of his dear friends. Thankfully, there's a nefarious gent (Richard E. Grant) with an evil plan that needs scuppering, and a brand new companion (Jenna-Louise Coleman) to distract him. Here's our spoiler-free review.
When's it on? 5.15pm on Christmas Day on BBC One.
Follow our Twitter feed for faster news and bad jokes right here. And be our Facebook chum here.