News
Zombieland: Double Tap Trailer, Cast, Release Date, Story, and News
Zombieland: Double Tap, a sequel a decade in the making, will reunite the original main cast for more insane undead action.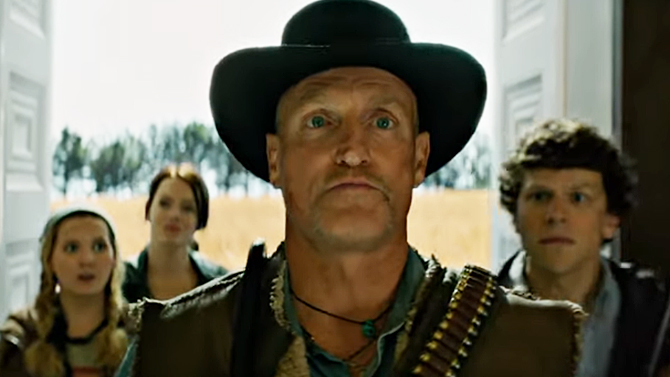 As it turns out, there are more than a few rules left to learn if you want to survive a zombie apocalypse. And why not? When the first Zombieland came out way back in 2009, The Walking Dead was still simply a comic book, and the ghoulish undead were far less hip than all those sexy vampires running around. As pop culture has become infested with the dreaded brain-eaters, Zombieland 2 (or Zombieland: Double Tap as it is now offically called,) has long seemed like a no-brainer. As it turned out, Sony agreed.
Hence, Sony Pictures is taking us back with a Zombieland sequel, with the four main actors from the original film: Emma Stone, Woody Harrelson, Jesse Eisenberg and Abigail Breslin reprising their roles as Wichita, Tallahassee, Columbus, and Little Rock. Hopefully, they'll find a way to swing by Bill Murray's again too. (He might not be all dead, right?). Rhett Reese, who co-wrote the first film, wrote this second one with Dave Callaham.
Zombieland: Double Tap Trailer
The newly-arrived Red Band trailer for Zombieland: Double Tap doubles down on the dirty in this return to the franchise's mirthful zombie apocalypse.
Just below is the first Zombieland: Double Tap trailer, which not only catches us up with the post-apocalyptic exploits of the first film's foursome of the now White-House-squatting Tallahassee (Harrelson), Columbus (Eisenberg), Wichita (Stone) and Little Rock (Breslin), but introduces us to its altered dynamic with new character Madison (Zoey Deutch), as well as the addition of characters played by Luke Wilson, Thomas Middleditch and Rosario Dawson.
Zombieland 2 Cast
All of your favorite zombie-killers are back, many of them with Oscar-related adjectives now as the trailer so helpfully reminds us. Jesse Eisenberg (Academy Award nominated for The Social Network), Woody Harrelson (Oscar nomianted for The People vs. Larry Flynt, The Messenger, and Three Billboards Outside Ebbing, Missouri), Abigail Breslin (nominated for Little Miss Sunshine), and Emma Stone (Oscar winner for La La Land, and also nominee for Birdman and The Favourite).
In January, Sony announced on Twitter that the film is officially titled Zombieland: Double Tap, and released a first look at what Wichita, Tallahassee, Columbus, and Little Rock will look like in the sequel:
Luke Wilson is set to play an undisclosed role, according to Variety. Wilson, a perennial cinematic comedy star, recently appeared in the dramedy, Berlin, I Love You and sci-fi/horror film, High Voltage. Of course, the actor, known from comedy Old School and as a repertory player of director Wes Anderson, has fielded an apocalyptic scenario of sorts – in this case an idiot apocalypse – starring in the oft-referenced 2006 cult classic, Idiocracy.
Thomas Middleditch was recently added for an undisclosed role, as reported by Variety. Audiences likely know him best from HBO comedy series Silicon Valley, however he is also appearing in this year's Godzilla: King of the Monsters.
Rosario Dawson (Daredevil, The 25th Hour) has been cast in Zombieland 2 in an undisclosed role, according to THR. 
Zoey Deutch (Set It Up, The Disaster Artist) is also joining the cast. Details about her character are not known at this time.
Zombieland 2 Release Date
Zombieland : Double Tap is scheduled to arrive on Oct. 11, 2019.
Zombieland 2 Story
Here's the official Zombieland: Double Tap synopsis:
Through comic mayhem that stretches from the White House and through the heartland, the Zombie slayers must face off against many new kinds of zombies that have evolved since the first movie, as well as some new human survivors. But most of all, they have to face the growing pains of their own snarky, makeshift family.
We'll keep you updated as we learn more!
Joseph Baxter is a contributor for Den of Geek and Syfy Wire. You can find his work here. Follow him on Twitter @josbaxter.