News
Zoe Saldana Will Star in Action Thriller Hummingbird
While Zoe Saldana is booked solid with Marvel and Avatar movies, she'll also star in action thriller Hummingbird.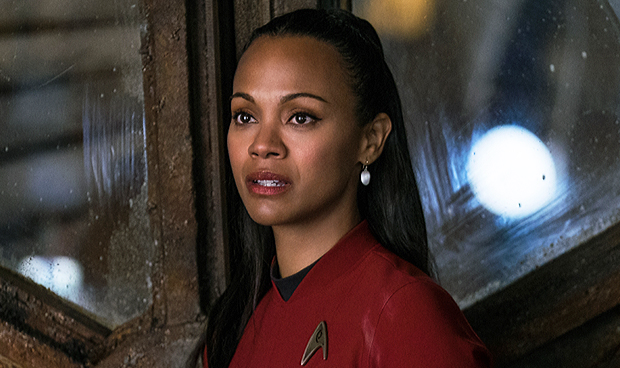 Zoe Saldana's franchise movie juggling ways will soon come to a head. As the Star Trek Uhura actress readies promotional duties for her Marvel return as Gamora in May's Guardians of the Galaxy Vol. 2, filming has already commenced in Atlanta for a Marvel mega-movie in which she will also appear, Avengers: Infinity War. Moreover, she'll field her return as Neytiri in the nearly decade-delayed follow-up to director James Cameron's bellwether eye candy smash Avatar 2 this August; one of four sequels to be shot concurrently. Amongst all that, Saldana has added an intriguing entry to her backlog with a lead role in a Swedish-run action film.
It has been announced (via Variety) that Zoe Saldana is set to star in an action thriller called Hummingbird. Her protagonist character is a black-ops assassin who has been tasked by her shadowy overseers to eliminate someone connected to her true identity. The premise does seem to evoke memories of Saldana's starring role in the 2011 sexy action thriller Colombiana. While that film – with intent to turn Saldana into a bankable action star – was a box-office flop, her name remains attached to some of the most lucrative film franchises of all time (Marvel, Star Trek, Avatar, Pirates of the Caribbean), thus justifying this second chance of sorts.
Hummingbird, a production of Fundamental Films and Broken Road Productions, has appointed burgeoning Swedish directors Marcus Kryler and Fredrik Akerström. In a testament to multimedia synergy, the duo come into the project only having directed cinematic sequences for the 2016 video game Battlefield 1. The helmers will work off a script from an equally new industry face with a name that sounds extremely familiar to fans of the action genre in John McClain (spelled differently than Bruce Willis's wisecracking Die Hard hero). McClain's Hummingbird screenplay was nabbed after it landed on the Black List, the industry's annual survey of most-liked unproduced scripts. Sweetening the pot for star Saldana is the fact that she will be billed as an executive producer through her Cinestar Pictures company. Additionally-onboard as producers, are Mark Gao and Gregory Ouanhon of Fundamental along with Todd Garner of Broken Road.
It will probably be a while until we know when to expect Hummingbird. In the meantime, we'll next see Zoe Saldana back in green body paint, fighting interplanetary threats alongside everyone's favorite bunch of A-holes in Guardians of the Galaxy Vol. 2, which hits theaters on May 5.