News
Zapped: visiting the set of Dave's fantasy comedy
James Buckley, Paul Kaye and Sharon Rooney star in Zapped, a new fantasy comedy from Dave...
This article comes from Den of Geek UK.
Back in June, a small gaggle of journalists and I were ensconced for a few hours within the shadowy bowels of Pinewood. We were ushered onto a soundstage between takes, inside a ginormous warehouse-like studio.
We were there to catch a glimpse of Zapped, a new sci-fi/fantasy comedy series that had recently been announced by Dave. With The Inbetweeners/Rock & Chips star James Buckley on board, and a big high concept premise, Zapped sounded like a tailor-made accompaniment to Red Dwarf XI on the UK channel's autumn slate.
The immediate impression I got was that no space had been wasted whatsoever. Rows of wooden walls stood tall, divvying up the sizeable studio into a variety of sets. A pub, a street and a strange vault were all crammed into the same little corner, tightly packed in against one another.
All of the sets we saw had a medieval tinge to them, although it was made clear to us that this show isn't set in the past. Not the past as we know it, anyhow. Instead, the bulk of the action takes place in 'Munty', the equivalent of Britain in a strange, fantastical parallel universe. Buckley's character Brian is transported from our world to Munty unwittingly, after unexpectedly receiving a magical McGuffin in the post.
"There's a mix up with a phone charger that he's waiting to be delivered, and instead he ends up with this bracelet," Buckley explained to us in a break between scenes, looking every bit like a grown-up Jay from The Inbetweeners in a costume comprising black trousers, a white shirt and a yellow tie. All a bit scruffy and worn, as it looks like Brian has been stuck in his work clobber since showing up in Munty.
(Just as a side note, before we move on past the topic of Jay from The Inbetweeners, it's interesting to note how Buckley responded when he was asked whether Brian – something of a straight man – was a new challenge after playing Jay, such an outrageous comedic force: "No, it's not a new challenge, because I'm not like Jay. Like, I'm not at all. I'm more straight. I'm more sort of dry and sarcastic, so this character's easier for me.)
Brian putting on the bracelet on a whim is "basically the start of the whole sitcom, and then he meets all these strange and weird people, and he spends his time mostly coming up with ways to try and get home", Buckley added. "He's very boring, very ordinary, and it's a very surreal situation that he finds himself in."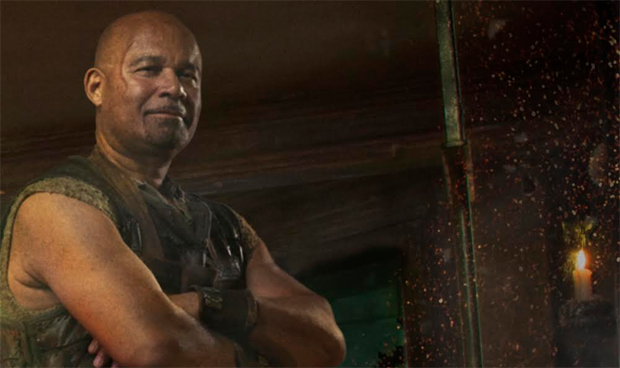 Surreal does seem like a rather fitting way to describe Munty. Later, as we took a closer a look at the sets, a very British and somewhat bizarre sense of humour became apparent.
In the vault I mentioned, naff items that have fallen through from our world – Chinese takeaway cartons, a colander, a SodaStream – are held under lock and key by suspicious locals. On a street corner, there's a cage. We're told that a piranha/chicken hybrid creature will be added into it later using a mixture of practical and computer-generated effects. Other strange animals hang in carcass form within the pub, labelled with details like 'killed on 10th of Dog, Year of the Sausage.'
The name of this pub is one of the funniest things I saw all day: The Jug And The Other Jug.
That marvellous moniker was dreamed up by the establishment's unimaginative landlord, Herman, who's played by Benidorm's Louis Emerick. "He used to be a warrior back in the day. And a bit like the old footballers of maybe the 60s and 70s, when they retired they bought a boozer. This is pretty much what Herman's done," Emerick told us, before detailing Herman's plot to turn his watering hole's fortunes around: a magical sausage machine.
"The only this is, I'm running out of furniture," Emerick lamented, "because when Howell sells him this thing […] he shows me how it works, and he goes to break up one of my very few chairs. When he throws it in, this lovely sausage comes out"
"Here's what Herman's thinking," Emerick added: "do what you gotta do, get some people in, I can shift a few sausages. If they're all stood up, so long as they're eating sausage, I don't think they'll mind."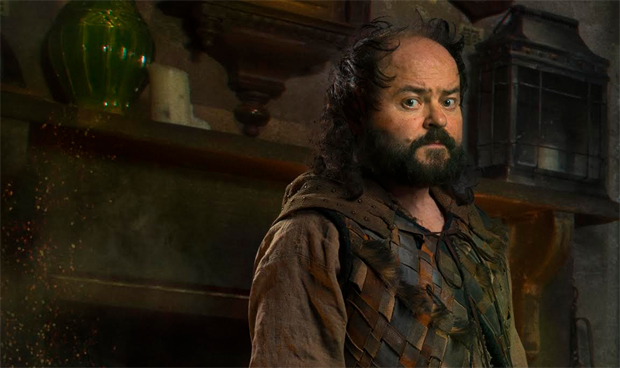 If you haven't gathered yet, this corner of Munty isn't exactly focused on epic quests and impending battles. Prior to Brian's appearance and the sausage machine's arrival on the scene, Herman's biggest concern was Steg, his primary regular customer, who's played by Cuckoo's Kenneth Collard.
Collard tells us that Steg paints himself as "a main of great ideas, who stands up for justice" but is actually "a bit of a dick, messing things up and hopelessly falling in love with anything that walks in." And, in Emerick's words, a single pint of beer "seems to last [Steg] all bloody day", much to Herman's chagrin.
As writer Paul Powell put it, Brian turning up here – in the quietest corner of this magical universe, where the biggest worries in the local community are annoying pub patrons and the selling of enchanted ground meat products – is the equivalent of someone travelling to our world and winding up "in 1960s Gillingham".
The seller of this sausage machine is the aforementioned Howell, a washed-up wizard played by none other than Dennis Pennis/Game Of Thrones' Thoros Of Myr himself, Mr Paul Kaye. And, let me tell you, you haven't lived until you've witnessed a wizard, clad in full robes (and a hat, and sandals) and covered in wacky makeup, vaping away in a beige meeting room. Surreal doesn't begin to cover it.
"I'm a shit wizard," Kaye explains, describing his character between puffs, "but still a wizard. My magical abilities are quite unpredictable. I think I've got a good heart. Bit of a wheeler-dealer, get myself in all sorts of scrapes, and there's various baddie characters. Like Slasher Morgan, who I have a history with. And I have to negotiate myself out of holes I've dug and scams I'm trying to pull, but he means well."
"What powers do I have? Well, I'm packing a wand. That was very exciting actually, I was on holiday in Cornwall and I got a load of photos through. And I had to pick a wand, which my son was very impressed with. Six different wands. I went for the quite effete one, yeah, there was some big, sort of horned looking jobs, but I went for something a little subtler, to complement the character", Kaye added, sending us into giggles.
In the scene we watched being filmed, Kaye's Howell was having a rather heated discussion with Buckley's Brian about the terms and conditions of a wish he'd been granted. (You can't use it to bring you and a girl home, since one person equals one wish. The wish expires after 24 hours. And so forth.) But, even with Kaye and Buckley's rampant charisma, it was someone else who stole the scene: Sharon Rooney.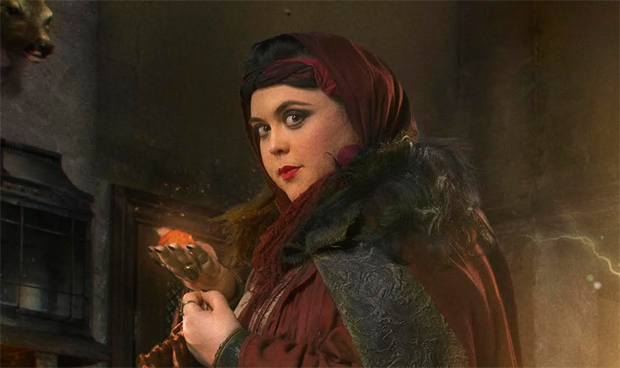 Rooney – the star of the excellent My Mad Fat Diary – has been cast perfectly as a wannabe soothsayer by the name of Barbara. In the wish-based scene we saw, she lost her temper and asked one of the supporting characters if they wanted a smack in the face. Coming from a soothsayer in flowing robes and a natty red headscarf, and thanks to Rooney's masterful comic delivery, those words were funnier than they have any right to be.
But threats of violence won't be her full focus in the show, we learned while chatting to Rooney (who was, again, plonked in a little beige room in full, vibrant costume). Playing to Rooney's established strengths from My Mad Fat Diary, Barbara has been gifted with a full-on, heart-stopping, world-shattering crush on Brian.
"She kind of falls madly in love", Rooney described, "as soon as he walked through the door, she's completely smitten."
"Yeah, I like to play a girl who's got a lust for a nice boy", Rooney joked, noting the kind of roles she seems to keep getting. But there are other layers to Barbara, too, beyond the temper and the lusting. There are also her "big ambitions and big dreams about making the Seer's Guild, [which is] where all the good wizards and witches go, but she's not as good as she thinks she is."
With the combined the comedic prowess Buckley, Kaye and Rooney, and with all these different story threads weaving in and out providing wacky situations, I've got high hopes for some big laughs from this one. And I've not even mentioned the fact that Steve Coogan is on board as a producer and has a small role in the show, joining Emerick and Collard in that stellar supporting cast.
The trailer that has been airing on Dave backs up my high hopes, with a collection of chortle-inducing moments crammed into a short space of time. But, of course, we'll have to wait and watch the episodes to see how much of Zapped's abundant potential translates into chuckles.
Red Dwarf, Blackadder, The Mighty Boosh, 'recent [Alan] Partridge stuff' and Game Of Thrones were all mentioned on set as touchstones and inspirations for Zapped, so there's certainly a high bar set by the production team themselves.
We'll be sitting down with a sausage supper to see how Zapped fares when the first of three episodes premieres on Dave.
Zapped episode 1 airs on Dave at 9.40pm on Thursday the 13th of October. It's available to watch as a preview over at UKTV Play now.