News
You Were Never Really Here Trailer: Joaquin Phoenix is a Brutal Guardian
The darkly intense You Were Never Really here trailer shows Joaquin Phoenix as a vicious protector of a teenage girl.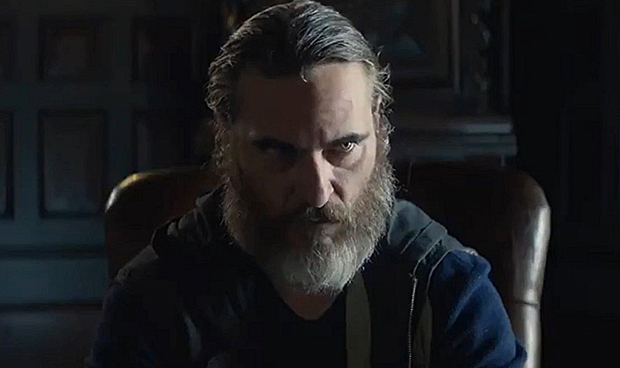 The crime thriller, You Were Never Really Here, has seemingly embraced a violent guardian trope that's familiar to anyone acquainted with Robert De Niro's performance in 1976's Taxi Driver or, more recently, with Denzel Washington's role in the 2014 film adaptation of TV's The Equalizer. However, we have here a film that has taken the innately eccentric Joaquin Phoenix down a deep dark rabbit hole of ultraviolence that has to be seen to be believed.
You Were Never Really Here Trailer
The You Were Never Really Here trailer doesn't waste any time showcasing it superb montage of blood-splattering. We see Joaquin Phoenix as Joe, an enigmatic enforcer for hire whose professional specialty typically involves hitting people with a ball-peen hammer. However, his latest gig will test his ice-cold heart, tasked to rescue young Nina (Ekaterina Samsonov), the missing teenage daughter of a Senator (Alex Manette). However, once found, Nina's seedy dealings immerses both of them in a horrendous hornet's nest of corruption and conspiracy that will clearly require Joe's ruthless skill set.
You Were Never Really Here Details
Lynne Ramsay directed Your Were Never Really Here, working off a script that she wrote that adapts the 2013 novella of the same name by Jonathan Ames. The Scottish helmer has – amongst a series of short films – three previous directorial/written feature film releases under her belt with 2011 thriller We Need to Talk About Kevin, 2002 drama Morvern Callar and 1999 drama Ratcatcher.
Joining star Joaquin Phoenix (Inherent Vice, Walk the Line, Gladiator) in the cast are Ekaterina Samsonov (The Ticket), John Doman (Gotham), Judith Roberts (Eraserhead) and Alessandro Nivola (American Hustle).
You Were Never Really Here Release Date
You Were Never Really Here will arrive at theaters on April 6.
The film was first unveiled at the 2017 Cannes Film Festival, where it garnered a Best Actor award for Joaquin Phoenix and a Best Screenplay award for Lynne Ramsay, justifying the buzz it possesses going into its Amazon Studios-distributed theatrical release.