Reviews
You Don't Mess With The Zohan DVD review
Adam Sandler stars in a comedy about the conflict in the Middle East. About as funny as it sounds.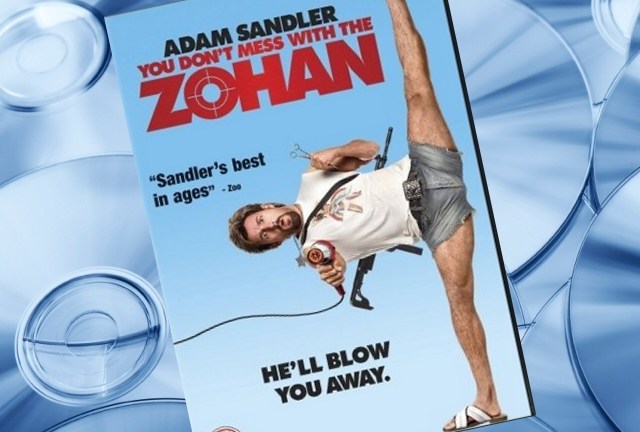 Ten years ago Adam Sandler was an affable anti-hero sweeping Drew Barrymore off her feet in The Wedding Singer. Today he is one of the most irritating men in Hollywood. The mention of his name is suffixed by a groan. In the intervening years his greatest crime against film was I Now Pronounce You Chuck and Larry, but You Don't Mess With the Zohan takes Sandler's celluloid criminality to new heights.
The brains behind this Sandler vehicle thought the Israeli / Palestinian conflict would provide endless belly laughs. Oh dear.
Sandler is Zohan, a hotshot Israeli counter-terrorist special agent, a crime-busting whirlwind and a heartthrob to boot. But poor Zohan longs for a less violent, more creative existence, so he fakes his own death during an encounter with his nemesis, The Phantom (John Turturro). He hops on a plane to New York to fulfil his dream of becoming a hairstylist, landing a job in a salon and falling for his Palestinian boss, Dahlia (Emmanuelle Chriqui with a dubious accent). Racial tensions in the neighbourhood are fuelled by an evil capitalist hoping to expand his empire, but luckily Zohan saves Dahlia's business with his orgasmic haircutting abilities, but how long before his past catches up with him?
The 'comedy' consists of groin-thrusting smut, laughing at foreign accents and ill-judged gags about terrorism. It's like watching a 1970s sitcom in which racism and sexism are casually taken as the norm. Horribly, horribly unfunny. The characters are so one-dimensional a gust of wind would knock them down. A trio of wannabe terrorists, for instance, are shown to be moronic simpletons in their attempts to make a bomb – the target audience for Zohan is presumably George Bush. John Turturro, meanwhile, spends the entire movie hidden behind sunglasses out of sheer embarrassment – the audience shares his pain.  
Zohan was written by Sandler, Robert Smigel and Judd Apatow, but in this case the golden Apatow touch failed to work its magic. In an attempt to flesh out the film and up the gag ratio, there are cameos from Chris Rock, John McEnroe and Henry Winkler, among others. Mariah Carey puts in an appearance too and to her credit, she is surprisingly game for self-mockery.
The best thing about the film is the sound advice offered by the title: don't mess with the Zohan – stay well away.
ExtrasPerhaps by way of an apology for the quality of the film, the DVD is packed with extras. Featurettes on the making of the film reveal it was more fun to make than it was to watch. There are also the usual deleted scenes and audio commentaries from director Dennis Dugan and from Sandler, Smigel and cast members.  
Film:
Extras:
You Don't Mess With the Zohan is released on the 19th January
5 January 2009