Reviews
Yesterday DVD review
Holgar discovers a fun-but-forgettable Korean action flick. Absolutely no singing of Beatles songs allowed.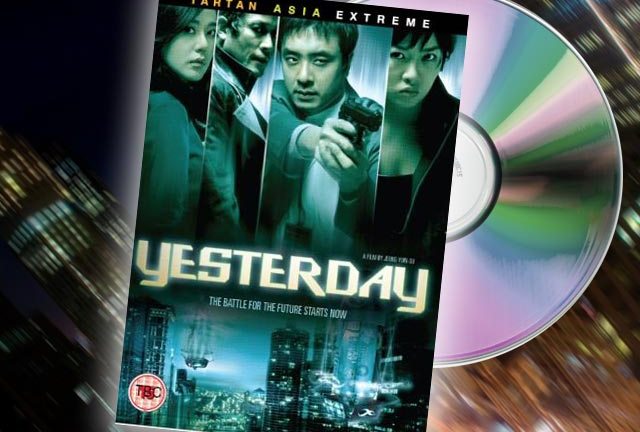 Sometime in the not too distant future, a kidnapping goes wrong and the boy's father, head of a highly powered SWAT unit, organises an assault on the hideout and is ultimately responsible for the killing of the child. In the subsequent twelve months a number of high ranking government officials are murdered near the hostage site. The search for the serial killer reveals a decade old government conspiracy involving secret cloning experiments.
Over the last couple of years Korean cinema has taken off big time in the West, yet it appears that there is often a general division in the Western and Eastern perception as to what makes a representative Korean movie. Ask any movie watcher in our part of the world and they may quote Chan-Wook Pak's Vengeance Trilogy, Save the Green Planet! or A Tale of Two Sisters. As such I was very surprised when a while back for the release of The Host, the Singapore Straits Times published an interesting overview over modern Korean movies with no mention of either of those titles and instead focused on the likes of Wishing Stairs, Silmido, Taegukgi or The King and the Clown, productions that, though maybe not necessarily completely unknown here, certainly didn't quite raise a huge stir or cause awareness of modern Korean cinema, yet were for the most part bigger successes throughout Asia.
It sure appears that for all that we have recently learned about this country's cinematic output there is still a lot waiting to be explored.
Case in point: Yesterday.
Produced in 2002 it took the best part of six years for it to become readily available to our shores, yet this was one of the most expensive Korean action movies ever produced at the time and as such could well be considered one of the historically most important productions to path the way for the current boom, even though it did admittedly bomb at the box office during its initial release.
So, is it any good?
Well, it's OK. The action, though not quite as ingenious as we may come to expect from Asian movies, is fast and furious. The sci-fi elements are not too overt: clothes and urban landscapes are still very recognisable; the weaponry looks like a slightly more updated version of currently available products; and it is often only when we see commercials interrupting the standard police frequencies that we become more fully aware of its futuristic settings. References to a united Korea with all its implications to the fate of the Korean people for the most part will run right past by the average Western viewer. This collage of mixing familiar current with futuristic elements is what gives this film the vaguely Blade Runner-ish feel that has often been commented upon.
In actual fact, if it wasn't for the references to secret cloning experiments this film could have easily been made as a straight forward police procedural action thriller set in our time. It is just as well that the production doesn't focus all that much on the plot and instead forsakes narrative consistency for fast moving stylish non-stop action. Some of the plot twists really don't make all that much sense if properly examined, though you probably won't be able to catch enough breath doing that.
Overall, this is a thoroughly entertaining straight forward action flick that won't bore you for a single second, but that also won't necessarily burn lasting impressions in your mind.