News
X-Men: Dark Phoenix Has Fox Executives Saying "We Were Wrong"
Now that Dark Phoenix is the first flop of the X-Men films, Fox executives are reportedly owning up to its box office failure.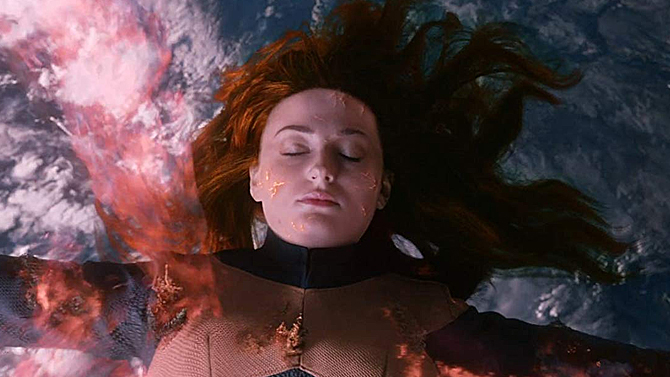 X-Men: Dark Phoenix may adapt what is undoubtedly the most iconic comic book storyline of Marvel's massively popular – bellwether movie adaptation-inspiring – X-Men comic book mythos, but the film, unlike the titular bird, won't likely rise from the proverbial ashes after its unimpressive opening weekend numbers. Indeed, it appears that executives from Fox – which had long-licensed the film franchise – are admitting their mistake(s) with this entry. (Check out our Dark Phoenix review.)
Unfortunately, the Dark Phoenix ember failed to ignite a coal, with the film officially becoming the lowest-debuting entry in the near-20-year history of the Fox franchise, having only grossed $33 million domestic this past weekend – that's half of the $66 million opening weekend of 2016's X-Men: Apocalypse, which, itself, was seen as disappointing, both financially and creatively. However, as THR reports, a postmortem meeting for Apocalypse amongst Fox executives reveals that the seeds for Dark Phoenix's doom were planted years ago, seeing as the studio didn't learn their lesson, wrongly believing that Apocalypse simply fell victim to excess in the department of explosions and scale, rather than – the other frequently offered theory – franchise fatigue. As a Fox insider recounts to the trade:
"There was a misguided feeling that [Apocalypse] was an anomaly, that we just got it wrong." As said insider would lament, "We were wrong."
Tragically, this belief led the studio to double down on its Apocalypse mistakes with Dark Phoenix, which, served as a direct follow-up to the former. While the comic book source material of "The Dark Phoenix Saga" had been covered in the Fox films, in 2006's X-Men: The Last Stand, it was widely-reviled, not just for its creative liberties, but the fact that the Dark Phoenix concept – focused on Famke Janssen's Jean Grey – was forced to share storyline real estate with a mutant cure storyline, with that film originally intended as the rushed wrap-up to a trilogy. Yet, when the franchise was rebooted in 2011's X-Men: First Class and had its overall timeline re-codified in 2014's celebrated X-Men: Days of Future Past, it was clear that the Phoenix concept was an itch that studio wanted to scratch once again, this time with Game of Thrones' Sophie Turner, who debuted as Jean Grey in Apocalypse. With Simon Kinberg (who, begrudgingly, wrote Last Stand,) in the director's chair this time, the plan was to give the iconic storyline a proper film adaptation; lofty ambitions that, unfortunately, were not achieved.
One thing that didn't help Dark Phoenix was its somewhat chaotic pre-release experience, notably after the film's release date was moved back from its original November 2, 2018 release date to February 14, 2019, ultimately arriving on June 7; a move that the trade reveals was the doing of the studio's star director, James Cameron, in order to nab a less competitive slot for his Alita: Battle Angel; an arrangement that ultimately couldn't save that film. Another explanation might point to Dark Phoenix's reshoots, but the film – primarily shot from June to October of 2017, with close-to-the-wire reshoots done in October of 2018 – was par for the course for Fox's X-Men film productions, and, in fact, was more organized than the reshoot-plagued production of First Class, which was ultimately a successful reinvention of the franchise.
That leaves audience fatigue. However, to be fair, while that is a legitimate explanation for the waning popularity of once-white-hot genres, it is – at least thus far – an alien concept to the 11-years-strong films of Marvel Studios, and any discerning Marvel-licensing studio like Fox had to be looking at the $2.7 billion global gross of 2018's Avengers: Infinity War and the currently $2.7 billion (and counting) of April's Avengers: Endgame and think that there was at least a chance to ride the Avengers slipstream, since even earning a fraction of those films would have been a profitable endeavor. However, rather than having the prospect of being a November 2018 aperitif in its previous release slot, Dark Phoenix was forced to debut in the aftermath of the sublime creative and fiscal accomplishments of Endgame.
Moreover, with the Disney merger a done deal, even undiscerning, John Q. Public, inside-baseball-unaware, moviegoers could see that this particular X-Men movie was inherently tainted by the fact that there are no future stakes. Additionally, prospects are equally bleak for The New Mutants, the long-delayed spinoff film, which recently nabbed an April 3, 2020 release date; a theatrical release that's in jeopardy after Dark Phoenix's failure, possibly leading to the film being unloaded on a streaming service, either on (soon-to-be-former Marvel TV home,) Netflix or the imminently launching Disney+.
Consequently, it seems that – creative aspects notwithstanding – Dark Phoenix was fated to fail by outside variables well before its release. Seeing as the film's storyline was a direct follow-up to the ill-received sloppy exposition of Apocalypse, it does seem that moviegoers in general decided to save their money – and emotional investment – on a properly-crafted X-Men movie mythology, now that the license is back home with Marvel under the Disney tentpole, under the auspices of Marvel Studios.
Joseph Baxter is a contributor for Den of Geek and Syfy Wire. You can find his work here. Follow him on Twitter @josbaxter.