News
Wreck-It Ralph 2: Everything We Know About Ralph Breaks the Internet
Various clips from New York Comic Con give us an idea of what Wreck-It Ralph 2 is about other than a bunch of internet jokes.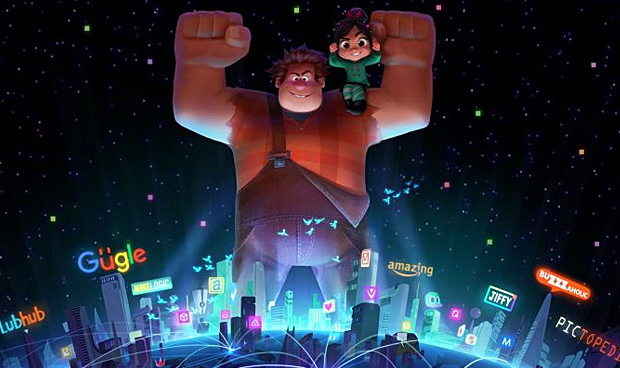 Disney's 2012 animated video game love letter hit, Wreck-It Ralph, has been teasing fans with a prospective sequel for a few years. But now Ralph Breaks the Internet: Wreck-It Ralph 2 will, as the title implies, see John C. Reilly's formerly-villainous quasi-Donkey Kong video game character expand his horizons in a digital matrix beyond his arcade cabinet home, heading to the internet itself. Of course, his glitch complex-resolved companion, Vanellope (Sarah Silverman), will be joining him in this sprawling Wi-Fi-riding journey. Wreck-It Ralph returnees such as Sgt. Calhoun (Jane Lynch), King Candy (Alan Tudyk), Felix (Jack McBrayer) will also be around, along with newcomers in late-night talk show titan James Corden and legendary The Little Mermaid and Toy Story voice actress Jodi Benson for unnamed roles (hint: Benson wants to be part of your world).
Wreck-It Ralph 2 Trailer
Here's the brand new trailer…
This trailer reveals some new characters, "including the fierce and fun crew of racers from online racing game Slaughter Race. Ali Wong lends her voice to Felony, Timothy Simons voices Butcher Boy, Glozell Green brings Little Debbie to life and Hamish Blake provides the voice of Pyro. Also new to the roster of characters is Double Dan, the proprietor of the dark web's apothecary. Voiced by Alfred Molina, Double Dan is massive, slimy and decidedly creepy with a second head called Little Dan tucked into his neck folds." 
Check out the earlier trailers, too…
Wreck-It Ralph 2 Release Date
Ralph Breaks the Internet: Wreck-It Ralph 2, will be released on November 21, 2018. 
Wreck-It Ralph 2 Cast
Gal Gadot has announced that she's fielding a role in Ralph Breaks the Internet. The star of Wonder Woman and its 2019-scheduled sequel, Wonder Woman 1984, will voice the role a tough, rough racer, named Shank.
Wreck-It Ralph 2 Story
At New York Comic Con, about 20 minutes or so of Ralph Breaks the Internet footage was shown to a panel. Sadly, we were all told not to record any of it. While I'm not going to describe the scenes word-for-word, I can give you the gist of what the plot entails. That said, we did get to see the full version of the Disney Princesses scene and there's an absolutely killer gag about Snow White in there.
Anyway, the plot…
At Litwak's Family Fun Center & Arcade, a fight between two patrons destroys the steering wheel needed to play Sugar Rush. Unfortunately, the game is old enough that they don't make replacements anymore and even though there's a $100 replacement on eBay, the game doesn't make enough annually to make it worth its while. Vanellope von Schweetz, who had earlier complained about how simple the tracks were, falls into a deep depression over her racing days being done for good.
Around this time, Litwak's adds wifi to the building and this allows Ralph and Vanellope to enter the internet so they can find eBay and get that replacement wheel. The world of the internet is filled with many avatars of its users, all represented as stocky copies of their real selves. While our heroes do discover the auction on eBay, they misunderstand how auctions work and end up owing far, far more than a mere hundred bucks. They have to figure out ways to earn money inside the internet (keep your mind out of the gutter) and this leads to two scenarios.
For one, they go into a Grand Theft Auto-type of online game where Vanellope needs to steal a rare and valuable car. This puts her at odds with its owner Shank (Gal Gadot), who comes off as an antagonist, but at the same time is extremely impressed with Vanellope's skills. Vanellope, on the other hand, falls in love with seeing a driving game with no actual track.
Meanwhile, Ralph works with Yesss (Taraji P. Henson), an entity who is tied to what's trendy with pop-culture. She helps him become a YouTube sensation, but its success comes at a cost. Ralph comes across Twitter and the negative comments at his videos destroys his self-confidence.
No word yet on how Calhoun and Felix are worked into all of this.
further reading: Ralph Breaks the Internet: Taraji P. Henson Finds Her Voice
Ralph Breaks the Internet Review
After six years we at last have a sequel to Wreck-It Ralph, and it's gratifying to say that Ralph Breaks the Internet, while having the slight whiff of corporate obligation around it, is an entertaining, delightful and heartwarming follow-up. It sends our main characters — the massively strong yet relatively naïve Ralph (John C. Reilly) and the feisty, rebellious and glitchy racer girl from the Sugar Rush game, Vanellope (Sarah Silverman) — on a new adventure in a different environment, allowing the sequel to avoid repeating too much of the first film while still enabling both to grow as characters.
Ralph Breaks the Internet Backstory
Wreck-It Ralph arrived in 2012 brandishing an original concept of a video game villain's quest for redemption and self-worth away from his perfunctory role, backed by characters from familiar video game properties. The animated film was a smash hit for Disney, raking in $471.2 million globally. While its flashy supporting IP personnel from games like Sonic the Hedgehog, Pac-Man and Street Fighter may have played a part its success, the main cast dynamic was probably the clincher, notably in the relationship between Reilly's Ralph and Silverman's Vanellope, which simultaneously tickled funny bones and pulled heart strings. As Moore continued:  
"We're so excited to be working with Ralph, Vanellope von Schweetz, Fix-It Felix and Sergeant Calhoun again, and we have new characters we look forward to unveiling. At the center of this film, as in the first one, is the relationship between Ralph and Vanellope, two once-outcasts, who in each other, found true friendship."