News
World Cinema: festival fever
In our latest world cinema column, we celebrate the variety of experiences offered by film festivals, and look at a few classic independent films past and present…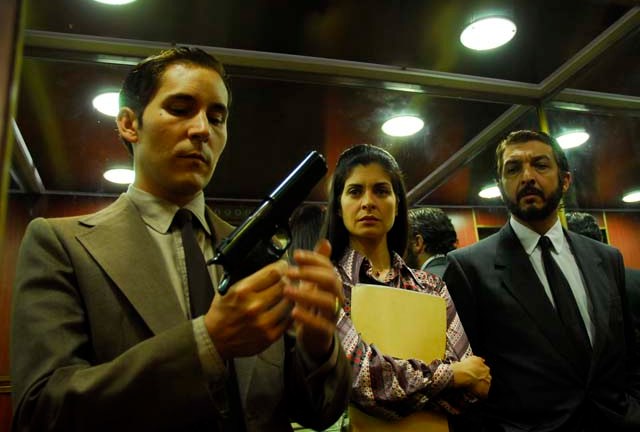 I picked up a leaflet for the 2010 Tibetan Film Festival the other day. I was pretty pleased, I can tell you, as I had no idea such a thing even existed. But now I know it's in its third year.
Added to such delights as the recent Polish Kinoteka Film Festival (eight years), Africa In Motion (five years) and my personal favourite, the East London Film Festival (ninth year), it seems clear that specific film festivals are not only increasing, but also thriving.
A film festival with a clear aim is to be applauded, as film festivals are great things, but often overwhelming and occasionally uncohesive. I get scared off by the organisation they often seem to involve in arranging a film viewing, let alone the whole thing. I wish I went to more of them, to be honest, especially as I am currently living in London, home to about ninety percent of them!
So, therefore having these specific film festivals, which often concentrate on one or two things (the clue is usually in the title, but not always. Bradford's Bite The Mango Film Festival, anyone?) seems an ideal fix for those seeking the unknown and unexplored in cinema.
If you fancy having a concentrated dose of hip-hop film, for instance, then head to Manchester in August.
I think these smaller festivals offer a varied appeal, especially the country or culture-specific ones. First and foremost, it promotes what is commonly a specialist or underground cinema to people like me and you, who may not normally pay attention or, indeed, have the opportunity.
Secondly, it offers the chance for the various diasporas to connect and share in their common culture or, indeed, re-evaluate what it means to be from x country. And for these two aims to meet is surely mutually beneficial for all, and will lead to an even more informed global cinema audience.
However, the counter to this is the argument that there is now too much of a choice for the potential audience, and they will be fragmented across them. To this end, is it not more pragmatic to have a limited number of strong second tier film festivals to cater to the more specific films only briefly touched by the big festivals of London and Edinburgh? I don't believe so, but the lack of publicity and general knowledge about many festivals are factors that will need to be addressed if the current boom is to be sustained.
However, as I said, due to it being the capital, many are located in London, unfortunately, but there are treasures to be found elsewhere. The mighty Leeds Film Festival in November is, of course, a frontrunner, but my choice of the more niche festivals would be Viva! The Spanish And Latin American Film Festival in Manchester (March), and the Compass Of Mystery Film Festival in Bristol (September/October).
Of course, those living in London have access to a few more, and in addition to the Kinoteka and East End Film festivals mentioned above, I would also suggest Tongues On Fire (London Asian Film Festival in March), Birds Eye View Film Festival (March) and We The Peoples Film Festival (November).
Looking Forward
The Secret In Their Eyes
If you happen to be lucky enough to be attending the upcoming Edinburgh Film Festival, then you could do a lot worse than check out this surprise Oscar winner. Described as a 'glossy, thoroughly satisfying whodunnit', The Secret In Their Eyes offers plenty of twists and turns, and more than holds its own against similar mainstream fare.
Beginning as a simple mystery, it quickly turns into something far more ambitious, beguiling and ultimately rewarding, and serves to prove that Latin Cinema is currently the world's most vibrant (at least in my opinion!).
A Bout De Souffle/Breathless
It's the film which, for many, represents World Cinema. The original French New Wave classic, it redefined cinema for a generation and continues to inspire. As fresh today on this its fiftieth anniversary re-release as it was back in 1960, this is one iconic film that will never disappoint.
Edinburgh Film Festival is running 16th-27thMay. The Secret In Their Eyes is showing 24th and 26th June.
Looking Back
In keeping with the unofficial film festival theme of today, the chosen retrospective for this column is not only a classic of cinema, but was also a star of the earliest film festivals, including the first Cannes Film Festival.
Rome, Open City (directed by Roberto Rossellini, 1945)
Emerging from under the cloud of Italy's World War II experiences, Rome, Open City is a brutal and rough looking neo-realist classic. It is often studied on film courses, but deserves to be taken out of its academic context and viewed for what it is, an absorbing and immersive film experience detailing the occupation of Rome by Nazi forces.
Telling the story of resistance member Giorgio and priest Don Pietro's attempts to avoid the Gestapo, it mixes themes of religion, fear, the human will and collaboration. It defies its documentary look to almost jump off the screen, and leaves an impression far greater than most mega bucks blockbusters.
The film really is a paean to the purity and ennoblement of resistance, and remaining true in the face of great cruelty. It is also an excellent introduction to Italian neo-realism, one of the most important film movements of the 20th century.
Denied the freedom of the written word by Mussolini's fascist regime, the critics of the magazine Cinema created their own films as a reaction against the established mainstream.
Inspired by French poetic realism, features include shooting exclusively on location, often using nonprofessional actors in naturalistic settings and activities, as well as an often grim portrayal of working class life.
Its influence can be felt through pretty much all film, whether it's the immediate impact on the French New Wave and the British kitchen sink dramas, or to more recent developments such as Dogme 95 and the realism inherent in modern Oscar winners such as The Hurt Locker.
A tradition started with Rome, Open City can quite clearly be traced through the years to these films, a clear indication of the global family that film sits in.
I'll be back with more World Cinema next Thursday…