News
Woodshock Trailer Has Kirsten Dunst on a Surreal, Drug-Induced Trip
The Woodshock trailer shows Kirsten Dunst in the woods high on hallucinogens on an insane trip of a horror thriller.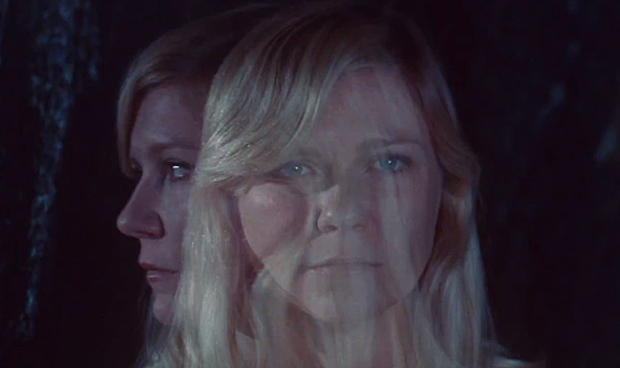 The Woodshock trailer has arrived, showing an unconventional horror-thriller that – at least at first glance – draws its title from the traditional pharmaceutically-induced psychedelia celebrated during the monumental original 1969 Woodstock concert festival and, well… something shocking. However, the trailer, focused on a tortured protagonist played by Kirsten Dunst, is more of a mind-blowing montage of context-deprived occurrences.
Indeed, the Woodshock trailer is light on story and heavy on visuals, coming across as something resembling a nature documentary that Hunter S. Thompson never got to make. The clip shows the isolated cabin-in-the-woods experiences of Theresa (Dunst), who seems to be dealing with an unfathomable tragedy in her own unique way with the apparent ingestion of an array of unidentified cannabinoids, resulting in flashes of a past she's trying to put behind her with surreal moments in which she floats to the top of the trees in what's surely a metaphor for something that's not yet apparent to us at this stage of the film's promotion.
Theresa is also seen with her presumed love interest in Keith, played by Game of Thrones and Ghost in the Shell actor Pilou Asbæk, joined by Nick, played by Peaky Blinders actor Joe Cole, to whom Theresa poses a potentially poignant inquiry about "cutting everything down." They are joined by Steph DuVall (Ray Donovan) and a pair of Hollywood legacies in Lorelei Linklater (Boyhood) and Jack Kilmer (The Nice Guys).
For Kirsten Dunst, the former child star-turned blockbuster Spider-Man series leading lady, Woodshock seems to be in concert with her current direction, taking supporting roles in films like 2016's Hidden Figures and Midnight Special, along with a notable run on Season 2 of FX's Fargo opposite Jesse Plemons. Dunst's next film will see her as part of this June's Western drama The Beguiled, opposite Nicole Kidman, Colin Farrell and Elle Fanning; a role that sees her reunite with Sofia Coppola, the director of her 1999 dramatic breakthrough role in The Virgin Suicides.
Woodshock represents the directorial debut of sisters Kate and Laura Mulleavy, who work off a script they wrote. The duo came into the industry through the trade of fashion, having worked on the elaborate ballet costumes featured in the 2010 Natalie Portman-starring (similarly surreal) dark drama Black Swan.
Woodshock gets ready to prospectively explain what all that weird-ass stuff from the trailer means when the film is released on September 15.