News
Wonder Woman 2 Footage Revealed at SDCC
Gal Gadot and Patty Jenkins gave the fans in Hall H a little taste of Diana's return in Wonder Woman 1984.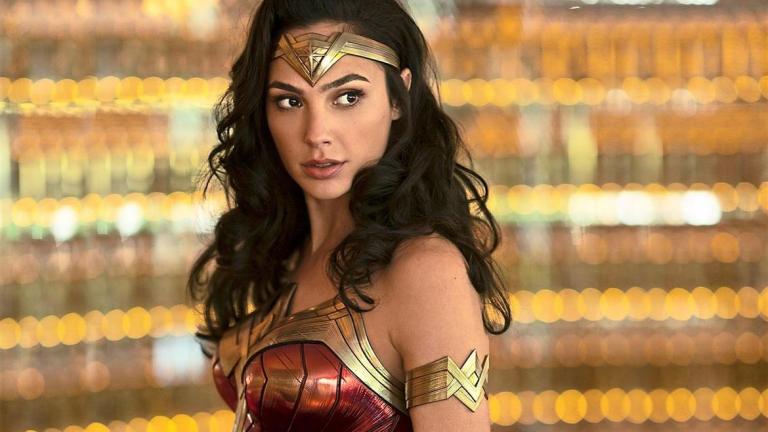 Wonder Woman stars Gal Gadot and Chris Pine, along with director Patty Jenkins, took the stage during the Warner Bros. Pictures two-hour showcase at San Diego Comic-Con's Hall H to give the 6,000 fans in the room their first, brief taste of Wonder Woman 1984.
They've been filming for all of three weeks, but put together just enough of a quick glimpse of a sequence to get the fans who made last year's movie a massive $821 million worldwide hit revved up for Diana's second standalone outing, which takes place this time in the 1980s — some 70 years after the first film.
Read the Den of Geek SDCC 2018 Special Edition Magazine Here!
The footage, which was exclusively for Hall H and is not at this time being released openly, starts with Wonder Woman flying down into the middle of a typical American mall. The 1980s décor and clothing are readily apparent, while Wonder Woman's outfit is also more colorful and gleaming. A little girl is standing there as Diana lands and says "Oh my god" in awestruck tones before Diana gently hurls her out of harm's way — and into the arms of a convenient giant teddy bear yards away — and goes after two armed and dangerous men in the middle of the mall atrium.
She fights and quickly subdues them, roping them both with the Lasso of Truth and dragging them behind her as she runs and jumps from one level of the mall to the next. The scene quickly cuts to the "WW84" logo before we get one more quick shot, this time of the Amazonian superhero running at top speed down a city street through stalled cars and people.
"It really was mankind at its best and worst," said Jenkins of setting the movie in the '80s. "It was grand and wonderful with great music, but at the same time we were revealing the worst of us."
Jenkins also noted that many fans were probably wondering what Pine was doing there, since his character, Steve Trevor, met his demise in the first film. She wouldn't divulge details of how he returns, only hinting that it's an "important" part of the storyline, which will also feature Kristen Wiig as the classic Wonder Woman villain Cheetah.
Wonder Woman 1984 arrives in theaters November 1, 2019.