News
Wonder Woman 1984 Trailer, Release Date, Cast, Villain, Story, and News
We've got everything you need to know about Wonder Woman 2, the DCEU movie known as Wonder Woman 1984!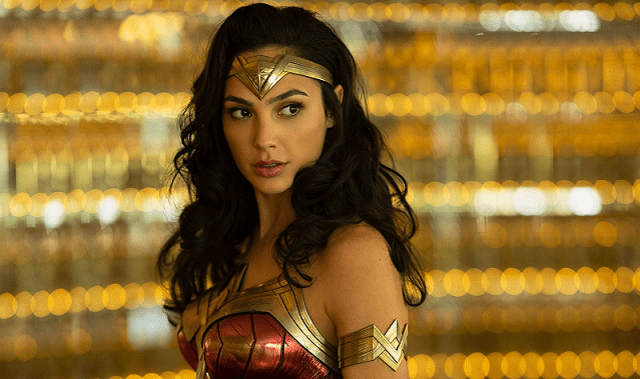 Wonder Woman was one of the most successful movies of 2017, so Wonder Woman 2 was a no-brainer. But that the Gal Gadot-led franchise is continuing with a title (and setting) like Wonder Woman 1984 suggests that Warner Bros. and DC Entertainment might going to some unexpected places with the sequel. And we don't just mean '80s pop and shoulder pads. There's something downright Orwellian about that title, no?
Here's everything else we know about Wonder Woman 1984…
Wonder Woman 1984 Trailer
Watch the first Wonder Woman 1984 trailer here. It has plenty of 1980s vibes, some Superman: The Movie inspired graphics, and a surprising New Order soundtrack. It's incredible. Check it out here…
Check out our breakdown of everything in this trailer right here!
We also have information on the footage that was screened at SDCC 2018. You can read all about it right here. IGN also has a report of the footage screened during a recent HBO Max presentation. You can read about that here.
Wonder Woman 1984 Release Date
Wonder Woman 1984 opens on Aug. 14, 2020. The film had originally been scheduled to open on June 5, but has been delayed because of the ongoing coronavirus pandemic. Don't believe the rumors that this will go direct to streaming or VOD, either. Warner Bros. is committed to keeping this as a theatrical release.
The full DC superhero movie release schedule is here.
Wonder Woman 1984 Cast
Gal Gadot will obviously return. The bigger surprise is that Chris Pine is (somehow) back as Steve Trevor. Director Patty Jenkins recently gave some insight into why Steve is so vital to Wonder Woman 2.
Chris Pine spoke to Wonder Woman co-star Robin Wright for Variety, talking about how Wonder Woman 1984 is different from Wonder Woman for his character:
I found this time, the tables had turned on me as a man, in terms of how I interacted and played on the screen. I loved, as the character, my woman. My partner. She's my partner. So that came to define this man. What a wonderful thing, as a character, to be in love. As a man on screen in a big film, it was interesting because my ego comes out: 'Well, I want the big f–king fight. Let me climb something." And Patty's like, 'No, not about you.' She said 'not about you' more times making this film.
Patty Jenkins has confirmed that Pedro Pascal's "key role" in the movie is actually master manipulator Maxwell Lord. We wrote more about the history of Maxwell Lord right here.
The cast also includes Natasha Rothwell (Insecure), Ravi Patel, and Gabriella Wilde according to Deadline. No details on their roles are currently available.
And, of course, Kristen Wiig is in the movie, and we have more details on her role in the villain section below.
Wonder Woman 1984 Villain
Check out the very first image of Kristen Wiig's Wonder Woman 1984 villain, Barbara Minerva, a.k.a. Cheetah, courtesy of Patty Jenkins.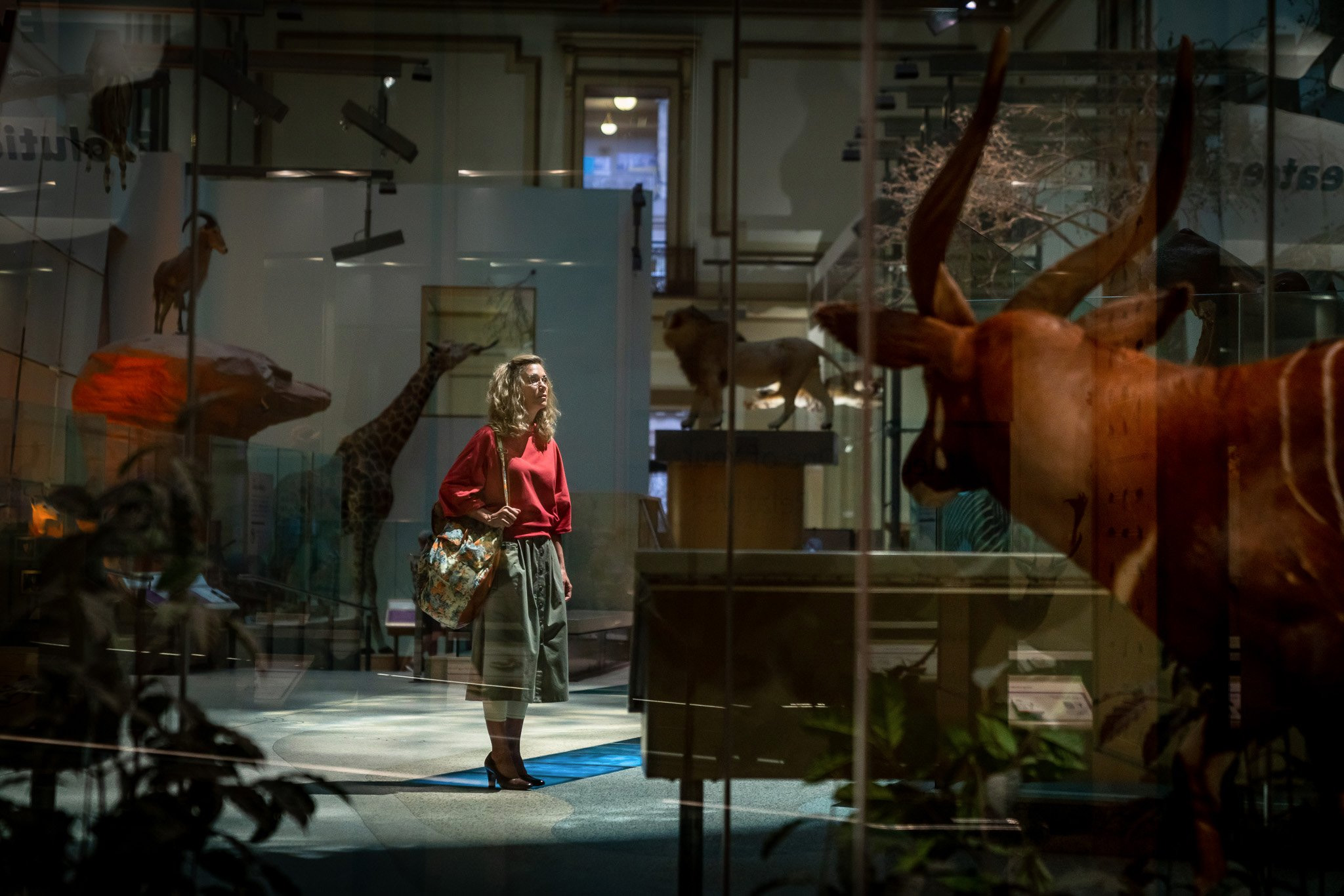 What we're seeing here seems to align with the comic version of Cheetah (the third out of four), who starts out as Barbara Ann Minerva, an archaeologist whose fascination with an African tribe's female cheetah guardian leads her to a Faustian bargain with ancient plant god Urzkartaga. The supernatural act yields her immortality and the physical abilities – and physical attributes – of a cheetah.
Indeed, the image of Kristen Wiig's unassuming Barbara Minerva (who's appropriately gazing at an exhibit of African wildlife,) seems to resemble the pre-Catwoman state of Michelle's Pfeiffer's mousy office assistant version of Selina Kyle in 1992's Batman Returns.
Wonder Woman 1984 Story
Here's the official synopsis… as sparse as it may be. Like something ripped from today's headlines, Diana might be taking on the Soviet Union in Wonder Woman 2.
Fast forward to the 1980s as Wonder Woman's next big screen adventure finds her facing an all-new foe: The Cheetah.
We wrote more about how that all-important year might inform the movie's story right here.
Patty Jenkins has already mentioned that she planned to have Wonder Woman 2 set in America. In an interview with EW, Jenkins said that Wonder Woman 2 "will take place in the US, which I think is right. She's Wonder Woman. She's got to come to America. It's time."
Since it's unlikely that the movie will play up the Russians as straight villains (much like how they handled the Germans in the first film's World War I setting), this could turn out be a matter of Diana averting an unintended nuclear armageddon. In any case, don't expect this to be a situation like Superman IV: The Quest For Peace where the hero tries to rid the world of all nuclear weapons or anything like that.
Although it also sounds like Jenkins is at least a little excited to tell a slightly more modern Diana story. "The most exciting thing," she told ET Online, "is literally seeing her loose in the world now, living those classic stories," added Jenkins. "Here's Wonder Woman, and what can she do? It should be a totally different movie, but a grand and now full-blown Wonder Woman in the world."
Patty Jenkins spoke to Deadline's Crew Call podcast about her reasons for setting Wonder Woman: 1984 in 1984, saying:
1984 itself is definitely very evocative to what's important in that movie and resonates with right now … It was the pinnacle of the success in the 80s … [There's] something about the excess of that period of time, which is so linked up to where we are in the world right now, that it's set there for a reason.
We have our own wishlist for what we'd like to see in Wonder Woman 2 right here.
Wonder Woman 1984 Soundtrack
Hans Zimmer is returning to the fold as Wonder Woman 1984 composer after previously seeming to swear off superhero movies following the picture he created his beloved Wonder Woman theme for: Batman v Superman: Dawn of Justice.
Film Music Reporter broke the news that Zimmer would be stepping into the saga's musical department, taking over the reins from Rupert Gregson-Williams. This makes Zimmer's second scheduled return to the genre in 2019, as he also was lured back to compose the score for Simon Kinberg's X-Men: Dark Phoenix.
Of course this is a lovely homecoming for the Wonder Woman saga since Zimmer composed the "Wonder Woman Theme," which along with Gal Gadot's Diana was considered the highlight of Batman v Superman. Electric cello has that effect. While Gregson-Williams did solid work, we cannot deny that this is good news, and hopefully a sign that the DC film universe continues its upswing after the 2017 film.
Wonder Woman 1984 Poster
Of course, that release date is no longer relevant, but this poster is still incredibly kick ass.