News
Winchester Trailer Shows Helen Mirren Facing Ghosts
The new Winchester trailer show Helen Mirren as Sarah Winchester, the woman who never stopped building a home for the spirits and undead.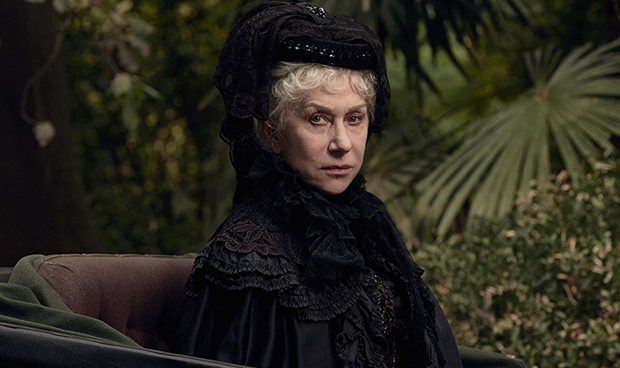 Winchester may at first glance appear to be a strange title for a ghost story, but if you know the tale of Sara Winchester, then you know that the vengeful ghosts are not only a presence in the film; they're in charge of her world. The early-20th century-set historical film stars Helen Mirren as real-life figure Sarah Winchester, heiress to the Winchester rifle fortune, whose guilt over the winner-of-the-West weapons manifested in her becoming a recluse in a gigantic labyrinthine mansion that was designed as an asylum of sorts for what she perceived as vengeful spirits.
Winchester Trailer
Enjoy the newest trailer of Helen Mirren getting spooked.
And in case you missed the original trailer:
The Winchester trailer centers on Helen Mirren's performance as Sarah Winchester, showcasing a morbidly eccentric heiress, draped in black, acting Goth well before Goth was a thing, all while the people around her, notably her niece (played by Sarah Snook), question her sanity. Containing herself to a giant, elaborate, almost Escher-esque monstrosity of a mansion, she sends for a doctor, named Eric Price (Jason Clarke), who arrives at the overwhelming estate and immediately begins experiencing frightening paranormal events.
Joining Mirren, Clarke and Snook are names such as Angus Sampson, Tyler Coppin and Laura Brent.
Winchester Release Date
Winchester will look to incite some fact-based scares on the big screen on Feb. 2, 2018.
Winchester Details
Winchester will be directed by Michael and Peter Spierig, the brothers who made Predestination and this Halloween season's Saw franchise revival film, Jigsaw. They wrote the Winchester screenplay with Tom Vaughan.
"We were immediately obsessed with the Spierig brothers intelligent and twisted take on a great American legend and could not be more excited to be working with the Spierig brothers and Dame Helen Mirren to bring this film to audiences," Scott Shooman of CBS Films said in a statement.
Mirren will play Sarah Winchester, the firearm heiress with the guilty conscience.
Here's the official synopsis:
Inspired by true events. On an isolated stretch of land 50 miles outside of San Francisco sits the most haunted house in the world. Built by Sarah Winchester, (Academy Award®-winner Helen Mirren) heiress to the Winchester fortune, it is a house that knows no end. Constructed in an incessant twenty-four hour a day, seven day a week mania for decades, it stands seven stories tall and contains hundreds of rooms. To the outsider it looks like a monstrous monument to a disturbed woman's madness. But Sarah is not building for herself, for her niece (Sarah Snook) or for the brilliant Doctor Eric Price (Jason Clarke) whom she has summoned to the house. She is building a prison, an asylum for hundreds of vengeful ghosts, and the most terrifying among them have a score to settle with the Winchesters…
And here is the earlier official synopsis, from back in 2016 when the film was still in development:
"Winchester tells the strange and dramatic tale of Sarah Winchester, who was heir to the Winchester firearms fortune. Her husband and child died suddenly, and Sarah came to believe she had been cursed by the lethal legacy of the "gun that won the west" and all of those who ended up on the wrong end of the gun barrel. She consulted a medium, who sent her to San Jose in 1884 to begin a massive construction process that took 38 years and resulted in a 24,000-square-foot, 160-room Gothic mansion."
Winchester is based on the world famous Winchester Mystery House, a mansion in San Jose, Calif., where construction never ended. From 1884 to 1922, the original farm house grew into a labyrinth-mansion that was 24,000 square feet. The mansion had 160 rooms, 2,000 doors, 10,000 windows, 9 kitchens, 13 bathrooms, plus 47 stairways and fireplaces. It cost built $5 million to build. The Winchester estate is listed on the National Register of Historic Places. It is a California Historic State Landmark and a San Jose City Landmark.
Winchester is produced by Imagination Design Works' Brett Tomberlin and Blacklab Entertainment's Tim McGahan.
Winchester Poster
Here's the film's creepy promo poster, centering on a scary silhouette in the window that would make any sensible person turn the other way.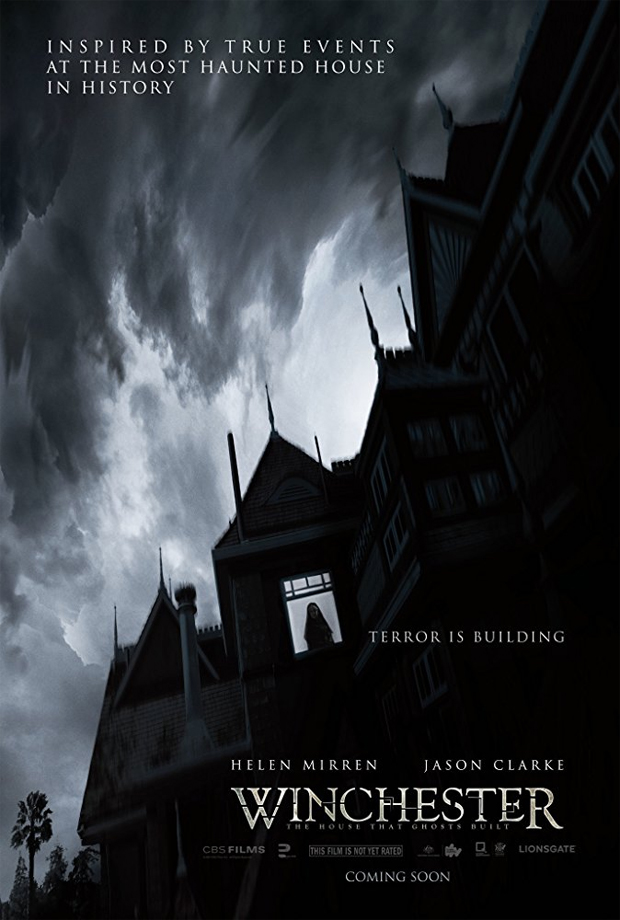 Read the full Den of Geek NYCC Special Edition Magazine right here!