News
Win Our Epic Aquaman Toy Giveaway!
One lucky winner will receive a box full of swag inspired by 2018's smash DC Universe hit, Aquaman!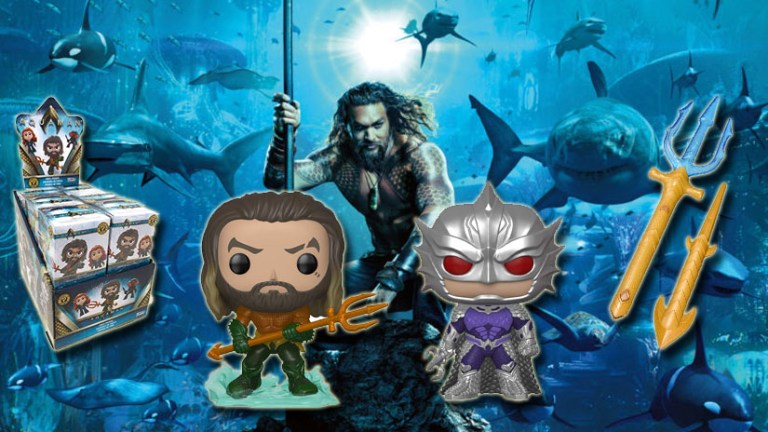 2018's Aquaman was not only a smash hit at the box office, but one of the most successful superhero films ever made. With a sequel on the way, we certainly haven't seen the last of Arthur Curry and the world of Atlantis. Until that sequel arrives, we're perfectly content rewatching the action-packed first movie. To celebrate the movie's new streaming release on HBO NOW, we're giving away a bunch of Aquaman toys, including two Funko collectibles of the heroic Arthur Curry and the villainous King Orm. We're also giving away the Aquaman deluxe trident toy from DC Comics and two mystery collectibles inspired by the film.
Click here to enter via our official giveaway page.
Become the King of the Seven Seas and wield the Aquaman deluxe trident. This Aquaman-inspired trident has special features, lights and sounds that simulate Aquaman's powerful weapon! A hidden sword is included inside the trident, and pressing the power button will make trident light up in blue and emit battle sounds! Swinging the trident will make it emit battle sounds and actual lines from the movie such as: "I will bring the power of Atlantis!" Recreate epic scenes from the movie, defeat Black Manta and Orm, and save Atlantis!
Bring your Aquaman gear to the next level with some awesome Aquaman collectible figures! We're not only giving away Funko collectibles of Arthur Curry and King Orm from Aquaman, but two other mystery collectible figures inspired by the film as well. You'll have to win and open 'em up to find out what's inside! This prize pack is sure to make a splash.
Click here to enter via our official giveaway page.
Entries will be accepted until August 26th. One (1) lucky winner will be chosen and then notified immediately via e-mail. The winner will have forty-eight hours to respond or another winner will be chosen. Good luck!