News
William Shatner to Lead Romantic Comedy Senior Moment
Romantic comedy Senior Moment nabs Star Trek captain and industry icon William Shatner as its star.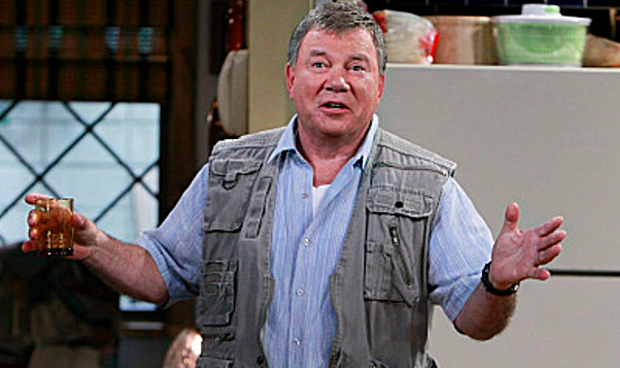 William Shatner has obviously enjoyed a legendary entertainment industry run, forever cemented in the annals of genre history as Star Trek's revered original Captain James T. Kirk, along with loads of other accolades that includes a late-life awards-endowing run on Boston Legal. However, the octogenarian actor has just procured a gig that will have him doing something he hasn't done in a long time: playing the lead role in a (non-Star Trek) feature film.
According to Variety, William Shatner will star in the upcoming independent romantic comedy Senior Moment. Shatner will play a retired Top Gun Navy pilot who – appropriately enough – was involved with the space program, having tested aircraft for NASA. Never quite able to kick his need for speed, an incident involving a vintage convertible hot rod, an onboard friend and a likely-skyrocketing insurance premium immerses Shatner's aged ace in a political predicament with some attempting to widely revoke the driving privileges of dangerously diminished senior drivers. With his vintage car compounded and license revoked, Shatner's character will apparently have to find a new purpose while getting a measure of revenge. As Shatner expresses of the role:
"I'm thrilled to be working with this group of talented people. I'm really looking forward to making a wonderfully funny movie."
Senior Moment will be directed by Belgian helmer Giorgio Serafini. While Serafini has handled a mix of low-budget actioners such as the 2011 Wesley Snipes-starring actioner Game of Death and a spate of pictures starring Dolph Lundgren, he's also tackled the 2011 drama Johnny's Gone and the 2013 fantasy/horror film Don't Let Me Go. Serafini works off a script by Kurt Brungardt and Christopher Momenee, with producers Rene Sheridan and Gina G. Goff also attached.
Shatner has fielded a diverse array of non-Star Trek roles in his post-Trek existence, notably his two-time Emmy-winning Boston Legal dramatic role as Denny Crane. He's no stranger to comedy with his recurring role as the Big Giant Head on 3rd Rock from the Sun, film roles in the two Miss Congeniality movies, Dodgeball: A True Underdog Story and his co-starring role in the Twitter-account-inspired sitcom $#*! My Dad Says. However, Senior Moment will be the first project in a while in which Shatner plays a non-Kirk primary protagonist. From the sound of things, he should be at his eccentric best.
Senior Moment has yet to reveal any significant dates.