News
Will Ferrell and Jason Momoa Team for Galaxy Quest-type Comedy
Will Ferrell and Jason Momoa will make an odd pairing in a Paramount comedy that's being compared to Galaxy Quest.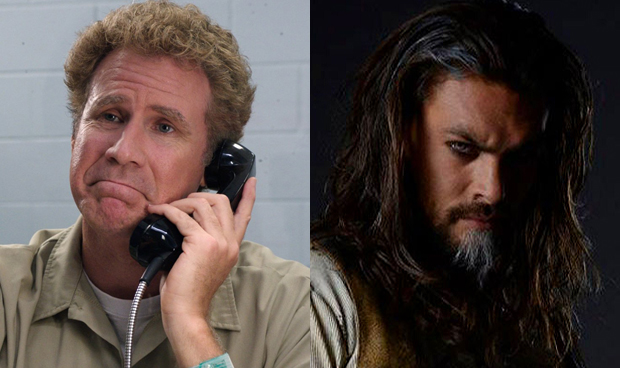 Paramount is planning an unusual comedic team-up with one of comedy's top stars in Will Ferrell and a badass action actor in Jason Momoa, whose star stands to be elevated in the arena of DC Comics cinema starting with fall's Justice League in which he'll give the mainstream reputation of Aquaman a serious makeover.  
According to Deadline, an untitled comedy film pitch has been acquired by Paramount, who have attached Ferrell and Momoa to star. While logline details have not been revealed, the report indicates that the project will be a mix of the beloved 1999 sci-fi satire film Galaxy Quest and the long-running modern Ocean's Eleven films, which continues with a lineup of ladies in 2018's Ocean's Eight. Consequently, the twist with the Paramount comedy is that Ferrell will play a washed-up star of a formerly popular television show who will be paired with Momoa, a former series co-star who played his son, who has since become a huge star. – It's a trope that might be close to home for Momoa, who started out as a supporting player on the latter seasons of Baywatch, and, in Galaxy Quest fashion, fielded an early-career sci-fi role on Stargate: Atlantis.
The idea of teaming up with an unlikely foil is old hat for Will Ferrell, the distinguished SNL alumnus, Anchorman, The Other Guys and Get Hard comedy star. However, with Jason Momoa, he will be the comedic cohort of an actor on the verge of a breakthrough. Momoa, the star of Conan the Barbarian (2011) and Netflix series Frontier, made his DC Comics movie debut as Aquaman via brief cameo in 2016's Batman v Superman: Dawn of Justice; a role he will continue alongside heavyweights like Batman, Superman and Wonder Woman in November's Justice League, followed more prominently in the 2018 Aquaman solo movie.
The Ferrell/Momoa buddy comedy will be written by the duo of Andy Mogel and Jarrad Paul, creators of the recently-nixed Fox sitcom The Grinder, who also wrote the screenplay for the 2008 Jim Carrey life-affirmer film vehicle Yes Man. The duo also wrote and directed the 2015 comedy The D Train, which paired Jack Black and James Marsden and co-created the 2011 animated series Allen Gregory. Producers Nick Stoller (co-writer of Yes Man) and Gary Sanchez are also attached.