News
Widows: New Trailer for Steve McQueen Movie
Widows, the first film for Steve McQueen since 12 Years a Slave, is written by Gillian Flynn. Here's the first trailer.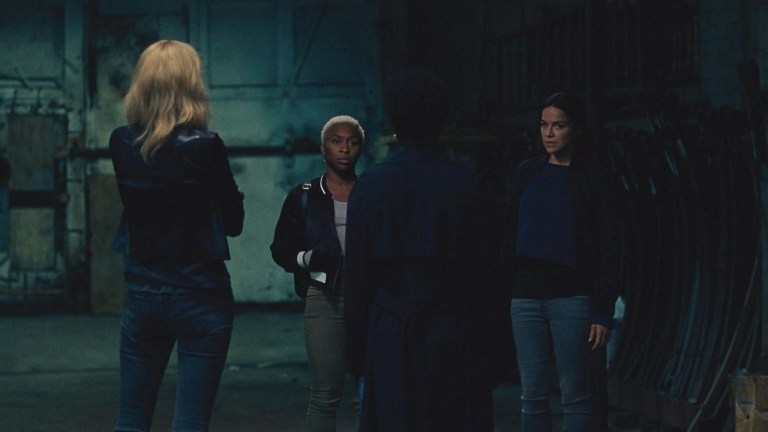 Director Steve McQueen has not directed a feature length film since 2013's Best Picture winning, 12 Years a Slave. This makes anything the enigmatic filmmaker—also responsible for intimate dramas like Hunger and Shame—worthwhile. So enters Widows, an intriguing twist on the heist movie genre that will probably dig into things deeper than just crime and caper fun. Add the little detail that it is also being written by Gillian Flynn (author and screenwriter of Gone Girl), well you have our rapt attention and curiosity. 
Widows Trailer
We have a new, full-length trailer for Widows, and it gives us an even better idea of what this film is interested in, especially when it comes to tone. This may be a heist film, but it's not looking to follow the familiar, fun beats of that genre. This is something else. Check it out…
Here's the original trailer…
Widows Release Date
Widows will be heading down from the cemetery and into multiplexes on Nov. 16, 2018.
Widows Story
Widows is the amusing and likely evocative tale of four women played by Viola Davis, Michelle Rodriguez, Elizabeth Debicki, and Cynthia Ervio. Following the death of their husbands—who die in the midst of attempting a robbery—their four indebted wives will pay off these men's unfinished accounts by robbing the bank that they could not.
Here is the official synopsis:
From Academy Award®-winning director Steve McQueen ("12 Years a Slave") and co-writer and bestselling author Gillian Flynn ("Gone Girl") comes a blistering, modern-day thriller set against the backdrop of crime, passion and corruption. "Widows" is the story of four women with nothing in common except a debt left behind by their dead husbands' criminal activities. Set in contemporary Chicago, amid a time of turmoil, tensions build when Veronica (Oscar® winner Viola Davis), Linda (Michelle Rodriguez), Alice (Elizabeth Debicki) and Belle (Cynthia Erivo) take their fate into their own hands and conspire to forge a future on their own terms. "Widows" also stars Liam Neeson, Colin Farrell, Robert Duvall, Daniel Kaluuya, Lukas Haas and Brian Tyree Henry.
Widows Cast
The film  stars Viola Davis as Veronica Rawlins, the lead widow of the film who will have to pick up the pieces of her life after her husband passes (he is being played by Liam Neeson); the rest of the lineup includes Elizabeth Debicki as Alice, Michelle Rodriguez as Linda, and Cynthia Erivo as Belle.
A politician who will figure into the widows' masterplan will be named Jack Mulligan and is being played by Colin Farrell. Robert Duvall has also been cast as Farrell's father in the movie. The rest of the cast includes, in unspecified roles, Carrie Coon, Jon Bernthal, Daniel Kaluuya, Jacki Weaver, and Garret Dillahunt.