News
Why I love High Fidelity
Glen shares his appreciation for the 2000 movie High Fidelity, and lists his favourite songs from its eclectic soundtrack…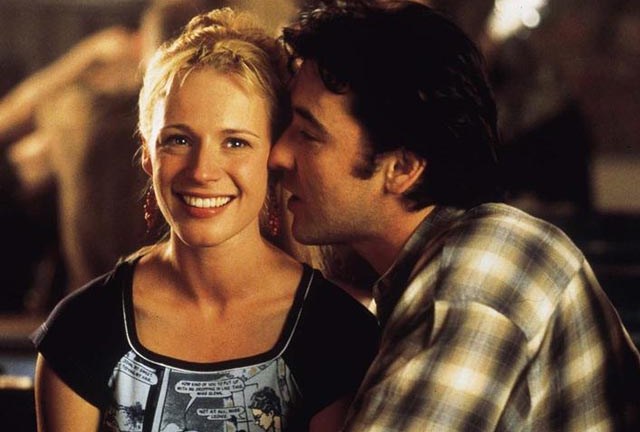 There aren't many finer examples of films that marry together music and movies as perfectly as High Fidelity. In many ways it's the ultimate movie for music geeks.
For my celebration of this excellent film, I thought I would keep with the spirit of High Fidelity and provide a couple of top five lists to show why I love it, and my top five tracks that feature in it…
Top five reasons why I love High Fidelity
5. Breaking the fourth wall
Characters in films addressing the audience can be a tricky one to get right. Sure, there are notable examples of where this works brilliantly, but get it wrong and it can come across as both cheesy and distracting.
Happily, High Fidelity is an example of where this works brilliantly, as Rob shares his innermost thoughts and personal woes with the audience. Part of the success of this aspect is how John Cusack brilliantly sells it. In lesser hands, this could have been a disaster, but so adept is Cusack at playing the affable everyman that it's a resounding success.
4. Cameos from musicians
The film boasts a number of cameos from musicians and is littered with references to Chicago-based bands and labels. Tortoise's Jeff Parker, Alan Parker from US Maple and Liam Hayes from Plush all make appearances.
Don Caballero and Battles guitarist Ian Williams appears in a brief cameo in one of the film's standout scenes where Rob announces "I will now sell five copies of The Three EPs by the Beta Band".
The finest of the film's cameos comes from the boss himself, Bruce Springsteen. This was, amazingly, his first appearance in a film, and it was given the Best Cameo in a Movie prize at the MTV Movie Awards.
3. The cast
There's no one else I can think of who would have done a better job at bringing the character of Rob to life and make him likeable through moments of odd behaviour, and Cusack excels in a role that he was born to play.
The majority of the rest of the cast are also strong, with Todd Louiso and Jack Black great as Dick and Barry. I appreciate that Black's portrayal of Barry can be somewhat grating at times, but I feel that he does what's required of him and certainly makes an impact.
One cast member I wasn't convinced about on first viewing was Iben Hjejle as Laura, and I become less convinced with every subsequent viewing. I feel that her performance and the lack of chemistry between her and Cusack are the film's most apparent weaknesses.
Main cast aside, there's a wealth of talent in supporting roles, with the likes of Tim Robbins, Catherine Zeta-Jones, Lili Taylor, Joan Cusack, Natasha Gregson Wagner, Lisa Bonet and Sara Gilbert all excelling in their small but pivotal roles.
2. The location
I appreciate that many people feel that the change of setting from London to Chicago is sacrilege, but I believe this to be one of the High Fidelity's greatest strengths. It gives the film its own identity whilst remaining thematically loyal to the excellent source material.
Had the location stayed the same and the film pressed ahead as an English production, it would have undoubtedly been a very different film. I can't imagine anyone being a better Rob Gordon than John Cusack, and the music budget for the US production alone could have accounted for the majority of the budget had the setting for the film remained in London.
To hear Nick Hornby's views on the movie, I'd suggest listening to his interview with Jeff Goldsmith on the Creative Screenwriting podcast for An Education, where Hornby discusses High Fidelity in some detail.
1. The music
I can't think of many soundtracks that rival High Fidelity'sin either quantity or quality (if you can, feel free to let me know). The film features around 70 songs that sees a mixture of material from revered as well as contemporary (for the time) artists.
The focus of the music changes from American Blues in the book to a much more broad and varied selection for the film. Like a great mix tape, the film's soundtrack has lesser known inclusions from well respected artists, and songs from little known bands and artists sitting alongside inclusions like Queen's We Are The Champions, Katrina and the Waves' Walking On Sunshine and Peter Frampton's Baby I Love Your Way. It's a fantastic achievement that none of the musical cues seem out of place given the variety of material that's included.
Top Five songs that feature in High Fidelity
5. Let's Get It On – Jack Black
As mentioned earlier, his performance can prove to be a bit grating at times, but the first time I saw the film I was taken aback when I heard his version of the Marvin Gaye classic at the film's finale. I wasn't familiar with Jack Black prior to seeing the film so had no idea that he was musically inclined. His rendition of this, though, is without doubt one of my favourite songs in the film.
4. Everybody's Gonna Be Happy – The Kinks
Taken from The Kinks' second album, Everybody's Gonna Be Happy ended the band's run of twelve top ten singles. It might not reach the heights of some of their earlier singles. but it's still a very strong song and one that's a great fit for the film.
3. Jesus Doesn't Want Me For a Sunbeam – The Vaselines
This would have come to a lot of people's attention when it was covered by Nirvana on their Unplugged In New York album. Cobain considered the Glasgow alt rockers to be the best pop band on the planet, and when you listen to some of their material it's easy to understand why Cobain held this view.
2. My Little Red Book – Love
This cover of the Burt Bacharach and Manfred Mann classic by Loveis a great example of a cover surpassing the quality of the original. Not that there's anything wrong with the original – it's just Arthur Lee's voice and delivery lends itself better to the themes of the song. Whereas the original was quite a tame track, this cover gives the material a new lease of life. Of all the well considered, and perfectly chosen, pieces of music in the film, this is lyrically perhaps the best fit of any of them.
1. Dry The Rain – The Beta Band
This excellent song features in what I consider to be one of the film's stand-out scenes. I would hazard a guess that more than five copies of The Three EPs have been sold off the back of Dry the Rain featuring in the scene. The band may not be as well known as some of the other acts that feature, but Dry The Rain is used to brilliant effect.