News
Why Freddy vs. Jason vs. Ash Didn't Happen
We missed out on having the horror icons from Friday the 13th, Nightmare on Elm St, and Evil Dead on screen in Freddy vs. Jason vs. Ash.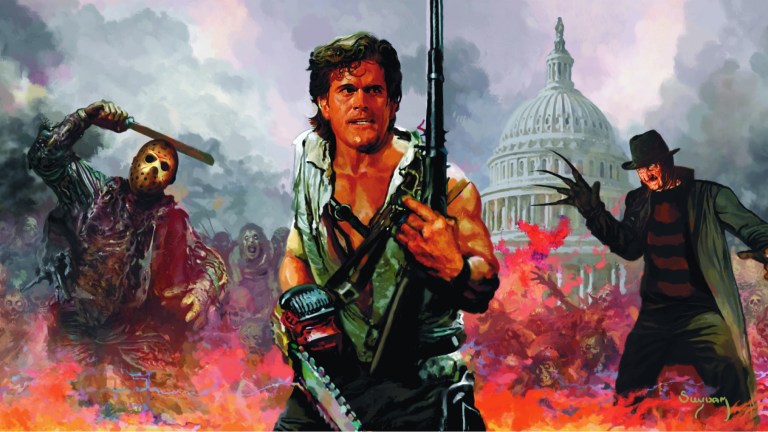 While we haven't had traditional entries in the Nightmare on Elm Street or Friday the 13th franchises since 2003's Freddy vs. Jason, things could have been very different. Shortly after that film's release, New Line's Jeff Katz planned to up the ante by bringing in another horror icon, in the form of Bruce Campbell's Ash Williams, the wisecracking protagonist of the Evil Dead movies, in a film that would have been called, appropriately enough, Freddy vs. Jason vs. Ash.
A treatment (but not a full script) was written for Freddy vs. Jason vs. Ash, and the story would have been a direct sequel to Freddy vs. Jason, with Freddy Krueger existing as a disembodied entity mentally tormenting Jason for a chunk of the film, and needing the Necronomicon to reconstitute himself and gain ultimate power. Considering that the Necronomicon from Evil Dead II made an appearance in Jason Goes to Hell, that was used as the excuse to bring Mr. Ashley J. Williams and the tricky continuity of the Evil Dead films into contact with Freddy and Jason. Ash comes on the scene to work at a local S-Mart megastore during the Christmas season. Yes, Freddy vs. Jason vs. Ash would have been set during the holidays.
Robert Englund was all set to return as Freddy Krueger, and was excited about the possibilities, but the studio wasn't. But it seems that New Line got nervous about what it would mean for at least one of their big horror icons. The fear was that Freddy would end up looking weak taking two losses in a row, and the treatment most certainly ends with Ash victorious over the two most recognizable horror icons of their generation. "New Line Cinema was against it because I had just had my ass kicked by Jason," Englund told a crowd at the Emerald City Comic Con (thanks to Bloody Disgusting for pointing these quotes out to us), "they were afraid, cause I was the most successful of the three franchises." 
It wasn't a problem for Englund, though. "I loved the idea," he told that crowd at Emerald City. "I had this vision of the poster. Bruce Campbell with his shirt open and all of his abs spray painted and highlighted, with Freddy Krueger under [one] arm and Jason under [the other] arm. And the poster would say: 'Freddy vs. Jason vs. Ash: Keeping the world safe from sequels.'"
New Line's reticence to have their main guy lose hints at some of the larger problems that a project like this would have faced, especially since the rights to Ash and the Evil Dead world are at other studios. Bruce Campbell, who aside from being "not real interested in cross overs," recently hinted that this would have caused a number of creative and financial difficulties, as well. "One of the main reasons why Ash vs. Jason vs. Freddy did not come to pass is because we couldn't control any other character other than Ash," Campbell said in a Reddit AMA a few months back. "That felt like a creatively bankrupt way to go. Not to mention, you're splitting the proceeds three ways with partners you might not want." 
This sounds like a fun, but ultimately doomed idea. Anyway, had this happened we might never have gotten the excellent Ash vs Evil Dead TV series, which is about to enter its third season on Starz. On the other hand, it might have discouraged those Friday the 13th and Nightmare on Elm Street reboots which have plunged their respective franchises into holding patterns.
That Freddy vs. Jason vs. Ash treatment was adapted into comic book form by Dynamite, although it's currently out of print. We wrote about the comic book version in a little bit more detail here, though. The main image of this article comes from the covers to the sequel to that comic, known as Freddy vs. Jason vs. Ash: The Nightmare Warriors.