News
Why Carey Mulligan is the most promising young actress on the planet
One of the UK's finest actresses, Carey Mulligan stars in Nicolas Winding Refn's Drive later this month. Louisa looks back at her gradual rise, from Doctor Who onwards...
More often than not, when the press gets its hands on a rising starlet, it starts rubbing its collective thighs like Vic Reeves in an episode of Shooting Stars. When the thigh-rubbing pauses long enough for journos to wipe their sweaty hands and type something, said actress has been christened anew.
It's no longer just Scarlett, Natalie or Keira, but sultry Scarlett, goddess Natalie and English rose Keira. The adjectives 'hot' and 'young' prefix names until these women sound less like actresses and more like a new range of Lexus or a kooky mobile phone contract.
Carey Mulligan has so far resisted page three-style 'stunner' nomination, being tagged instead with 'indie darling' (an image shored up by her recently lending  some cute 60s-styled vocals to a song by fey indie favourites Belle & Sebastian), 'rising star', and shedloads of actual nominations. What's satisfying about Mulligan's awards track record is that her nominations have all been for that thing which is depressingly often treated as a side line in red carpet careers: acting.
It was two roles, the first as a precocious 16-year-old in An Education, and the second as watchful carer Kathy in Never Let Me Go, which gave Mulligan a reputation as an actress who illuminates rather than just dramatises the stories she tells.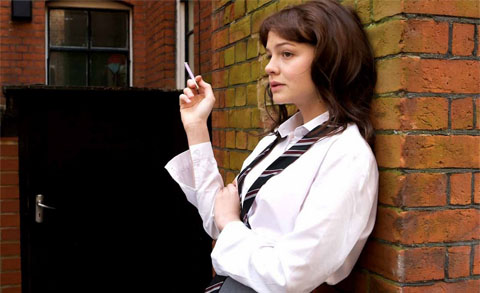 It was also those roles which marked her out for the deserved but clichéd title which has followed her around like an over-hyphenated surname ever since: Carey Mulligan-one-of-the-finest-actresses-of-her-generation. A bit of a mouthful for the morning school register, that.
The generation thing's always seemed a bit of an arbitrary silliness, as if actors, like eggs, are produced in genetic batches with dates stamped on their foreheads.
Still, everyone needs a bit of context, and to give Mulligan hers, you'd be accurate enough seating her on the Felicity Jones, Emily Blunt, Rebecca Hall and Keira Knightley table in terms of age, background and type.
Chucking birth certificates, educational records and native accents out the window, though, and judging solely by emotional presence and choice of role, the actress Mulligan seems to sit most comfortably alongside is rather the Nottingham-born Samantha Morton.
Both began in bonnet and corset territory, with a short parade of Austen, Brontë, and Dickens roles between them, then each swerved sideways to work with a choice of interesting directors. Both actresses are soon to have an Ian McEwan adaptation in common, 2004's Enduring Love for Morton, and next year's On Chesil Beach for Mulligan.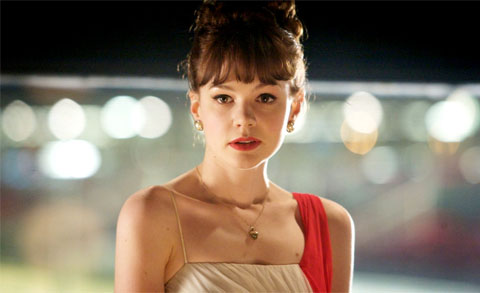 Morton went from period telly roles to clocking up collaborations with Woody Allen, Lynne Ramsey, Michael Winterbottom, Anton Corbijn, Harmony Korine, Charlie Kaufman and David Cronenberg, as well as going momentarily mainstream for Spielberg's sci-fi Minority Report.
Mulligan has collected a similarly indie list since dropping the bonnet stuff, having worked with former Dogme-director Lone Scherfig and auteurs Nicolas Winding Refn and Steve McQueen. Add to that list Oliver Stone, Michael Mann, Jim Sheridan, Baz Luhrmann and Sam Mendes, and one thing seems clear about Mulligan, the girl's got taste. Well, professionally at any rate…
It's not the only thing she has. While magazine lists are intent on stuffing Mulligan uncomfortably into a Knightley-shaped hole, she's a much neater fit with Morton's wounded, human talent. The two not only share a similar career trajectory and asymmetric smile, but bring the same unusual combination of vulnerability and strength to their roles.
Anne-Marie Duff can be added to the pair, an actress who, like Mulligan, makes time for regular stage roles. The three are a trio of English actresses with that iceberg quality: showing little explicitly, but somehow managing to convince there's an expanse of emotion and experience beneath the surface.
Mulligan's in good company alongside Duff and Morton, each of the three sharing an almost-otherworldly youthfulness, despite ranging in age almost two decades, and able to command attention and exude anonymity as they please.
So far, anyway, on the anonymity front. Mulligan may be an indie darling now, but whether she'll remain one, or use her steadily growing reputation to vault to more popular fare in the future will be interesting to see. She's already made the unusual choice of taking on an action sci-fi, with Gary Ross' Australian-set Outback due in 2014, marking her first step into the genre proper after Never Let Me Go's very personal take on a sci-fi premise.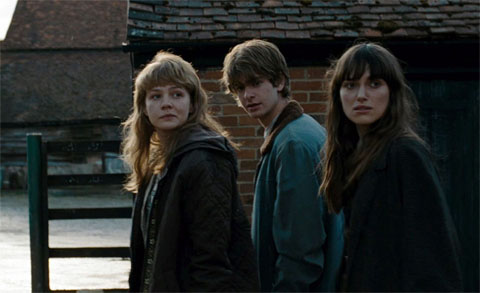 Mulligan's current roles in two of this year's festival favourites, Nicolas Winding Refn's Drive and Steve McQueen's Shame, are gaining her critical praise, but not gossip column inches, which seems to suit the actress down to the ground.
Next year's performance as Daisy Buchanan opposite Leonardo DiCaprio in The Great Gatsby is likely to draw more popular attention, however, as is Mulligan's name being linked to the role of Eliza Doolittle in an updated version of My Fair Lady (a rumour leaked by the film's screenwriter Emma Thompson).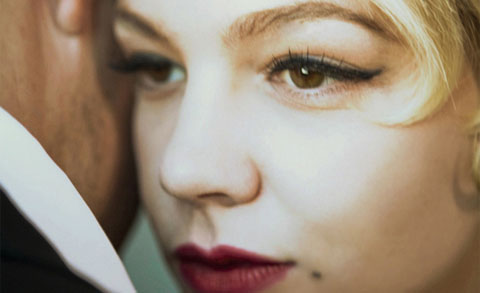 Reviews for Winding Refn's Drive have been overwhelming in their praise for the film, its director, and performances, but a notion that Mulligan was miscast as young mother Irene has persisted through many.
In some ways, the miscasting accusation is spot-on. Mulligan certainly makes for an enigmatic Irene, a quietly bashful damsel in distress who never asks for, but desperately needs rescuing by her knight-like neighbour (Ryan Gosling). The enigma is how someone seemingly as defenceless as Mulligan's character has ended up in the world of the film, populated by LA mobsters and extreme violence.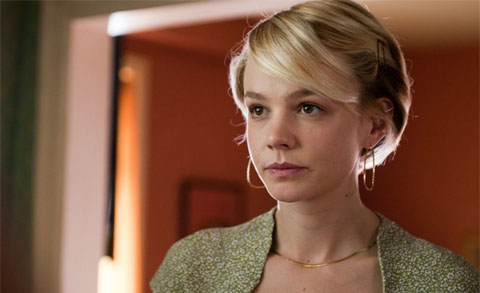 It's useful to think in terms of substitution here, the same way you would to analyse the weight a particular word or phrase adds to a poem. Without Mulligan in the part, and substituting her for an actress who more typically fits the original, self-assured latina Irene, what would be lost? In other words, had the poet chosen a different adjective or noun, how would the whole be affected? Mulligan brings not only enigma, but sweetness, stillness and a dream-like chemistry with Gosling, which doesn't just contribute to, but makes one of Drive's dual identities. Miscast? No, she's perfect.
If true, the casting rumour that Mulligan was at one point seriously considered for Rooney Mara's role in David Fincher's The Girl With The Dragon Tattoo says a lot, not just about the calibre of directors courting her, but about her perceived mutability as an actress. From Never Let Me Go's Kathy to The Girl With The Dragon Tattoo's Lisbeth would be some range indeed. I can't say I'm too disappointed that one didn't come Mulligan's way.
Before the film roles began in earnest, though, when Mulligan's only big-screen part had been as giggly, soldier-chasing teen Kitty in Joe Wright's Pride And Prejudice, she had already made an impact on the small screen. Mulligan proved her mettle with a spirited, authoritative performance as Sally "I'm clever, and I'm listening, and don't patronise me" Sparrow in the Steven Moffat-penned episode of the new Doctor Who, Blink.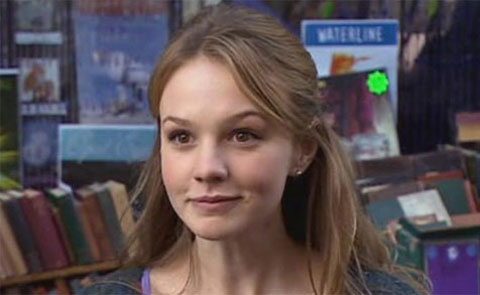 I remember what first struck me about Blink (before those quantum locked angels arrived to turn my walk home though a statue-ridden cathedral city into a panicked dash). It wasn't the absence of the Doctor, or the lead's natty doctor-ish scarf and coat combo, it was a line, or a delivery of a line to be precise.
Two girls are wandering around an abandoned house, one telling the other she loves old things because they make her feel sad. Asked why feeling sad was a good thing, the girl replies sardonically, deliberately and in a voice a couple of octaves lower than seems to fit her slight frame: "It's happy, for deep people."
It was exactly that kind of knowing delivery and beyond-her-years composure that Mulligan took to the role of teenager Jenny in An Education. It was that voice again, those crisp vowels which transform into broken-voiced frustration when she makes an impassioned plea to her headmistress for more excitement than suburbia and schooling can offer her. That voice is a charm.
It was a charm in the first-person voiceover for Never Let Me Go, a narrative trick which can so easily fall into nose-crinkling naffness. Tell you what, if Mulligan ever fancies stepping away from the front of the camera for a while, I've got shelves of books I'd happily listen to her read aloud in my dotage.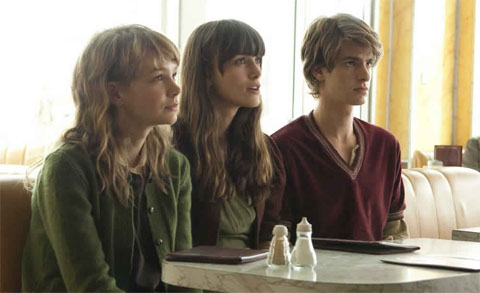 Her real stock in trade in Never Let Me Go, however, isn't her voice, but her watchfulness, an interesting talent from someone whose professional remit is to be watched. The knowing acceptance with which Mulligan plays Kathy in the film is a heart-breaking accompaniment to Andrew Garfield's guileless, frustrated Tommy.
The pair have confessed to playing a form of chicken when filming their emotionally-charged scenes, each one daring the other to cry while continually swallowing and repressing their own tears. It's a style of performance that matches Kazuo Ishiguro's sparse, restrained prose. Ishigaro, from whose novel the film is adapted, praised the performances in the film, giving the knee-dropping note that Mulligan et al had managed to teach him things he hadn't known about his own characters. Quite the recommendation, that.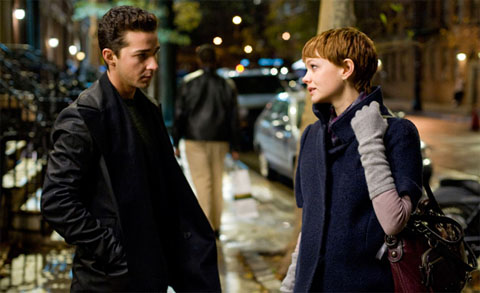 So, she's been in the TARDIS, she's acted alongside, and for, some great talents, and I could watch her watching for hours. Underneath the hyperbole of the slightly piss-taking title hanging over these words is something less sensational, but absolutely honest: unabashed admiration for a wonderful storyteller.
Carey Mulligan is an actress who shows every sign of being around for the long haul, and with any luck, continuing the working relationships she's currently forging. The odd thing is, though I can easily imagine Keira Knightley's roles 40-odd years down the line – surely she'll be playing poised Vanessa Redgrave-like roles, aged dowagers and aristocrats – I've no idea what Carey Mulligan will have done in that time, and where she'll have taken herself as an actress. I tell you what, though, I bet it'll be worth watching.
See Also:
Follow Den Of Geek on Twitter right here. And be our Facebook chum here.