Reviews
Whose Line Is It Anyway? season 1 & 2 DVD review
Jenny brings back fond memories of a great show. Here's the best way to watch Whose Line Is It Anyway again, without the pesky adverts...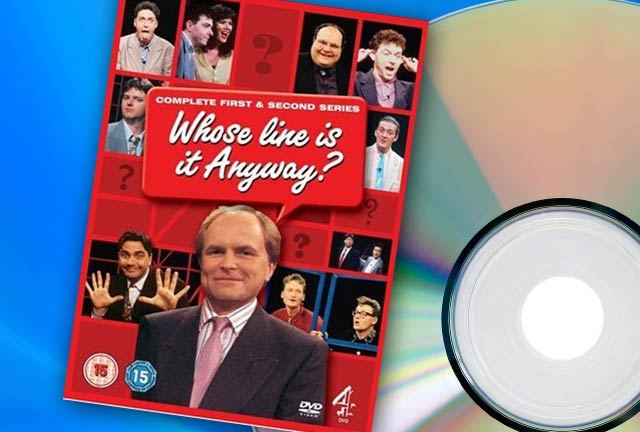 I used to love this series and it was nice to discover on putting this release in my DVD player that I still do. It looks a bit old now, but that almost works in its favour – nothing has quite got close to recreating the partial anarchy this show seems to create, and that includes the US version.
The random scoring ("I think everyone gets nineteen points for that round there"), the bizarre suggestions for titles from the audience ("Sheep rearing in the Orkney Isles!") and the frankly baffling musical rounds (singing about the icing for a chocolate cake?) ensure that watching is never a dull experience. It's deeply silly, but never descends into the unpleasantness that qualifies for humour on more recent programmes like Little Britain. In fact, it's so silly that there isn't an opportunity for it to go that way – where offending people requires thought, there isn't enough time for thinking here.
It's brilliantly simple. It's four comedians and a stage. Clive Anderson looks serious enough to look over proceedings without destroying them, but baffled enough to be an entertaining host. The comedians are given a scenario or title, and they have to improvise on it. That's it. No props, no third parties, no VT, no (obvious) cuts, an extremely small amount of audience participation and a lot of laughs. As a formula it's a pretty damn good one.
Unfortunately, that's about all I can tell you. The review copy has no extras, and so I can't comment on whether the DVD is worth buying for its additional content. It's great not to have to sit through the adverts that came with watching it on Channel 4 (and with now watching it on Dave) and the picture quality through my playback software is excellent. There are no weak performers and Tony Slattery, who I haven't always appreciated being in episodes I've seen recently, does as well as everyone else. Greg Proops, Josie Lawrence and Mike McShane, in particular, are outstanding, and pretty much put more 'modern' comics to shame.
As an overall DVD experience, I don't know. But from what's here, and my fond memories, you won't be able to help laughing.