News
White Boy Rick Release Date, Trailer, Cast, and News
White Boy Rick stars Matthew McConaughey as the father of a teenage drug kingpin-turned FBI informant.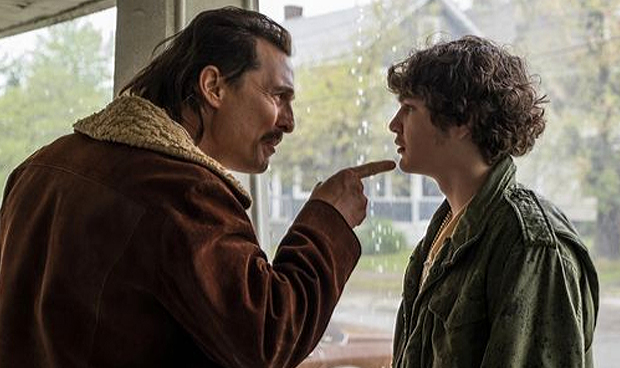 White Boy Rick will expand the scope of the typical rise of a crime lord-type drama by adding an intriguingly dysfunctional family dynamic.
Indeed, the fact-based film, directed by an up-and-comer in Yann Demange, stars Matthew McConaughey as a small-time player patriarch to an embattled family in Detroit in the 1980s. However, it's the arc of the character's unassuming teenage son – the titular White Boy Rick – that goes from Scarface to Goodfellas' Henry Hill.
Here's everything else we know about the film:
White Boy Rick Release Date
White Boy Rick hits theaters on September 14, 2018.
White Boy Rick Trailer
The White Boy Rick trailer might just briefly trigger the reflexes of old-school VCR owners to adjust the tracking, since the clip is presented through a static-strewn low-res retro filter.
The visual effect helps drive home the film's 1984 setting, depicting a criminal version of a Cat's in the Cradle moment between Richard Wershe Sr. (Matthew McConaughey) and son Richard Jr. (Richie Merritt), whose troubled family live deep in Detroit. Yet, Richard Jr. seems to have a drive that old dad doesn't and manages to hustle his way through the criminal underworld under the name "White Boy Rick" to become one of the city's top drug kingpins by the age of 15.
Of course, with any meteoric rise comes the inevitable descent, which lands Richard Jr. in hot water from the enemies that come with such a position. Consequently, motivated by a desire to finally free his family from the cycle of crime, Richard Jr. becomes the youngest informant in the history of the FBI, overseen by a duo of agents played by Jennifer Jason Leigh and Rory Cochrane.
Bel Powley, RJ Cyler, Bruce Dern, Piper Laurie, Brian Tyree Henry and Eddie Marsan also appear in the film.
Director Yann Demange is known from the 2014 war drama, '71 and television work on episodes of Top Boy, Criminal Justice, Dead Set and Secret Diary of a Call Girl. Demange – also once a rumored candidate for Bond 25 – works here off a screenplay credited to Andy Weiss, Logan Miller, Noah Miller and Steve Kloves, based on the real-life story of Richard Wershe Jr.
White Boy Rick kicks off a trio of 2018 films for star Matthew McConaughey, which will be followed by the October-scheduled drama, Serenity, and, on a date to be determined, stoner comedy movie Beach Bum (a film that, one could say, he was destined to headline).