Features
Where next for Jack Reacher?
With uncertainty surrounding the Jack Reacher's movie future, James looks at which of Lee Child's books might work as a sequel...
Last month saw the long awaited on screen debut for Lee Child's literary creation Jack Reacher, a film which had been raising eyebrows across the globe since its announcement.
First off, there was the choice of which of Lee Child's 14 Jack Reacher adventures then published would be used for the character's debut film – but we'll get to that later. By far, the news that caused the greatest fuss was the casting of the man who would fill his not so small shoes.
Casting Jack Reacher was always going to be a nightmare. The character's physical appearance, which had been repeatedly played up in Child's pages was simply impossible to replicate. It could be argued then that no one was done any favours when Tom Cruise was put in the role.
The general reaction was that Jack Reacher: The Movie was already doomed. No one was going to be able to buy Cruise as the character, and despite Lee Child insisting that Reacher's physical appearance was a metaphor for an unstoppable force, he really wasn't fooling anyone, having shoved said appearance heavily down our throats throughout his novels.
Now it's January 2013, and Jack Reacher has been unleashed on the movie going public in all its Cruise-shaped glory. Was it the complete disaster that many had predicted? No, it was actually quite good, thanks in no small part (no pun intended) to Tom Cruise.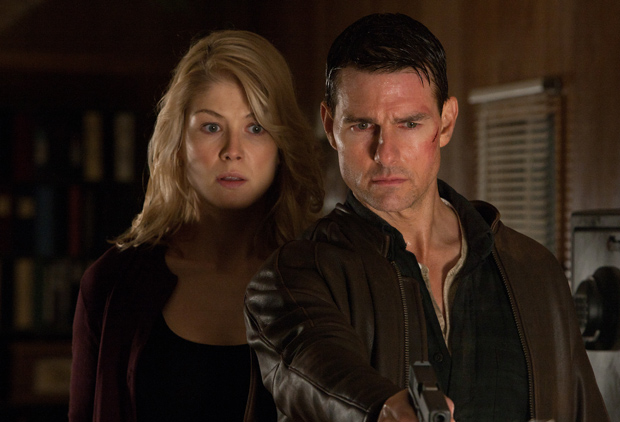 While it wasn't a performance for the ages, Tom Cruise hit the mark more than not with his portrayal of Reacher. He was helped considerably by director Christopher McQuarrie's script. McQuarrie played up the non-physical side of Reacher for his movie. Many of Cruise's lines were short and sharp, all business with little waffle. This was reminiscent of how the Reacher character converses in the book. Exposition was largely left to Rosamund Pike's lawyer, Helen Rodin.
Cruise also nailed the Reacher attitude. His near ambivalence to the sniper shootings which open the movie was conveyed extremely well. Reacher is a guy who just wants to be left alone, and Cruise made us believe this. Perhaps one of the biggest masterstrokes in McQuarrie's direction of Cruise was that he'd clearly forbidden Tom from smiling. Cruise raises a smirk or two, but at no point does he flash those pearly whites. Doing so would have immediately destroyed the character.
As a long time Reacher fan, I felt that Cruise did a good enough job with the character. Putting to one side the whole physical appearance thing, everything else about the character was represented well, and although Cruise never approached replacing the image of Reacher I have when reading, he was far from the catastrophe that some had expected.
When a Jack Reacher movie was announced as pressing ahead a couple of years ago, it would have been logical to assume that it would be based on Lee Child's debut Reacher novel, Killing Floor. It remains one of the best of Child's books, and although it's not an origin story for the character, it contains one event which has subsequently been felt throughout the series. So it was with a certain amount of puzzlement to learn that Reacher's first cinematic outing would be based on his ninth book, One Shot.
One Shot is not a book held in high regard amongst Reacher fans. It is one of, if not the worst of Lee Child's books starring the character so far. The feeling has always been that its story wasn't all that inspiring, it was drawn out and just a bit boring.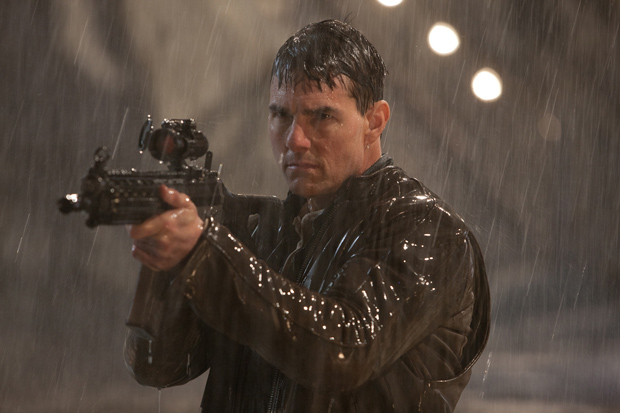 In its narrative, One Shot the movie didn't differ a whole lot from One Shot the book. As is often the way in book to film adaptations, there was a character trimmed here and there, while some characters, notably the villains, had a reduced impact. In the novel there was a much greater exploration of Werner Herzog's big bad, The Zec. Even then, though, the guy was never one of the best villains that Lee Child has conceived for Jack Reacher.
A lot of reviews heaped praise on Werner Herzog's villain rather than Cruise's Reacher, something this writer feels was a total injustice. Half the time Herzog looked utterly bored with everything that was going on around him, and for the other 50 per cent, he was a bit too pantomime. One of the failings of Jack Reacher was that its cookie cutter bad guys could have come from any action movie of the last few years.
In this respect, it could be argued that Christopher McQuarrie chose the wrong book to use as Reacher's launchpad. As entertaining as it is, the film leaves little lasting impression, apart from with Cruise's central performance. Maybe that was always going to be the way, though. Tom Cruise as Reacher deserved to be the film's focal point. There have been a good number of occasions when films have been accused of letting the bad guys overshadow the heroes – Tim Burton's Batman movies being one of the best examples. By choosing to go first with one of the lesser books in terms of story and villains, the film leaves the focus on Reacher.
Although Jack Reacher wasn't an origin story as we've become accustomed to in many franchise openers, if its primary aim was to introduce the character for further, more interesting adventures, then McQuarrie made a shrewd, if a little risky, choice in picking this one.
Jack Reacher took $45 million in its opening two weeks in the United States alone. That it cost $60 million to make – a relatively modest amount by current standards – indicates that it will end up in the black for Tom Cruise and Paramount.  Given that most fans seem to have liked Cruise in the role too, then it'd be safe to assume that chins are now being thoughtfully stroked with regards to Jack Reacher 2, although recent news stories may have indicated otherwise.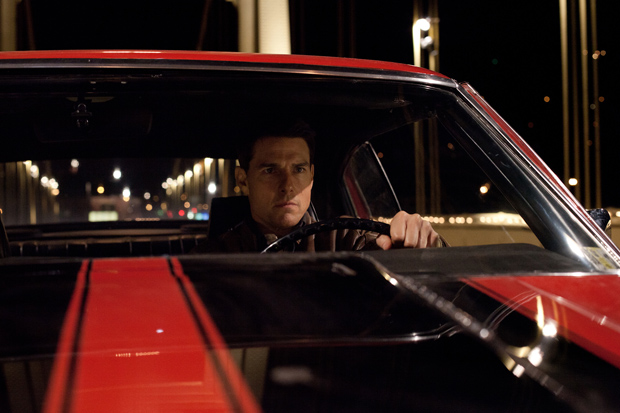 Nothing has been announced yet as to which of Lee Child's novels will form the basis of a sequel should it happen, but both the author and Christopher McQuarrie have made their ideas heard for a more rural set movie.
There's no shortage of Reacher stories set in a wilderness location, and this must send Killing Floor to near the top of the list. Killing Floor thrusts Reacher straight into the situation of being arrested in a small town over breakfast. It's no nonsense, and now that the character's been introduced, there's no reason that the film couldn't do the same.
Other Reacher stories that could be an option include Echo Burning, Persuader, Nothing To Lose, 61 Hours and Worth Dying For. The latter of those has already been mentioned as a possibility, and would be a great story to adapt, as it's amongst Child's best, and features some extremely nasty and memorable bad guys. Some of its plot lines do revolve around the climax to 61 Hours, the book which preceded it, but not so much that it couldn't be easily worked around.
Lee Child has said that 61 Hours was a favourite for a Jack Reacher movie sequel at one time. It's a solid offering, but takes place almost completely during a severe snowstorm in South Dakota, with the weather quite integral to the plot. This is something that would push production costs up, no doubt.
Echo Burning and Nothing To Lose suffer a little bit from the same failings as One Shot. Both are better stories on the whole than One Shot, but neither of them has anything all that memorable about them to put them in mind for the big screen treatment. Persuader, on the other hand, would be this writer's personal choice for Jack Reacher 2. The book sees Reacher going undercover in a remote location with a bad guy he previously believed dead. For twists and tension, it's the finest of Lee Child's books yet.
Looking further ahead to a third Jack Reacher movie, there are three novels which immediately seem to lend themselves to this. The Hard Way takes place in the glamorous locations of New York City and erm, Norfolk, but would up the ante by sending Reacher transatlantic. 
Without Fail raises the threat level that Reacher is involved with in a plot revolving around presidential assassination. It also introduces one of the few recurring characters in the series, Frances Neagley, described as a female version of Reacher, which would bring another element to the franchise.
Or, if Paramount wants to go for a more ensemble piece (as Child once suggested), following in the footsteps of Cruise's other blockbuster series Mission: Impossible, then Bad Luck And Trouble, in which Reacher reunites with his old military police unit, including Frances Neagley, might definitely be ripe for the character's third outing.
If Tom Cruise were to decide he didn't want to return to the role, then an easy get out clause would be to choose to adapt one of the two books which take place earlier in Reacher's life. Of those, The Affair would be the most suitable. It's a small town thriller which tells the story of just how Reacher became the wanderer he is today – essentially his origin story. One name that has been banded about as a possible Cruise replacement for Reacher is Ryan Gosling. If he can sort out the horrible weedy voice he employed in Gangster Squad, then he could certainly make for a decent, younger Jack Reacher.
At the moment, the jury is still out on whether Reacher will return to the big screen, with the film still to open in some parts of the world. It'd be nice to see Tom Cruise given another chance to play the character after he impressed with what was a poor story on the whole. Given the popularity of Child's books, it's hard to believe that Jack Reacher won't return on screen in some way, shape or form. What that will be, for now, remains to be seen.
Follow our Twitter feed for faster news and bad jokes right here. And be our Facebook chum here.