News
Where does Disney animation go post-Tangled?
Tangled may prove to be a threshold of sorts in the future of Disney's animated movies. And Simon's been pondering just where the studio can and should go next…
There's an awful lot to love in Disney's Tangled. Its long-in-gestation take on the Rapunzel story, the film carefully trod the line between traditional fairy tale and modern day family movie. Helped by a smart script, some lovely animation, and characters who didn't fall into the trap of being either the usual stereotypes, or straight reversals of them, it's something of a treat.
It also struck me as a movie that gave Disney Animation a sense of real identity again. I enjoyed Bolt, its previous release, but few would have been surprised to see a DreamWorks logo at the end of it, had they watched it without knowing its Disney background. The same could also be argued for Chicken Little.
The underrated Meet The Robinsons had hinted at a fresh, modern direction that Disney could take, and then The Princess And The Frog really did cover many of the studio's roots, while again finding a tale to tell in quite a modern way. Tangled? That seemed to be the icing on that particular proverbial cake.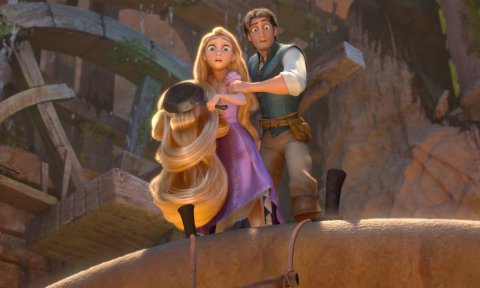 And yet, we learn that Tangled was, in financial terms, a disappointment. More than that, last November, Disney seemed to be indicating that it wouldn't be making any more 'princess' movies, citing the fact that the box office returns for both The Princess And The Frog and Tangled were below expectations.
While the studio hasn't ruled out future princess flicks, it doesn't have any more lined up, and is reportedly fearful of not being able to attract young boys to its films.
So, let's take a look, for a second, at the numbers.
The Princess And The Frog reportedly cost around $105m to make, and took in $104m at the US box office. Elsewhere, it added $162m to its total, meaning from cinemas alone, it brought in $267m.
Tangled's figures are scarier. Because, on face value, it did well. It took in $199m in the States, $389m elsewhere, and before it hit DVD and Blu-ray, it had grossed $588m from cinemas alone. The problem? The negative cost, before marketing and distribution, was apparently a staggering $260m. You read that right.
Let's put that into context, too. Two animated breakout hits of the past year have been Despicable Me and Gnomeo & Juliet. Despicable Me brought in $543m worldwide and it cost $69m to make. Gnomeo & Juliet stands at takings of $177m and that, too, cost in the $70m region.
Can you see the problem here? Animation at Disney, where the full infrastructure of the studio has to be supported, is getting more and more expensive to make. It's something we've talked about at length in a forthcoming interview with Gnomeo & Juliet director, Kelly Asbury, but it's an unavoidable truth.
Disney's big animated films now aren't going to come in cheaper than around $130m, we'd wager, and that means the appeal has to be broader. Although, how a film that brought in $588m worldwide, as Tangled has so far, can in any way be described as a disappointment is an indictment of modern times.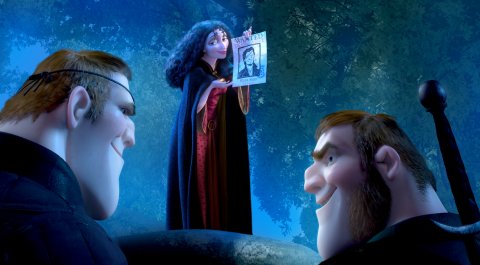 Disney, to be fair, has a willingness to pursue more modest projects, as its delightful hand-drawn Winnie The Pooh feature has proven. That's not out in the US until July, but it's so far opened across Europe, to very modest numbers. Its UK take, and the film opened in April, just about scrapes over $0.5m. So, while there's plans for a full-length Mickey Mouse feature, Disney isn't likely to follow a similar path to its Winnie movie with it. And that inevitably leads to the fear that hand-drawn animation is going back into hibernation at the studio (although there are reports of more hand-drawn projects).
The upcoming slate for Disney, then, has a different feel to it than the likes of Tangled, The Princess And The Frog, and Meet The Robinsons. But, as it turns out, that may not be cause for despair. Our primary reason for thinking this is what Disney has lined up for us in 2013, as it tackled the Philip K Dick story, The King Of The Elves.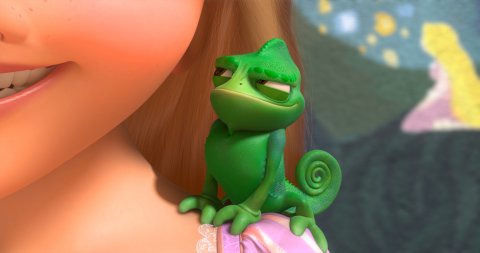 Chris Williams, the co-director of Bolt, is calling the shots on the film, which has hit a few delays to date (including the replacement of its original directors). That means we're currently expecting the movie at the end of 2012, although 2013 is more likely.
It's a bold project to be tackling, and that, for our money, is what Disney should be doing. For it's in a world now where Pixar (part of the same company, but perceived as a different entity) is setting the standards of what stories animation can tell.
Meanwhile, DreamWorks has cornered itself a part of the market in animation blockbusters, and the likes of Universal (Despicable Me), Sony (Cloudy With A Chance Of Meatballs) and Fox (the Ice Age films, Rio, Horton Hears A Who) are enjoying considerable successes.
And this has left Disney seemingly lacking the kind of identity that it had of old. No longer perceived as the pathfinder in animation, it lived within its comfort zone for a while, until it rediscovered the stories that it could tell best, and started telling them again.
The next movie out of Disney Animation, though, is Reboot Ralph, and it's hard to see just where it'll fit in. The film was originally set for release in March 2013, but when Disney delayed Pixar's Monsters University to the summer of 2013, Reboot Ralph moved to November 2012.
Originally known as Joe Jump, there's not a great deal known about the film. The rumour mill suggests that it's a movie about an 80s videogame character, who tries to make his way through more modern games, which sounds like an intriguing idea, just not necessarily a Disney one.
But then the goalposts of what a Disney animated film is are changing, and perhaps they need to do so. I'm not alone in longing for the exquisite storytelling of the likes of The Little Mermaid and Beauty And The Beast, and certainly the likes of Pixar have learned lots of lessons from them. Yet, this is a different time, arguably a second golden age of animation, just one that's less reliant on one company to provide it.
And it's an exciting time, too. The fear we have comes back to what defines success and failure. There's an argument that the end audience shouldn't worry about box office takings and such like, yet we all know the game.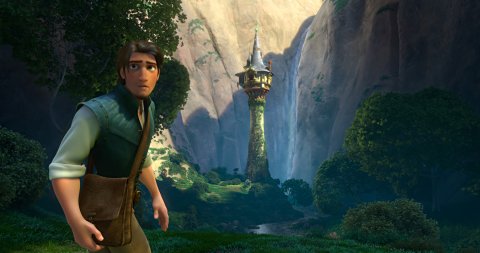 It's money, ultimately, that shapes the films we get, and for those who love the heritage of Disney's animation, to hear Tangled in any way regarded as a financial disappointment is a real eye-opener.
There's certainly a case for budgets to be tighter, as the $190m production budget gulf between Despicable Me and Tangled indicates. But Disney should, surely, hold its nerve, find the stories that it's good at telling, and continue to tell them better than anyone else.
In the meantime, Tangled arrives on Blu-ray and DVD in the UK this week, and is well worth picking up. Turns out, if you believe the reports of Tangled's apparently financial disappointment, Disney might just need the money.
See Also: