News
Where did The Inbetweeners Movie go so right?
Months ago, there were suspicions that The Inbetweeners Movie would be a bit of a disaster. It's turned out to be anything but. So where did it go right?
Last Friday, I was one of many people who turned out for the first 'official' day of The Inbetweeners Movie screenings. Granted, there had been two days of previews, which had brought in a sizeable amount of cash (and then some). But what had intrigued me the most was the incredibly positive word of mouth that the film was getting.
Contrast that with the suspicions that were being banded about when the film was first announced, and when the maiden trailer appeared. A trailer that led to co-writer Iain Morris assuring us that the film was much better. Then there's the small matter of the lack of press screenings (unless you happened to work for a lads' magazine, it seemed). That didn't bode well, either.
British television comedy shows have, of course, rarely translated well to the big screen. About the biggest successes have been Rowan Atkinson's thuddingly shit Bean films, which stretched a format that was struggling to fill half an hour to three times that length. The lessons had been taught by the similar problem that the On The Buses films faced decades earlier (Criterion DVD editions of those movies are not on the agenda).
And then, of course, there's Kevin And Perry Go Large.
Comparisons with the movie of Harry Enfield and Kathy Burke's characters are hard to ignore, so let's make one or two. Firstly, these were popular television characters, who jumped to the big screen. Secondly, as with The Inbetweeners Movie, the decision was made to send the characters – both in their later teens, with hormones buzzing – off on holiday. And thirdly, both Kevin And Perry Go Large and The Inbetweeners Movie have made serious amounts of cash.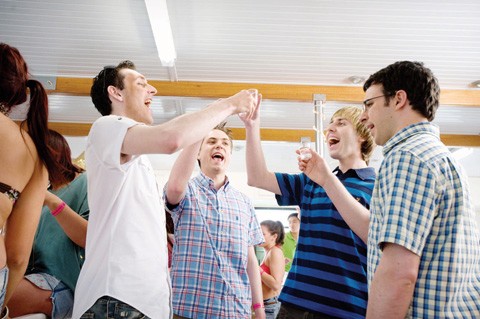 I've read several assertions over the past week that suggest Kevin And Perry Go Large was a flop. This was absolutely not the case. It took £10m at the UK box office, spawned a hit soundtrack album, and made sizeable sales on DVD. Granted, it didn't travel outside of the UK particularly, but it still brought in a very handsome profit.
The problem, of course, is that the film was and is quite terrible. I've also read in this past week some people defending Kevin And Perry Go Large, but I really don't buy it. I found it an arduous hour and a half, that managed to forget entirely what made the characters so good in the first place.
I really liked the sketches the characters starred in, but they were just that. Rarely had Kevin and Perry's screen time extended beyond a few minutes at a time, and stretching that to 82 minutes proved to be too much.
But what Kevin And Perry Go Large also managed to do was fall into another trap that has befallen so many comedy shows in their time: it took the characters out of their natural environment, and got lost as a result.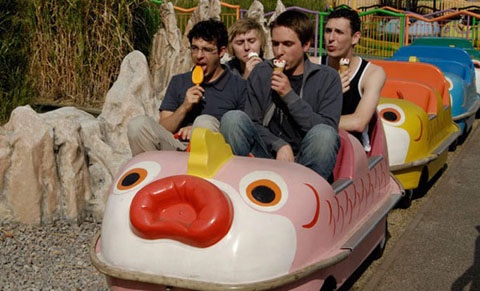 This, for me, was the big threat facing The Inbetweeners Movie,bigger even than a feature-length running time. The context of the characters, that of being school kids at heart, has always been crucial to the show, and by potentially removing that, a big risk was being taken.
On the small screen, just look what happened when popular British sitcoms went abroad. One Foot In The Algarve is generally regarded as one of the weaker episodes of One Foot In The Grave, for instance, while Miami Twice is comfortably one of the worst Only Fools And Horses specials. We'll not even talk about Are You Being Served?: The Movie.
The Inbetweeners Movie, then, was faced with lots of pitfalls, but it navigated them exceptionally well. And there are lots of things it got right.
Firstly, it never forgot that we were there to see the characters. Being able to share the screen load between the four leads was important, as it meant the story could cut to someone else just as it threatened to get a little flabby. Iain Morris and Damon Beesley's script split the characters up at times to make sure this could happen, and wisely so. But it made sure we got quality time with them all.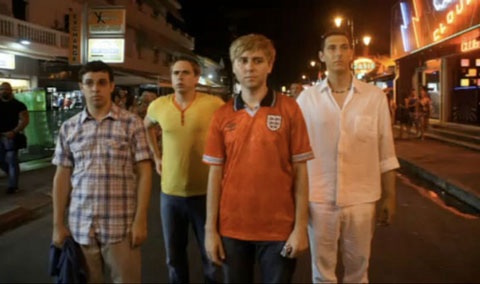 Secondly, the context of the film seemed utterly appropriate. Kevin and Perry going to Ibiza to become hit DJs always seemed a step too far for a pair who were more interested in erections and Manchester accents. But the four lads of The Inbetweeners going on a very cheap summer holiday, to try and bag some sex? That's not tricky to buy at all. It is, in fact, quite a logical thing for them to do, given what we've learned about them over three series.
Enough new ingredients were still mixed in, too, but not gimmicky ones. A quartet of new, rounded characters for starters, along with some straightforward but well-threaded plot beats. And, importantly, this was then iced with some good, solid character progression for the four stars. Will's character, in particular, is arguably the best we've ever seen in the film, and you can't help but root for him as the movie rolls on (credit to Simon Bird, too, for that).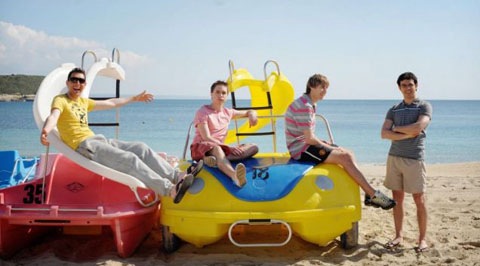 Crucially, though, The Inbetweeners Movie achieves two things. It manages to be funny. And it does so without being boring.
It understands its roots, but knows that a movie is a lot different from a 25 minute situation comedy with a commercial break. In fact, rather than being a situation comedy, the film is a situation comedy-drama, and that actually makes a major difference.
The Inbetweeners Movie is a very welcome British success story. It transcends some sizeable challenges to provide a very funny, very enjoyable hour and a half at the movies. And that's something that no British comedy show has ever managed to do before.
Next up? It might just be the long-mooted Alan Partridge movie. That, or we might just try and persuade The Inbetweeners to regroup again in ten years' time. I, for one, would be happy to book my ticket for that right now.
See Also: