Features
When sci-fi meets rom-coms
Can an injection of sci-fi into the romantic comedy give the genre some fresh ideas?
The romantic comedy genre isn't always a well-regarded one, and the years haven't often been kind to any favourable reputation they once enjoyed. While the 80s and 90s offered us such gems as When Harry Met Sally and Notting Hill, the noughties has been a barren wasteland of Katherine Heigl atrocities and widely misguided attempts at action rom-coms such as Killers and This Means War.
With the lull in creativity, the industry has been forced to search elsewhere to find compelling concepts that willing audiences can enjoy, and sci-fi and fantasy are just two of the genres that have been generously hybridised to this end.
The latest to exploit this genre-bending method is Seeking A Friend For The End Of The World, an exercise in pushing together as many different film types as can be credibly managed. It has broad comedy, heartrending romance, (light) philosophical pondering, satire and, crucially, science-fiction concepts not usually found in Steve Carell movies.
That's no comment on the actor himself, but he's best in comedies, and the world's end isn't something we're usually comfortable laughing at. His co-star is Keira Knightley; in the face of an approaching meteorite, they meet-cute and travel across country in search of their loved ones.
Soon, we see the story progress from comedy to romance. There's the familiar structure – meet girl, fall for girl, lose girl, and find girl again – but it's all wrapped in a sweet, surprising sci-fi package. By adding the otherworldly situation, suddenly the reasons for meeting, falling in love, and losing each other are less contrived, more understandable, and a shot in the arm for a largely out-of-touch genre. Without Carell and Knightley's compelling and believable performances as Dodge and Penny, of course, it might not have come across quite as well (and it's still splitting critics) and, let's face it, when the two genres usually meet, the results aren't often glowing.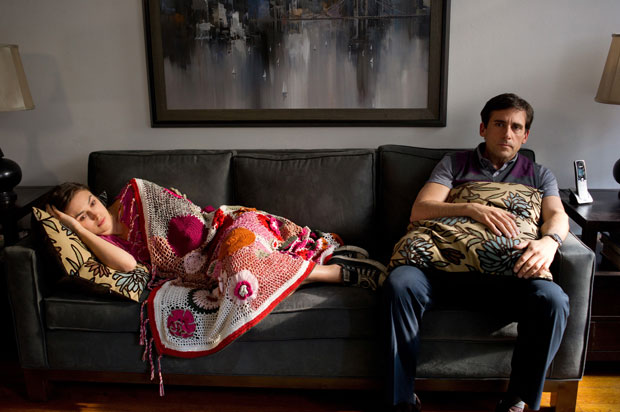 The body-swap subgenre, for example, has yielded more stinkers than hits, and has much to apologise for. Pretty much invented by 1941 movie Here Comes Mr Jordan, which follows a boxer killed too soon by a heavenly mistake and put back in a millionaire's body, the concept has been flogged to death by the rom-com genre since its inception. Mr Jordan itself has been remade twice, once with Heaven Can Wait in 1978 and again with Chris Rock in 2001's detestable Down To Earth, but the one familiar to most is Tom Hanks' Big, which mastered the subgenre and has never quite been matched.
There are countless examples of body-swap comedies which centre on the character becoming a better person or learning a lesson (Freaky Friday, The Change-Up), but there are just as many that pitch the central romance as the most important resolution. 13 Going on 30 (not to be confused with the uncannily similar 14 Going On 30 TV movie from 1988) and 17 Again are both great examples of how to get it right, with one following Jennifer Garner as her 13-year-old body is transported to her future self, and the other seeing Matthew Perry transform into Zac Efron. In both, the relationships are believable and compelling, and ground the ridiculous concept in some sort of touching reality. On the flip side, there's The Hot Chick, which gets a little awkward when a teen Rachel McAdams is sent into Rob Schneider's body.
Other than body-swapping, the rom-com has found success in the 'secret abilities' sub-type, where someone, usually down on his/her luck, manages to gain some sort of fantastical ability or limitation which helps or hinders their search for true love. A classic of this kind is Jim Carrey classic Liar Liar, which fits as well into the family comedy camp as it does comedy or rom-com. Following a lawyer who, by way of his son's birthday wish, loses his ability to lie, he eventually wins back his family by finally owning up to his mistakes.
The mixing of conventions allows the genres usual contrivances to appear less artificial, by wearing absurdity on their sleeve. It's not a mutually beneficial partnership, and films that combine the genres have immediately distanced themselves from sci-fi and fantasy fans for their thinly drawn logic and repetitive formula. Even romantic-comedy fans have apparently gotten tired of the same old offerings, the results becoming poorer and poorer in the face of the all-powerful stoner comedy, which came into its own during the noughties. Then, with a sub-type that appealed to both men and women, comedy and romance fans alike, the traditional rom-com lost its appeal.
What Women Want sees misogynist Mel Gibson able to hear women's thoughts, Bruce Almighty transforms Jim Carrey into God, Just My Luck sees Lindsey Lohan and Chris Pine swap their knack for good/bad days, Good Luck Chuck follows a man who sleeps with women just to lose them to their true love straight afterwards, and When In Rome sees Kristen Bell steal wish coins from a fountain, only for their owners to fall hopelessly in love with her. It's a mixed bag of weird and wonderful ideas, and they can sometimes hit lucky with their entertaining craziness, but no one would call them science-fiction, least of all any self-respecting geek.
So has Seeking A Friend For The End Of The World actually hit on something new and original? Proper sci-fi has been used before, of course, most notably in Michel Gondry's Eternal Sunshine Of The Spotless Mind, with spurned lovers Jim Carrey and Kate Winslet. Much like Seeking A Friend, but in a completely parallel way, the film mixes elements from all over the place, as much a poignant comment on love, inevitability and fate as it is a comedy about wiping away your last dysfunctional relationship. The concept is plausible in the real world, with new technology just starting to be used to wipe memories, but, conversely, its weirdness wouldn't readily appeal to the average rom-com fan.
Other attempts at doing something new have yielded some good results, as with Bill Murray favourite Groundhog Day, which sees his weatherman relive the same day again and again, eventually winning the heart of Andie MacDowell. Then there was Sliding Doors, which went further than most in combining its two mission statements fairly seamlessly. Following two eventualities of Gwyneth Paltrow's character, one where she caught the train and one where she missed it, it lightly touches on the existence of parallel realties, while still sitting firmly in the romantic comedy zone you'd expect. And what is Enchanted, if not a romantic-comedy with big fantastical ingredients?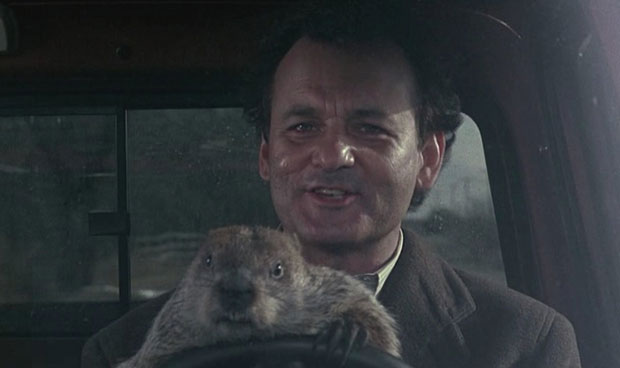 And the biggest criticism of Seeking A Friend has been how closely it resembles little-seen 1998 film Last Night, similarly set in the last moments of humanity. More of an ensemble piece than the new take, it still uses various rom-com conventions to show us a relationship beginning and concluding in the desperate moments before the end of days. It's such a good idea, it's surprising that these are the only two to use it, and, unless there has indeed been some plagiarism at work, how similar they are. Comedy and companionship are both plausible human reactions to being wiped out, and its one use of the genre-bending that makes perfect sense.
It's doubtful that this is a new direction the romantic comedy is heading, since, like with body-swaps and A Christmas Carol-riffs (Ghosts Of Girlfriends Past, Scrooged), everything has a sell by date. For now, though, we might have been given a rare moment of creativity in a genre that's been dithering for far too long. It might not be ground-breaking, but it's clear that mixing sci-fi with the rom-com can, in some circumstances, lend some much-needed poignancy to the latter's inherent hopefulness, without needing to compromise on either.
Seeking A Friend For The End Of The World is out today in UK cinemas. 
Follow our Twitter feed for faster news and bad jokes right here. And be our Facebook chum here.